University of New Mexico Lobos athletics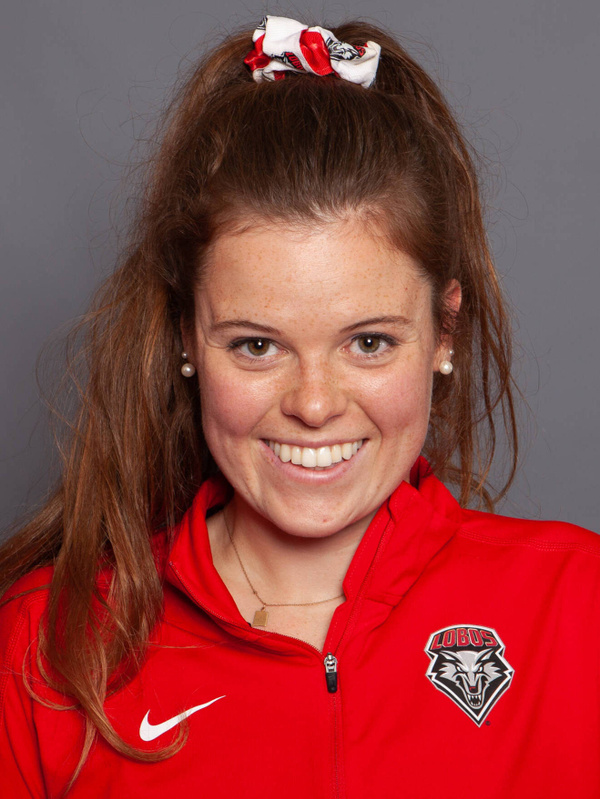 2019-20
Named a MW Scholar-Athlete.
2019 XC: Finished in the top 10 at the Lobo Invitational with an eight-place finish at 18:50.91 … finished 34th overall in the Open 5K of the Joe Piane – Notre Dame Invitational with a time of 18:12.48.
2020 Indoors: Ran the 3000-meter at the Mountain West Indoor Championships in a personal-best 10:13.00 … completed the 5000-meter run at the Mountain West Indoor Championships in 17:34.01.
2018-19
2018 XC: Finished 19th (14th in team scoring) at the Lobo Invitational with a time of19:31.6 … finished 21st, 17th in team scoring, at the Lori Fitzgerald Open after finishing  in 19:23.71 … completed the 6K at the Triton Classic in 23:10.5 to place 20th overall and 18th in team scoring.
2019 Indoors: Competed in the UNM Team Invitational and the Don Kirby Elite… Ran a season-best 3000-meter time of 10:13.20 at the Don Kirby Elite on Feb. 8.
2019 Outdoors: Competed in three meets … ran 17:46.28 in the 5000 at the Mike Franelli Track Classic … ran 17:40.26 in the 5000-meter at the Bryan Clay Invitational to place 15th … ran the 10,000-meter at the MW Championships in 37:26.64.
2017-18
2018 Indoors: Competed in five distance races… Placing tenth in the 3000 at the New Mexico Team Invitational finishing with a 10:30.02*… ran the mile at the New Mexico Classic via a time of 5:19.21*.
2018 Outdoors: Did not compete.
PREVIOUS EXPERIENCE
2017 graduate from West Linn High School in West Linn, Oregon … Lettered four years in cross country and track & field … Named First- and Second-Team All-League Set the OSAA 6A state records in the 3000 and and 5000 … Named to the honors roll all four years … Part of National Honor Society, National Math Honor Society and National Music Honor Society
PERSONAL
Born October 14 to Barbara and Todd Briscoe in Heidelberg, Germany … Has one brother, William … Ran at the club level for Red Lizards Running Club, Portland Running Club, qualifying to Cross County Club Nationals in 2014 … Hobbies include running, exploring, collecting vinyls and playing bagpipes … Favorite athlete is Kara Goucher … Favorite food is mom's spaghetti … Favorite movie is The Lion King … Majoring in exercise science