University of New Mexico Lobos athletics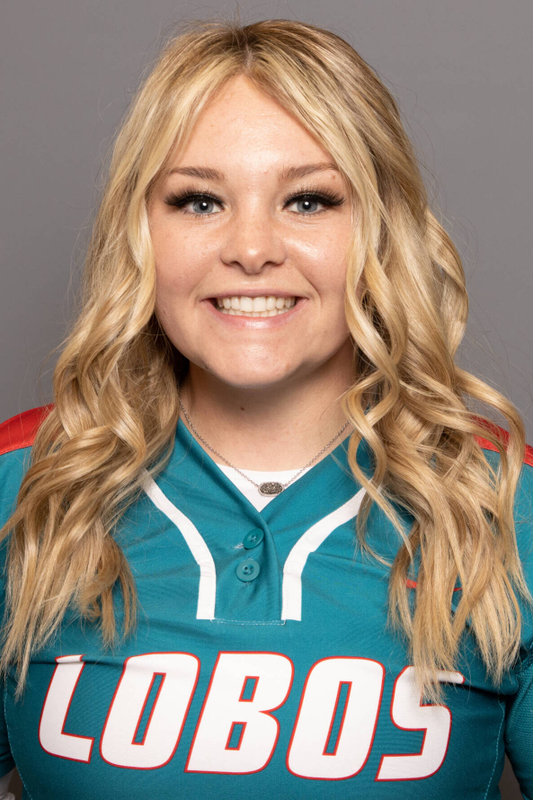 SUPER SENIOR (2022): Played in 20 games with 17 starts, three times at designated player and 14 at catcher… recorded 11 hits and reached base on two walks… accounted for two runs and three RBI… hit .262 with a .304 on-base percentage… had a four-game hitting streak during the season.
SENIOR (2021): Played in 23 games, starting in 22 games at catcher … finished with four hits and four walks … caught six runners stealing.
JUNIOR (2020): Played in 12 games, starting in 10 … tallied four hits, two of which were home runs, and finished with three runs batted in … drew four walks … posted an on-base percentage of .235 and a slugging percentage of .345 … hit a home run against Stanford on Feb. 7 and at Grand Canyon on Feb. 8 … threw out two runners trying to steal.
SOPHOMORE (2019): Played in 33 games, starting in 30, all behind the plate … totaled six hits, two doubles and one home run with 11 total bases … hit her first career home run at New Mexico State on April 2 … walked 10 times … twice recorded two walks in a game (at Utah State and against Boise State) … stole her first career base on her only attempt at Utah State on April 5 … accounted for five runs and three RBI … third on the team in putouts with 101 … threw out seven runners trying to steal … had one multiple RBI game, which happened on April 2 against New Mexico State … hit her first collegiate home run at NMSU on April 2  … reached base safely in eight-straight games, spanning from March 23 to April 7 … Named UNM Scholar-Athlete.
FRESHMAN (2018): Appeared in 42 games, starting in 36 games at catcher …fifth on the team in batting average (.230) … second on the team in number of putouts with 118 … led the team in caught stealing by with six … recorded a season-high three hits and four total bases versus St. Mary's on March 10.
HIGH SCHOOL: Went to Desert Ridge High School in Mesa, Ariz. … her team made the Final Eight Division 6A State Playoffs multiple times … first team all-conference selection in 2015 and 2016 … First Team All-Division and Second Team All-State selection in her junior year … three-time Golden Scholar Award recipient … played club softball for the Arizona Firecrackers and Arizona Hotshots Elite.
ON WHY UNM: "I am extremely excited and anxious to become a student-athlete at UNM. I have dreamed of this moment for a long time and I can't believe it is finally here. I want to thank Coach Beach for this amazing opportunity to be a part of her program. I am very proud to be a Lobo!"