University of New Mexico Lobos athletics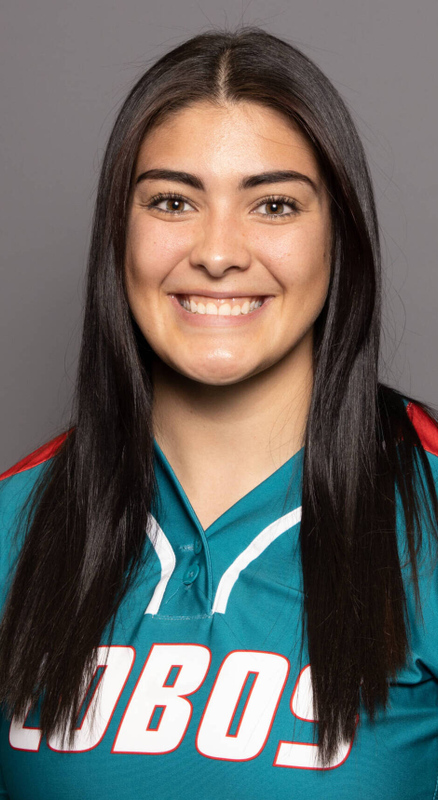 SENIOR (2022): Appeared in 21 games with 14 starts… started seven games at catcher, seven as designated player… finished with 10 hits, two doubles and two home runs… accounted for six RBI… hit a two-run home run in her first start as a Lobo against Southern Utah and hit a home run against UNLV… also drew six walks.
JUNIOR (2021, at Nebraska Omaha): Played in 30 games with 18 starts at catcher … hit .268 on the year, recording 15 hits, two doubles and two home runs, five RBI and five runs scored … four times this season had hits in back-to-back games … three-game hitting streak with a hit at Kansas City (May 2) and against South Dakota (May 7 & 8) …  went a season-best 2-for-2 performance with a double and home run for two RBI and two runs scored against New Mexico.
SOPHOMORE (2020, at Nebraska Omaha): Started 22 games … hit .333 with 19 hits, six doubles, two home runs, eight runs and 14 RBI … finished with a .544 slugging percentage and a .406 on-base percentage… second in Summit League in doubles and eighth in RBI … four multi-hit games, including three hits vs. UNI (March 6) and Utah Valley (March 7) … twice had a season-high three RBI (vs. Green Bay (Feb. 8) and Utah Valley (March 7)) … named to the Summit League's Academic Honor Roll.
FRESHMAN (2019, at Nebraska Omaha): Played in 46 games, starting in 45 … hit .223 with 23 hits, five doubles, two home runs and 15 RBI…scored 10 runs…went 4-for-5 at the plate with a double, four RBI and a run scored vs. North Dakota (March 31).
PERSONAL: Born Dec. 5 in Greeley, Colo. … parents are Ron and Alicia Cameron … has one sibling, Aubrie … has been to 30 states and lived in seven.
ON WHY UNM: "The culture that Coach Congleton and her staff have built at UNM is exciting, and something I knew I wanted to be a part of from our first conversation. The emphasis on working hard and always putting the team first fit the type of environment I knew I'd be able to thrive in. I couldn't be more excited to be a Lobo!"