University of New Mexico Lobos athletics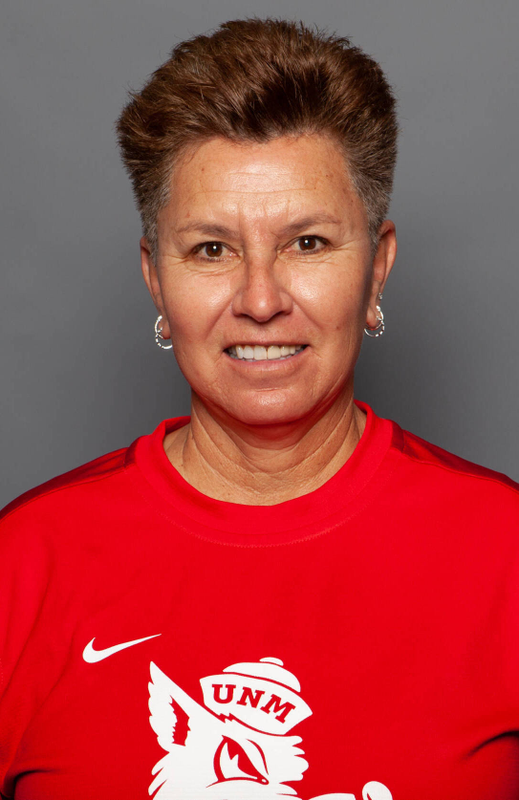 Paula Congleton enters her fifth season at the helm of the Lobos in 2020-21 after being named to the position on June 20, 2017. Congleton, a decorated Lobo alum, brings with her over 20 years of head coaching experience, most recently at Santa Barbara City College in Santa Barbara, Calif.
"Coach Congleton has great passion and pride for Lobo Softball," said Ed Manzanares. "The chance to bring back one our most decorated Lobo softball players, with her coaching background, to lead our program is very exciting for me. I know Coach Congleton will work tirelessly to build a program that can compete for championships in the MWC."
Congleton received her B.S. in physical education from the University of New Mexico. As a first baseman on the Lobos, she was a four-time Scholar Athlete (3.89 GPA), an Academic All-American in 1981 and twice named Academic All-American Honorable Mention (1980, 1982). While completing her Master's degree in curriculum development, she was a Graduate Assistant with the Lobo Softball Team. In 2009, Paula received her Doctorate in educational administration.
"I am extremely excited to be back where it all began," said Congleton. "This opportunity has brought an amazing full circle moment to my career and life. It is with great pride and passion that I am proud to be alumna of The University of New Mexico and the head softball coach."
Congleton, just the fifth head coach in the history of the program, started her head coaching career at California State University Eastbay in 1996. She moved on to be the head coach at Santa Barbara City College in 1998 and just finished her 19th season with the Vaqueros, leading the team to four Southern Cal Regional appearances and one trip to the Southern Cal Super Regional.
She has guided the Vaqueros to their greatest success of the program, winning a Southern Cal Regional series and advancing to the Super Regional for the first time ever in 2016. That 2016 squad won the second-most games in program history (30-14). They finished third WSC Gold Division and were seeded ninth for the Regional. They tied for seventh in Southern Cal.
Not only has Congleton molded the Vaqueros into one of the elite programs in the WSC, she also has a prestige background in academics. She has been a full-time Professor in the Physical Education/Athletic Division at SBCC for that past 19 years. She teaches health, weight training, and kinesiology.  Additional duties that she has had the opportunity to be a part of include Associate Athletic Director and Coordinator of the Academic Achievement Zone for student-athletes.
Congleton brings over 300 wins to New Mexico. She earned her 300th victory on April 17, 2014. She has been a three-time W SC Gold Division Coach of the Year, including 2011 when the Vaqueros set a school record for wins (31-7), captured the WSC title and playing the Southern Cal Regional.
Congleton and longtime assistant Bill Hilliard received accolades as the 2011 WSC, Southern Cal and NFCA National Coaching Staff of the Year.