University of New Mexico Lobos athletics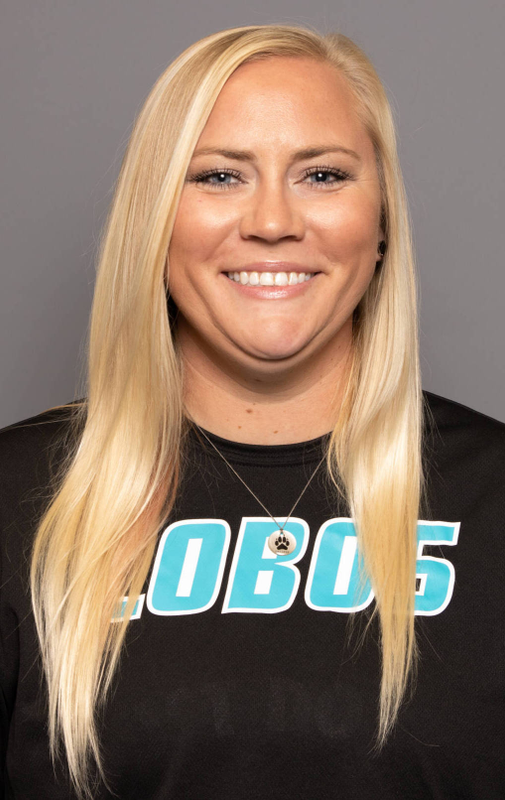 Kristen Hawkins enters her first season as an assistant coach for the Lobos after being hired in July 2021. Hawkins will work primarily with the catchers, as well as oversee the hitters and defensive strategies.
"I am very excited about Kristen joining our coaching staff," Congleton commented. "As a part of our Lobo family, Kristen comes in with a wealth of experience and knowledge with catchers, pitchers and offensive strategies.
"I am energized and excited about what Kristen will bring to UNM softball. She has proven herself at each school she's been at, and I have no doubt she will fit in and have an immediate impact on our success."
Hawkins comes from Alderson Broaddus University, a Division II program in Philippi, W.Va., but brings experience at the Division I and Power 5 levels.
Before getting into coaching, Hawkins was a four-year starting catcher at the University of Virginia, where the Cavaliers reached the NCAA tournament for the first time in program history in 2010 and earned the program's first postseason victory against Louisville. As a player, she made 148 starts with 21 doubles, 13 home runs, and 57 RBIs during her career.
"I would like to thank President Garnett S. Stokes, Director of Athletics Eddie Nunez and Coach Paula Congleton for allowing me this amazing opportunity to be a part of such a promising program. The University of New Mexico is a wonderful institution with a great support system surrounding it.
"I am very honored and humbled that Coach Congleton has welcomed me with open arms into the Lobo family. Coach was a highly decorated player during her time at UNM and still has a fiery passion and vision her alma mater that I absolutely love. I am excited to be a part of her staff, to learn from her, and to bring my experiences to her vision for the future of the UNM softball program. I can't wait to meet the student-athletes and get on the field to gear up for the upcoming season."
Her initial coaching stop was as an assistant coach with Midwestern State University, overseeing the pitchers, catchers and offense. In her first season, the Mustangs reached the Division II South Central Regional championship game and as a team, the program ranked as high as 24th in the country and broke the Division II single-season homerun record with 95.
From there, her stops included Western Illinois University, specializing in catching, pitching, hitting and defense, and most recently, Alderson Broaddus. With the Leathernecks, Hawkins had seven starters that finished Summit League competition with a batting average above .300.
Hawkins graduated from the University of Virginia in 2013 with a degree in sociology and obtained a Master of Education in sport administration from Midwestern State in 2015.