University of New Mexico Lobos athletics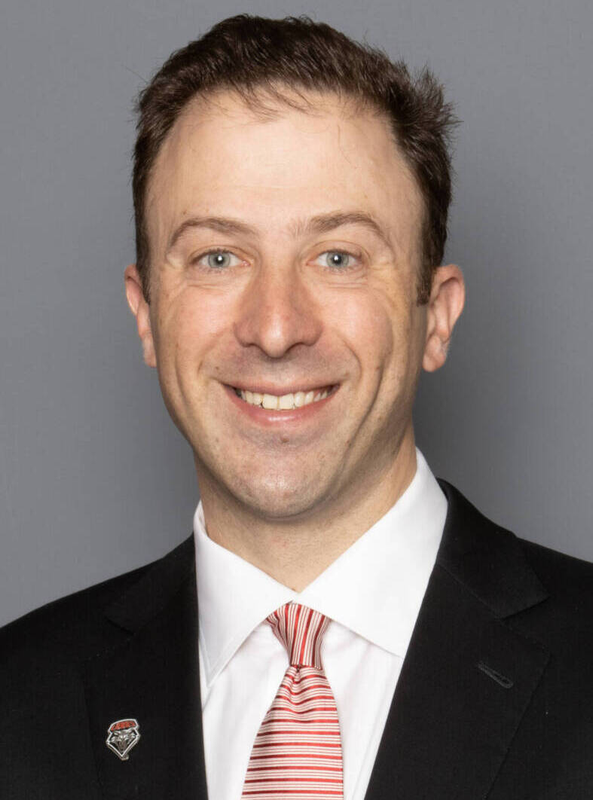 Follow on Twitter: @LoboCoachPitino
One of the brightest young coaches in college basketball, Richard Pitino enters his second season leading the New Mexico men's basketball program in 2022-23. After a debut season in Albuquerque that saw the Lobos more than double their win total and climb over 140 spots in the NET, Pitino looks to continue to build on that foundation as he builds his vision for the future of UNM basketball.
Pitino enters his 11th season as a head coach having won over 170 games, a NIT Championship and making two NCAA Tournament appearances, all before his 40th birthday. That success came after seven years as an assistant coach that included five NCAA appearances, including one Final Four appearance and four trips to the Elite Eight, three conference titles and two 30-win seasons.
Named the 22nd head coach of the Lobos on March 16, 2021, Pitino came to New Mexico with a track record of turning around programs in year one. Leading the 2021-22 Lobos, that trend continued as the program saw a seven-win improvement, from six wins the year before to 13 wins, despite playing half its games against NCAA and NIT competition. The Lobos, who led the Mountain West in scoring, defeated four NCAA Tournament teams during the season, their most wins over teams in the tournament in seven years. A win over No. 22 Wyoming on Feb. 15 extended Pitino's streak to eight straight seasons with at least one win over an AP ranked opponent.
Pitino came to UNM after an eight-year stint at Minnesota, where he went 141-123 with two NCAA Tournament berths and an NIT Championship. His first season at the helm of the Golden Gophers saw Minnesota go 25-13, setting a school record for wins as Minnesota won the second NIT Championship in school history. Along the way, the Golden Gophers knocked off three top-20 teams in No. 8 Wisconsin, No. 9 Ohio State and No. 19 Iowa.
In New York, he led his team to a 67-64 overtime win over Florida State in the NIT Semifinals to break the school record for wins in a season with 24. Minnesota then beat SMU 65-63 for the NIT title.
His first NCAA Tournament berth with the Golden Gophers came in 2016-17, when he led Minnesota to a 24-10 record. The 24 wins marked the second time in his career that his team surpassed the previous school record for wins. That 2016-17 team picked up two victories against ranked opponents topping No. 15 Purdue and No. 24 Maryland.
The Golden Gophers earned a No. 5-seed in the NCAA Tournament in 2016-17, facing Middle Tennessee in the opening round. Pitino was named Big Ten Coach of the Year on both the coaches and media teams as well as by the Associated Press. He also was named the NABC District 7 Coach of the Year and Reggie Lynch was named Big Ten Defensive Player of the Year. That year, Minnesota earned its first national ranking under Pitino, earning a No. 24 ranking during the season.
The 2017-18 season saw Minnesota ranked in the preseason at No. 15, climbing to No. 12 as the team started out 13-3.
His second NCAA Tournament berth came in 2018-19 when Minnesota went 22-14 despite one of the nation's toughest schedules that saw the Golden Gophers play 14 nationally ranked squads during the season.
It was that season that saw the Golden Gophers open at 5-0, including a championship in the Vancouver Showcase in Vancouver, British Columbia, defeating Texas A&M, Santa Clara and Washington. The Golden Gophers picked up five wins over nationally ranked opponents including No. 13 Purdue, No. 19 Iowa, No. 22 Wisconsin (on the road) and No. 24 Nebraska before defeating No. 11 Purdue again in the quarterfinals of the Big Ten Tournament.
Minnesota was selected as an at-large into the 2019 NCAA Tournament, earning a 10-seed. The Golden Gophers defeated Pitino's former school, Louisville, in the First Round before falling to No. 5 Michigan State.
The 2019-20 season was highlighted by the play of Daniel Oturu, who earned Third Team All-America honors from CBS and The Sporting News, becoming the first Golden Gopher named All-America since Kris Humphries was named Honorable Mention in 2004. Oturu was also the first to be as high as third team since Quincy Lewis was a third team pick in 1999.
In 2020-21, Minnesota climbed up to No. 16 in the rankings and picked up five more nationally ranked wins, including a pair in the top 10. The team was ranked for five weeks over the course of the season and listed in the polls for nine consecutive weeks.
Overall at Minnesota, Pitino picked up 19 wins over ranked opponents, including five top-10 opponents. Daniel Oturu in 2020 was selected in the second round of the NBA Draft by Minnesota, becoming the first Golden Gopher to be drafted into the NBA in 16 years. Additionally, five players were drafted into the NBA G League.
Under Pitino, Minnesota players were awarded All-Big Ten honors 12 times including Nate Mason, who was named First Team All-Big Ten by the coaches and media in 2016-17. Twice Pitino had players named to the All-Big Ten Freshman Team and twice players were named to the All-Big Ten Defensive Team.
He has seen his players named Big Ten Player of the Week 16 times and Big Ten Freshman of the Week nine times. Academically, 14 student-athletes under Pitino earned Academic All-Big Ten honors over his first seven seasons, including a school-record five in 2019-20. That squad also turned in the highest GPA in Minnesota men's basketball program history.
Pitino was named Minnesota's head coach in March of 2013 after one season as the head coach at Florida International.
With the Panthers, he took over a program that had not turned in a winning season in 12 years and immediately turned them around. Just one year after a dismal 8-21 campaign, Pitino led FIU to an 18-14 record and a third-place finish in the Sun Belt's East Division.
The Panthers took out top-seed Middle Tennessee in the semifinals and just missed their first Sun Belt title, as well as their second trip to the big dance, losing 65-63 to Western Kentucky in the championship game.
Pitino's success isn't just as a head coach, as he has been a part of several deep NCAA Tournament runs as an assistant and as an associate head coach. He spent two separate stints at Louisville coaching alongside his Hall of Fame father Rick Pitino. In 2011-12 as associate head coach, the Cardinals went 30-10, advancing all the way to the Final Four. That team along the way scored a 59-56 win in Portland over New Mexico in the NCAA Tournament, paving the way for the Cardinals to make it to the Sweet 16. From there, Louisville defeated No. 5 Michigan State and No. 25 Florida before losing in the Final Four to No. 1 Kentucky.
That Louisville team was ranked for every week of the season, save one, and finished the year ranked No. 4 overall.
His first stint at Louisville was from 2007-09, and both seasons ended in Elite Eight runs. In 2007-08, the Cardinals went 27-9, defeating Boise State, Oklahoma and Tennessee to advance to the Elite Eight. There, the No. 3 seeded Cardinals fell to top-seeded North Carolina. The following season saw Louisville ascend to No. 1 in the national polls, eventually going 31-6 overall. Winners of the Big East regular season title, Louisville also won the Big East Tournament title, defeating Syracuse in the title match. That moved the Cardinals to No. 1 in both polls. Louisville was the No. 1 overall seed in the NCAA Tournament, and the team defeated Morehead State, Siena and Arizona before losing to second-seeded Michigan State in an Elite Eight matchup.
Between Louisville stops, Pitino spent two seasons at Florida coaching under Billy Donovan. In his first season with Florida, the Gators went 21-13 overall, making it to the NCAA Tournament as a 10-seed where they would lose 99-92 in double overtime to BYU. That team climbed as high as No. 10 in the polls. The following season in 2009-10, Florida won the SEC regular season championship and went 29-8 overall, advancing the Elite Eight, losing to a Cinderella Butler squad 74-71 in overtime. That squad was ranked the entire season, getting as high as No. 9 before eventually finishing at No. 10.
Pitino has also had assistant coaching stops at Duquesne, Northeastern and the College of Charleston. The native of Boston, Massachusetts went to Providence, where he earned a B.A. in history in 2005. While at Providence he served as a student manager under Tim Welsh before beginning his coaching career the following year.
Richard and his wife Jill are the parents of two daughters, Ava and Zoe, and a son, Jack.
Richard Pitino Coaching Career
| | | | | | | |
| --- | --- | --- | --- | --- | --- | --- |
| Years | School | Position | W | L | .PCT | Highlights |
| 2021-22 | New Mexico | Head Coach | 13 | 19 | .406 | Seven win improvement in first season |
| 2013-2021 | Minnesota | Head Coach | 141 | 123 | .534 | (Two NCAA Tournaments, 2014 NIT Champions) |
| 2012-2013 | FIU | Head Coach | 18 | 14 | .563 | (First winning season in 12 years, 10 win improvement from 2011-12) |
| 2011-2012 | Louisville | Associate Head Coach | 30 | 10 | .750 | (2012 Final 4) |
| 2009-2011 | Florida | Assistant Coach | 50 | 21 | .704 | (Two NCAA Tournaments, 2011 Elite 8) |
| 2007-2009 | Louisville | Assistant Coach | 58 | 15 | .795 | (Two NCAA Tournaments, 2008 and 2009 Elite 8) |
| 2006-2007 | Duquesne | Assistant Coach | 10 | 19 | .345 | |
| 2005-06 | Northeastern | Assistant Coach | 19 | 11 | .633 | |
| | | Head Coaching Record | 172 | 156 | .524 | |
| | | Asst./Assoc. Coaching Record | 167 | 76 | .687 | |
| | | Overall Record | 339 | 232 | .594 | |