University of New Mexico Lobos athletics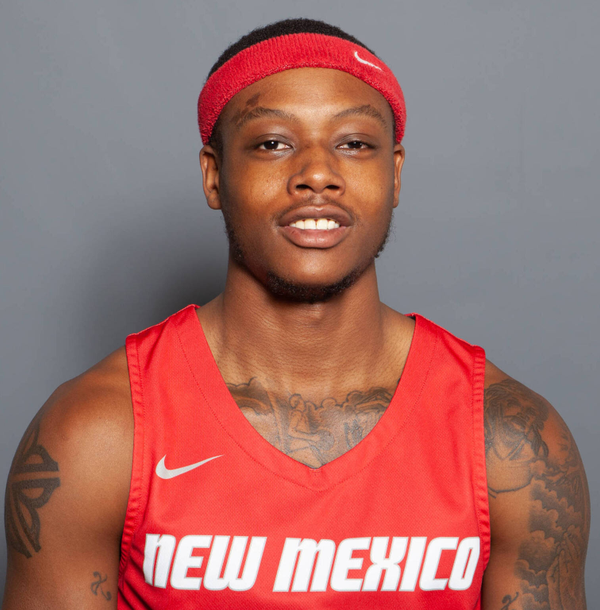 REDSHIRT-JUNIOR (2019-20): Competed in 31 games including a pair of starts … averaged 5.8 points, 3.9 rebounds, 0.8 assists and 0.4 steals in 16.0 minutes per game … registered 11 double-digit contests including a season-high 18 points on Feb. 1 at Fresno State … went a season-best 6-for-9 from 3-point range on Feb. 1 at Fresno State … racked up a UNM career-high six rebounds on Feb. 8 against Wyoming … fired at a clip of 47.3 percent (71-150) from the field and 36.5 percent (31-85) from the arc on the season … collected a season-high 34 minutes in his second start of the season against Nevada on Feb. 18.
REDSHIRT-SOPHOMORE (2018-19): Saw action in 29 games for the Lobos in his first season at UNM including 12 starts… scored a season-high 25 points on Feb. 26 at San José State going 10-for-19 from the floor and 5-for-11 from behind the arc… also tallied 20-points on Feb. 13 vs San José State… racked up 12 double-digit scoring games… Averaged 9.1 ppg on the season… fired 44.5 percent from the floor (93-209) and 40.8 percent from 3-point range (42-103)… went 79.5 percent from the stripe going 35-44 on the season from the foul line while posting 52 assists on the year.
FRESHMAN (2017-18 at South Plains College): Competed in 32 games for the Texans in his inaugural season, starting in 22 … averaged 21.2 minutes per game and posted 7.8 points and 2.4 rebounds per game … helped his squad to the 2018 NJCAA Men's Basketball National Championship … named 2018 NJCAA Tournament MVP … helped South Plains to a 98-95 victory over College of Southern Idaho for the win with 20 points, going 5-for-8 from the floor, 3-for-4 from 3-point range and 7-for-12 from the charity stripe … finished the season shooting 48.6 percent from the field, 44.7 percent from behind the arc while averaging 2.7 assists per game.
HIGH SCHOOL: Finished his senior season registering the most dunks in school history at Greece Arcadia … earned MVP honors … named All-Greater Rochester Area First Team … registered a 40-point game.
PERSONAL: Son of Chauncey and Chauntel … has one younger sister, Kayla … majoring in liberal arts … favorite athlete is Russell Westbrook … favorite food is "soul food"… favorite movie is Space Jam … hobbies include dancing and playing Fort Night … father Chauncey played basketball professionally overseas.