University of New Mexico Lobos athletics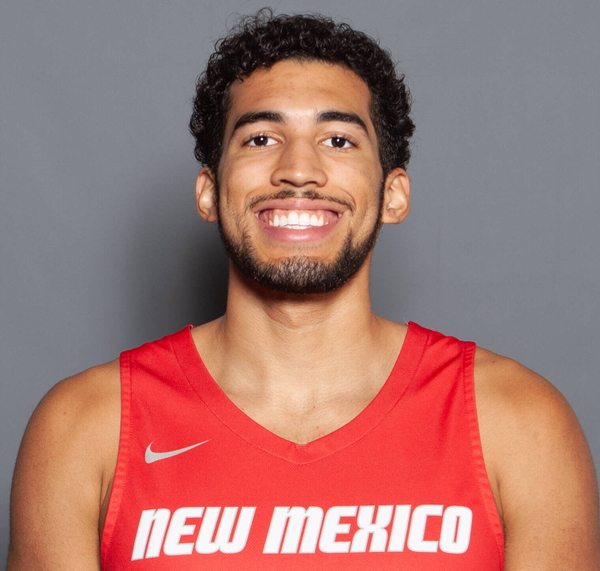 JUNIOR (2020-21): Played in two games for a total of four minutes … posted one rebound.
SOPHOMORE (2019-20): Saw action in 14 games including one start on Feb. 1 at Fresno State … collected a career-high seven rebounds, including six offensive, on Jan. 29 against San Diego State … registered a season-high four points twice on Jan. 29 against San Diego State and on Feb. 23 at Boise State … collected a career-high 20 minutes on Feb. 26 at Air Force … posted 14 points, 17 rebounds, one assist and one steal on the season … shot 41.7 percent from the field (5-12) and 66.7 percent from the stripe (4-6).
FRESHMAN (2018-19): Competed in 12 games in his inaugural season including a pair of starts, the first on Nov. 24 vs UTEP followed immediately on Nov. 24 in UNM's win at 2019 NCAA Tournament participant Bradley… scored his first collegiate points in his first game on Nov. 6 at CSUN with a pair of free throws … added his first collegiate basket on Nov. 17 vs NMSU … scored a career-high six points on Dec. 30 vs the University of the Southwest … collected a career-high five rebounds and 12 minutes on Dec. 4 at NMSU … posted 17 points, 13 rebounds, three blocks and a pair of steals on the season … averaged 5.9 minutes, 1.4 points, 1.1 rebound and 0.3 blocks per game … earned 2018-19 UNM Scholar-Athlete Honors.
HIGH SCHOOL/AAU: Helped lead his Atrisco Heritage Academy squad to a 6A State Championship in 2018 … led the team to District 4-6A Championships in 2017 and 2018 … was named First Team All-State, First Team All-Metro and First Team All-District, as well as the New Mexico State Tournament MVP and All-Metro Defensive Player of the Year … averaged 14 points, 10 rebounds and four blocks per game while shooting 63 percent from the floor … notched 13 double-doubles on the season … as a junior the four-year varsity letterman was named First Team All-District, Second Team All-Metro and Second Team All-State… Played AAU for NM Little Dogs, NM Power and Bairstow Boomers.
PERSONAL: Born in Rio de Janeiro, Brazil … parents are Francisco and Kimberly Arroyo … has six siblings: Desiree, Jeannette, Francisco, Sara, Olivia and Elijah … hobbies include recreational sports, constructing puzzles and building Lego structures … named a National Hispanic Scholar … four-year Honor Roll plaque recipient…  Academic Letterman … favorite athlete is Kevin Durant.