University of New Mexico Lobos athletics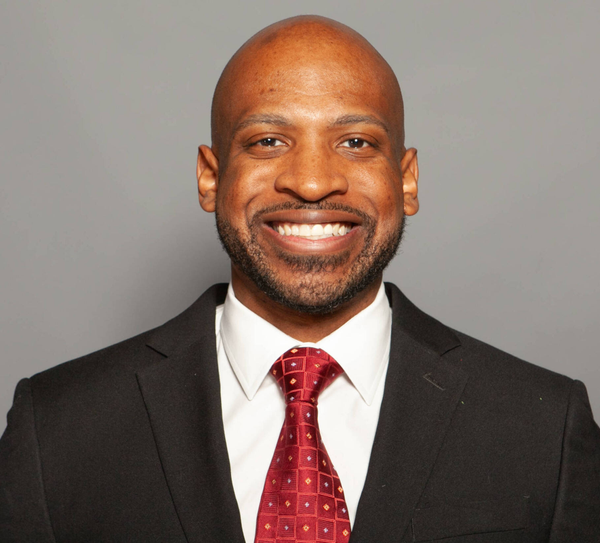 Ralph Davis enters his third season with the Lobos in 2020-21 after spending nine years at New Mexico Military Institute, most recently as the Broncos' head coach. He was hired as the video coordinator for UNM men's basketball in August 2018, promoted to director of operations in June 2019 and promoted to assistant coach in Sept. 2020.
"Ralph is a talented young coach who has worked tirelessly at NMMI for the past nine years," head coach Paul Weir said. "His work ethic and dedication to his program is well known and we look forward to adding him into our fold."
Davis served in the assistant/associate coach capacity at NMMI from Aug. 2009-July 2015 and was instrumental in the recruitment of 16 players that moved on to the NCAA Division I level and another 15 that advanced to the collegiate scholarship level. He helped the squad to the NJCAA Region V tournament for just the fourth time in school history and his responsibilities included creating video edits and scout reports while handling multiple game-day operation tasks.
He was promoted to head coach of the Broncos in August 2015 where he coached a trio of First Team All-Conference honorees and coached the team to a .500 record in WJCAC for just the second time in the last 14 years. He also helped lead the 2017-18 team to a top-20 ranking in NJCAA in points per game and offensive rebounds per game.
During Davis' tenure at the Institute, the Broncos enjoyed continuous year-by-year improvement for five of the last six seasons, with 40 players moving on to play at the D1, D2 and NAIA level. Davis was an integral part of the player development on and off the court and had a hand in the improvement of all aspects of the program, mentoring four WJCAC first team selections as well as six honorable mention selections.
During the 2014-15 season, as associate head coach, he helped the Broncos to their first Region V tournament appearance since 2002. Through that time they proved to be a formidable opponent, celebrating an 11-1 record at the Cahoon Armory. While working under head coach Sean Schooley, the Broncos adopted a staunch rebounding mentality and finished top five nationally in offensive rebounds per game, top 10 nationally in total rebounds per game and top 20 in rebound margin. They led the conference in all three of those categories.
Prior to NMMI, Davis was the assistant coach under Pete Peterson at Texas A&M – Kingsville for the 2007-09 seasons. At Kingsville, he was tasked with recruiting, opponent scouting and daily operations. During this time, Davis helped develop two Lone Star Conference Defensive Players of the Year. Along with a first team All-Lone Star Conference selection, Davis also coached two second team All-LSC selections and three LSC honorable mention choices. And in the 2008-09 season, the Javelinas returned to the NCAA Division II Tournament for the first time in five seasons, just the fourth time in school history.
As a player, Davis was WJCAC Honorable Mention selection and started all 30 games during his sophomore year with the Broncos. He would move on to Texas A&M – Kingsville and become a member of the first nationally ranked Kingsville basketball team in more than 11 seasons.
The east coast native graduated from Texas A&M – Kingsville in 2007 with a degree in criminology and in 2009 with a master's in sociology. He is an alum of the New Mexico Military Institute with an Associate of Arts degree. He is also the 2003 New Jersey State triple jump champion.
Davis has worked at various camps across the country not limited to the HOOP GROUP Elite Camp and recently the Under Armour All-American Camp.