University of New Mexico Lobos athletics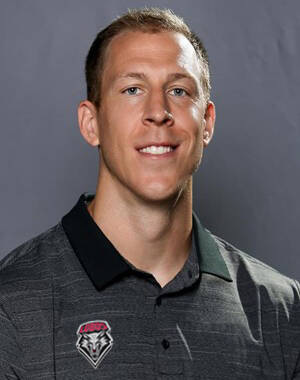 The University of New Mexico Athletic Department added Nick Michael to its strength and conditioning staff in July 2020 and he enters his second season with the Lobos in 2021-22. Michael handles the strength and conditioning programs for the Lobo men's basketball and women's golf teams.
With nearly a decade of experience, Michael joined the Lobos after three seasons working with the men's basketball and men's golf programs at the University of Alabama at Birmingham (UAB). At UAB, Michael was responsible for developing and implementing strength and conditioning programs, educating student-athletes on healthy nutritional habits as well as planning and organizing team meals.
"Nick brings a high level of experience and passion to a position of incredible importance to our program," head UNM men's basketball coach Paul Weir said. "His time as a player and coach have prepared him to take over the reins here and I am confident he will elevate our team going forward. I can't wait for him to start to make an impact for us."
Prior to his time at UAB, Michael also worked with the men's basketball teams at Missouri, Rice, VCU and Elmhurst College. In addition, he completed over 200 clinical hours with several organizations, including the Chicago Bulls.
"I am grateful for this opportunity and I am excited to join the Lobo family," Michael said. "I'm appreciative of the family, colleagues and coaches who have helped me get here and I look forward to being a servant leader to the student-athlete."
Michael spent several seasons playing professional basketball overseas in Ireland and Germany from 2007 – 2011 after graduating cum laude from Elmhurst College with a bachelor's degree in information systems in 2007. He earned a second bachelor's degree in exercise science from Elmhurst in 2013 before earning a Master of Education degree in sport leadership from VCU in 2014.
Michael resides in Albuquerque with his wife, Keeley, and their infant daughter, Charlotte.