University of New Mexico Lobos athletics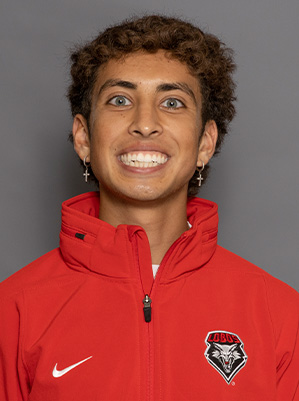 ⇓ Name Pronunciation ⇓
---
Cross Country (Freshman): In first cross country season participated in three meets…placed 67th at the Mountain West Championships with an 8k time of 27:19.8 minutes…ran a season-best 8k time of 27:14.4 minutes at the Nuttycombe Invitational on Oct. 14.
Outdoor Track & Field (Freshman): Participated in two meets during his debut outdoor season…took second place in the 1,500-meters at the UNM Spring Invitational, running a time of 4:04.42 minutes.
Indoor Track & Field (Freshman): Competed in two meets as true freshman during the indoor season…placed third in the 3,000-meters at the New Mexico Classic on Feb. 5, running a time of 8:54.68 minutes.
Cross Country (REDSHIRT): Did not compete.
River Hill High School (Class of 2021)
Competed at the state cross country meet in 2019 and 2020…competed at the state track meet in 2019 and 2020.
Galindo on choosing UNM: "I like training in New Mexico, with the desert environment and elevation."