University of New Mexico Lobos athletics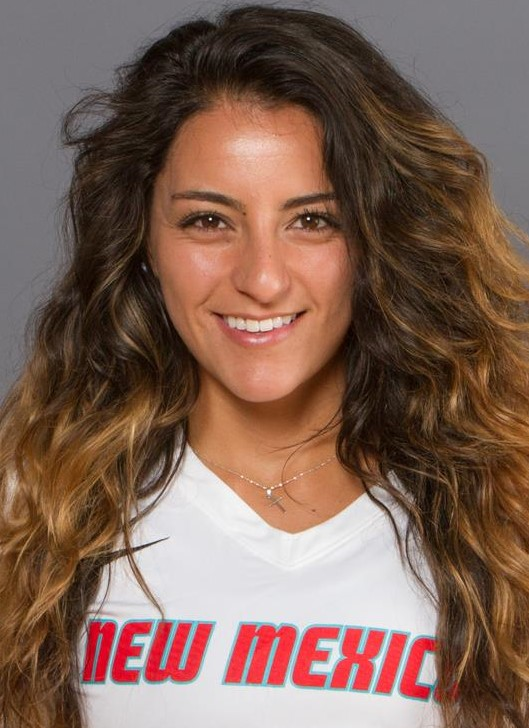 SENIOR | 2018: Named captain of the Lobos… Appeared in 98 sets throughout 25 matches, starting in every match at libero except one… Led the team with 378 digs (3.86 d/s)… Career-high 26 digs versus San Diego State… Tallied a career-high four service aces versus San Jose State… Recorded a career-high 10 assists at Air Force… Registered her first career double-double at Air Force with 21 digs and 10 assists… Posted double-digit digs in 20 matches and 20-plus digs in six, including in four of the last six matches… Finished third on the team in assists with 77…Tied for fifth in service aces with 12… Also recorded three kills and accounted for 15 points… Finished sixth in the Mountain West in overall digs per set and fourth in conference matches digs per set (296, 4.05 d/s).
JUNIOR | 2017: Competed all 32 matches on the season, with 20 starts at defensive specialist and three starts at libero … Finished the season with 242 digs (2.12/set), third-most on the team … Posted a five matches with double-figure digs during a stretch of seven matches, including a 17 vs. Portland on Sept. 8 … Added back-to-back matches of 14 digs vs. Toledo (Sept. 15) and Tennessee Tech (Sept. 16), with the second coming as the team's libero … Logged a career high-tying 18 digs at Nevada on Oct. 5 … Capped the season with 10 digs vs. Air Force … Also registered 29 assists and 18 service aces on the season … Her 18 aces finished as third-best on the team.
SOPHOMORE | 2016: Saw action in 31 of the team's 32 matches, primarily entering as a defensive specialist … Finished the year with 114 digs, fourth-best on the team … Had a season-best 11 digs against Utah State on Nov. 12 … Posted seven digs at South Florida on Sept. 2 … Capped her season with at least five digs in six of the final seven matches of the year, including eight digs vs. Fresno State on Oct. 27 … Also had three aces and eight assists.
FRESHMAN | 2015: Played in 29 matches, including 11 starts at libero and five starts at defensive specialist … Finished the season with 191 digs (2.20 per set) … Recorded a season-high 18 digs twice, with 18 at Ball State on Aug. 29 and 18 vs. SMU on Sept. 5 … Notched double-digit digs six times … Added 40 assists for the Lobos … Earned a kill vs. San Diego State on Oct. 24.
HIGH SCHOOL
2015 graduate of St. Pius X High School in Albuquerque … Lettered four years in volleyball for the Sartans under head coaches Diana Strickland and Jeanne Fairchild … Played a role on St. Pius' state and district championships teams in 2012 and 2013, and helped Pius to two more district championships in 2014 and 2015 … Earned spots on the all-district team and all-state team every year of high school (2012-15) … Named Metro Player of the Year and District Defensive Player of the Year in 2015 … Also played club with ARVC Shock, winning regionals and placing fifth at nationals in the 18's age group.
PERSONAL
Born October 16 to Jennifer and Richard Pacheco … Has two older brothers, Patrick, 25, and Nathanael, 22 … Her brother Nathanael played soccer at Gonzaga, while her father swam for the Lobos … Lists Ronda Rousey as her favorite athlete and steak as her favorite food.