University of New Mexico Lobos athletics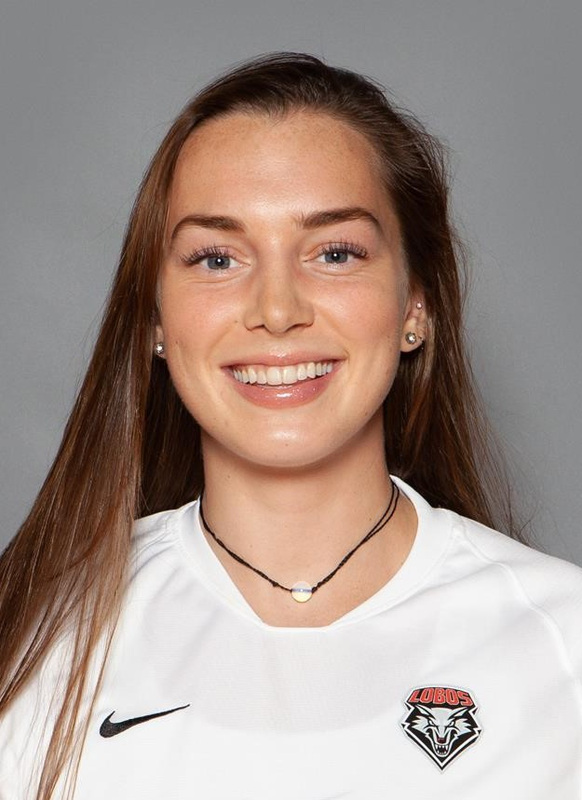 JUNIOR | 2018: Named Mountain West All-Conference… Named to the Idaho Volleyball Classic All-Tournament Team and the UNF Invitational All-Tournament Team… Appeared in 121 sets and started in all matches… Led the Lobos with 407 kills (3.36 k/s) and 23 service aces…Recorded double-digit kills in 21 matches and 20-plus kills in four… Team-high 13 double-doubles on the year, including three in the last five matches… Tallied a season-high 23 kills at North Florida… Second on the team in digs with 291 (2.40 d/s)… Recorded 21 assists, which was the fifth-most on the team… Third in total blocks with 68 (11 solo, 57 assisted)… Tied her career high in blocks (five at GCU and at Air Force) and assists (three versus Air Force)… Accounted for the most points on the team at 469.5 (3.88 points per set)… Finished sixth in the Mountain West in overall kills per set and points per set… Was fourth in conference matches in kills per set (247, 3.38 k/s) and tied for fourth in points per set (282.5, 3.87 points per set).
SOPHOMORE | 2017: Played and started all 32 matches for New Mexico, emerging as one of the top all-around players in the Mountain West … Named to the All-Mountain West Volleyball Team … Finished the season with a team-best 412 kills (3.65/set) and 301 digs (2.66/set), adding 63 total blocks to be one of five players in Division I to finish the regular season with at least 400 kills, 300 digs and 60 total blocks … Offensively, ranked fifth in the Mountain West with 3.65 kills/set set … Reached double-figure kills 22 times, including three matches with over 20 kills … Arguably her best performance came at Wyoming on Sept. 23 as she fired off 25 kills on a .442 hitting percentage in the 3-0 win … Her 25 kills in a three-set match are tied for the most by a Lobo in a three-set match in program history … Also had strong showings vs. Tennessee Tech on Sept. 16 (20 kills, .319 hitting percentage), at Colorado State on Sept. 21 (14, .314), Wyoming on Oct. 19 (19, .311) and Colorado State on Oct. 21 (19, .306) … Posted a stretch of nine straight matches with double-digit kills … Finished the season with 1,210 attempts, which is tied for the third-highest single-season mark in program history … In the back row, finished with at least 10 digs 15 times (and at least nine 23 times), with a career-best 18 in back-to-back matches vs. Colorado State and Utah State … Finished with 13 double-doubles on the season, the most in the MW in 2017 … Also added strong play at the net, with 12 matches of at least three blocks … Notched three block solos at San Jose State on Oct. 7 … Notched 20 service aces, with three at Utah State on Oct. 26 … Named to the Blue/Gold Invitational All-Tournament Team and as the Lobo Classic Most Valuable Player … Also earned Mountain West Offensive Player of the Week on Sept. 23.
FRESHMAN | 2016: Saw action in 24 matches, including seven starts … Finished with 91 kills, averaging 1.75/set … Posted double-digit kills four kills, with 10 vs. Fairfield, a career-high 14 vs. South Florida, 11 vs. UTEP and 12 vs. San Jose State … Also had strong numbers vs. Boise State (nine kills), Wyoming (seven) and Nevada (eight) … Hit a then-career best .435 vs. UTEP, with 11 kills and one error on 23 attacks … Also posted a career-high four aces and 11 digs against the Miners …  Ended the year with 44 digs and 16 total blocks.
HIGH SCHOOL
Highly decorated outside hitter from Briar Woods High School in Ashburn, Virginia … During her senior year under head coach Marsha Hermes, earned a number of first-team accolades, including Washington Post All-Met, Virginia 5A All-State, Virginia 5A All-Region, Virginia 5A North – All Conference, Virginia 5A All Conference  … Also named AVCA High School All-American, JVA All-American and PrepVolleyball-High School All American … Claimed spots on the JVA 2015 All-National Team and four straight AVCA Phenom Lists (2012-15) … Recognized as PrepVolleyball Senior Aces … Became the first player in Briar Waods HS history to eclipse 1000 career kills … Claimed First-Team Washington Post All-Met, Virginia 5A All-State, Virginia 5A All-Region and Virginia 5A All Conference honors her junior year … Also named All-Loudoun 1st Team/Player of the Year in 2014 … First-Team Virginia 5A All Conference-14 and Second-Team Virginia 5A All Region during her sophomore year in 2013 … Two-time AAU Academic All-American (2014-15) … Won the VHSL State Championship in 2014 … In club ball, earned the 2015 VA Elite Club Leadership Award and won the 2012 AAU U14 National Champions with the Wisconsin Juniors.
PERSONAL
Born October 15 to Terri and Jim Twitty … Has one brother, Steven Arrick … Her father played soccer at Valdosta State from 1980-81 … Grandfather Bill Twitty golfed for the University of Georgia … Lists bike rides, hiking and listening to music as hobbies … Favorite athlete is Destinee Hooker … Favorite foods include Greek and Italian Food and mac & cheese … Favorite movie is The Benchwarmers … Majoring in biochemistry.