University of New Mexico Lobos athletics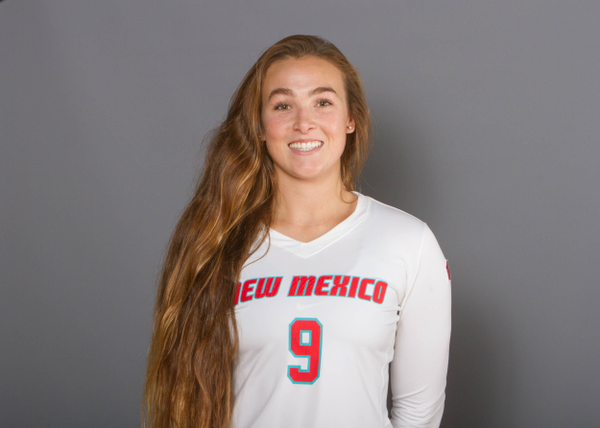 NEW MEXICO
SENIOR | 2018: Appeared in 85 sets through  22 matches, starting in 18… Finished the season with 153 kills (1.80 k/s), which was the fifth-most kills on the team… Posted a hitting percentage of .210… Recorded double-digit kills in five matches, including a season-high 13 kills versus Furman and against Nevada to tie her career high… Set a career high in attacks at North Florida with 42… Registered a career-high six digs against Furman… Opened the season with 10 assisted blocks versus Grand Canyon, which was a career high and season best… Finished the season with 54 total blocks, three solo and 51 assisted… Also had 24 digs, three assists and accounted for 181 points (2.14 points per set)… Named MVP of the Lobo Classic.
JUNIOR | 2017: Saw action in 30 matches, starting in seven … Finished the season with 155 kills (1.58/set), good for fifth on the team … Reached double-figures in kills four times, including a career high-tying 13 vs. Wyoming on Oct. 19 … Also tallied 12 kills in a superb performance at Boise State on Oct. 28 as she hit .571, and 10 kills against both Tennessee Tech on Sept. 16 and Colorado State on Oct. 21 … Also added 46 total blocks and 18 digs on the season
PREVIOUS COLLEGE (LONG BEACH STATE)
SOPHOMORE | 2016: Played just indoor for Long Beach State … Saw action in 10 matches, playing 14 sets … Tallied eight kills on the year, hitting .353 (8 kills, 2 errors, 17 attempts) … Added two total blocks … Posted a season-high three kills in the 49ers' season finale vs. Denver (Nov. 26)
FRESHMAN | 2015: Played just indoor for Long Beach State … Started 22 matches in the middle of the season … Reached double-digits in kills nine times throughout the year including a career-high 13 kills vs. UCLA (Sep. 18) … Finished fifth on the team with 192 kills, averaging 2.00 K/S, and sixth on the team with 35 blocks … Recorded double-digit kills for the first time with 11 against Duke (Aug. 29) … Recorded a solo block in three straight matches (Sep 4-5), getting a pair of solo roofs against Harvard (Sep. 5) … Had 10 kills and a season-high six digs at LMU (Sep. 10) … Hit .500 vs. Stony Brook (Sep. 12) with 10 kills on 18 swings with one error … Recorded a season-best 4.0 blocks in a win over San Diego (Sep. 18) … Posted 12 kills while hitting .526 vs. UC Santa Barbara (Oct. 23).
BEACH VB
Finished with a record of 25-38 record … The 25 wins rank ninth all-time in career wins.
SENIOR | 2019: Compiled a 10-14 record while predominately playing at the No. 3 court … Was paired with Joey Benson … Finished the season 4-1 with wins over Texas A&M-Corpus Christi, Santa Clara and Ottawa University Arizona (twice).
JUNIOR | 2018: Registered an 8-15 record, placing mostly out of the No. 4 position … Saw action in the No. 3 (1-1), No. 4 (5-12) and No. 5 (2-2) positions on the season, with 14 matches played with Mercedes Pacheco … Opened the season playing with Emily Nenninger before pairing up with Abbey Willison … With Willison, earned three straight wins over Abilene Christian, Grossmont and Houston Baptist … Paired up with Pacheco to close the season, earning victories against Colorado Mesa, Abilene Christian and Benedictine
SOPHOMORE| 2017: Posted a 7-9 record for the Lobos in her first season of collegiate beach volleyball … Played throughout the bottom of the lineup, logging a 6-2 record in the No. 4 slot … Saw action with four partners, playing 10 matches with Jackie Baro … Opened her season with a sweep of Benedictine, and added a sweep of Texas A&M-Kingsville … Went 3-1 with Chloe Crappell, including wins over Lincoln Memorial and Air Force … Also added wins over Colorado Mesa and UT Martin
HIGH SCHOOL
A three-time All-State selection for her team at Bosque School in Albuquerque … Three-time First Team All-District and All-Metro … Also selected to North All-Star team for the North-South 4A All-Star Game in 2014 … Led her team to the New Mexico 2A State Championship match three straight years (2011-13), winning the title in 2012 … Set the school record with 335 kills in her senior season and holds the school record with nine blocks in a single match … Also had 109 digs as a senior … Played club ball with New Mexico Juniors.
PERSONAL
Played for the New Mexico Juniors Volleyball Club … Born November 28 to Steve and Ann … Comes from an athletic pedigree as her grandfather Tony Bernitsky played football at New Mexico … Lists Holly Holm as her favorite athlete, ice cream as her favorite food and Ferris Bueller's Day Off as her favorite movie.