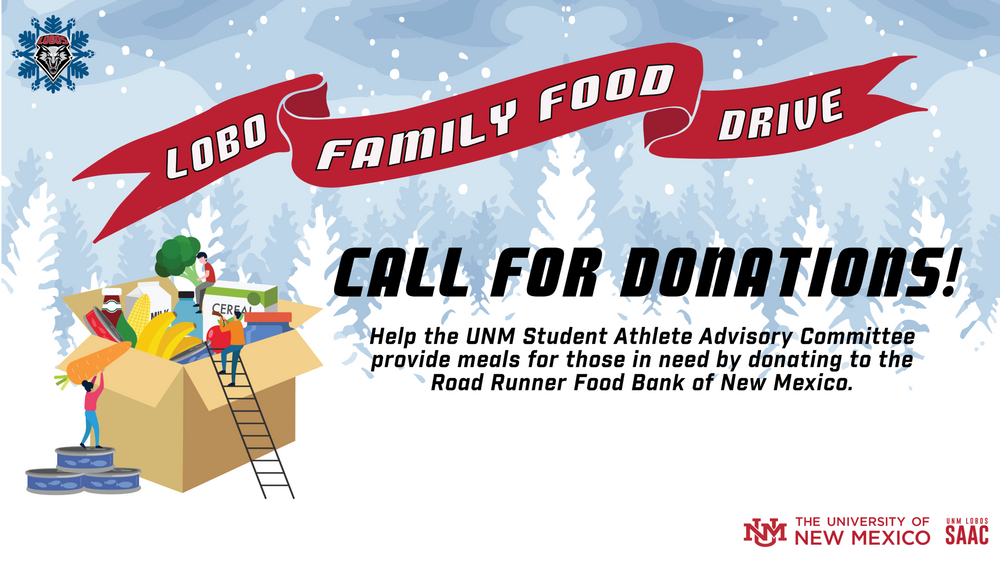 This holiday season, The University of New Mexico Student-Athlete Advisory Committee has decided to hold a drive with the Roadrunner Food Pantry to help give back to the community.
Dear Lobo Nation,
The Student-Athlete Advisory Committee (SAAC) has been meeting and discussing ways we can help our community. SAAC is a group of student athletes with representatives from each sport at UNM and was formed to provide a voice for student-athletes to address issues and encourage innovation in areas such as academics, student-athlete welfare, community service, university relations and career development.
This year has been an extremely trying time for many people around the world and we would like to do everything in our power to help the less fortunate in the Albuquerque community. With the holiday season approaching and winter just around the corner, it is important to note that family is not just blood but also the community that we live within. Our friends, neighbors, and family members might be struggling, and SAAC wants to make sure the community knows that the Lobos are their family too.
We have chosen to run a donation drive for Roadrunner Food Bank for multiple reasons. Firstly, we are doing a donation drive as we can social distance ourselves and reduce contact and mitigate the risk of any community spread of COVID-19. This donation drive can also be further reaching as there are so many Lobos around the United States and world. Roadrunner Food Bank has also a huge impact on the community in the whole state of New Mexico. They impact the lives of so many people and now more than ever they need to know their community appreciates the work they do. We want to reinforce the statement that Everyone's a LOBO!
Sincerely,
Ross Sinclair, SAAC Treasurer and senior on the men's golf team
Donations can be made starting on Monday, Nov. 23 and runs until Saturday, Dec. 12. To donate, please use the following link. Every $1 raised can help Roadrunner Food Bank distribute up to five meals to the New Mexicans in need. Thank you for supporting our mission.