University of New Mexico Lobos athletics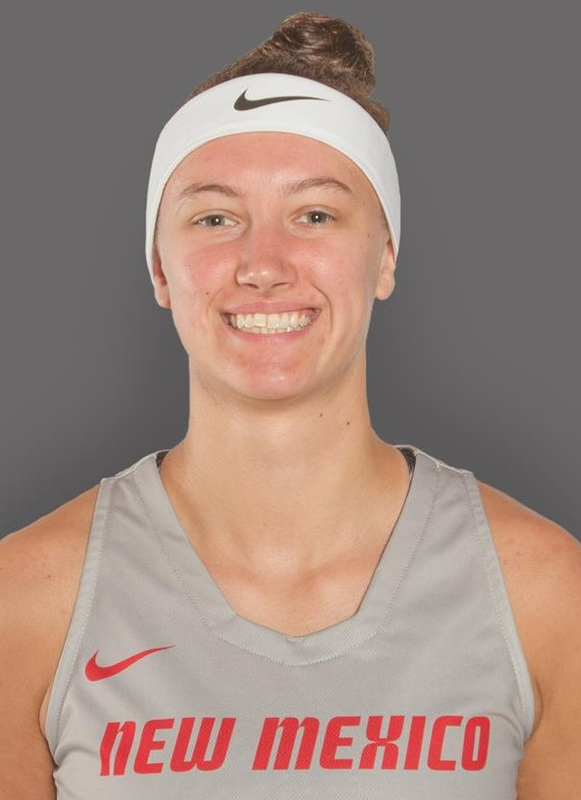 REDSHIRT JUNIOR (2016-17): Transferred in from the University of Wisconsin-Green Bay … did not play in the 2016-17 season due to NCAA eligibility rules.
JUNIOR (2015-16 at Green Bay): Eclipsed 1,000 career points with a game-high 14 points in Horizon League Final vs. Milwaukee (3/13) … shot a team-best 39.9 percent (63-for-158) from three-point range … tied for fifth best single-game three-point performance (5-for-6, .833) in Green Bay program history (min. 5 makes) vs. Dayton (12/30)… tied a career-high with 24-point performance at Paradise Jam vs. Virginia (11/26) … scored 23 points on 8-for-14 shooting, including 5-for-9 from beyond the ar vs. Milwaukee (2/2).
SOPHOMORE (2014-15 at Green Bay): Named 2015 Horizon League Tournament MVP after scoring 24 points, 10 rebounds and seven assists… Named Horizon League All-League Second-Team … Scored 14 points in NCAA Tournament game versus Princeton … Recorded third career double-double in tournament championship game … Started in all 33 games and played the second-most minutes on the team … Tied for the team lead in steals and ranks second in assists … Led team in made 3-pointers with 57 (57-176; .324) … Went seven-straight games on two different occasions with at least one made 3-pointer … Reached double figures in 21 games and 36 in her career … Tied career high with 24 points against Wright State in Horizon League Championship game … Recorded career high five steals twice (vs Milwaukee and @ Oakland) .. Grabbed career high 12 rebounds on Feb .12 at home against Wright State … Notched second career double-double with 15 points and 12 rebounds against Wright State.
FRESHMAN (2013-14 at Green Bay): Started all 32 games for the Phoenix, averaging 10.4 points and 5.3 rebounds in 30.7 minutes of action …Led the team with 58 steals and was second with 169 rebounds…Finished tied for fifth in the single-season record book with 63 threes made, and set a program record with 198 threes attempted…Named the Horizon League Freshman of the Year in addition to being placed on the All-Freshman Team…Named to the Horizon League All-Tournament Team…Finished with a team-high 18 points, shooting 4-for-6 from deep and a perfect 4-for-4 from the free throw line in the WNIT loss to Minnesota (3/19)…In the Horizon League Tournament Semifinals against UIC, scored a career-high 24 points, going 5-for-6 from deep and 8-for-11 from the field…Named the Horizon League freshman of the week on March 3 after averaging 15.0 points, 9.0 rebounds, 4.5 assists and 3.5 steals in 40.5 minutes after a weekend trip to Wright State and Valparaiso…Recorded first career double-double with 16 points and 10 rebounds at Wright State (2/27)…Collected a career-high 10 rebounds in a win at Oakland (1/30)…Had a career-high two blocks and tied a career high with seven assists against William and Mary (11/29)…Named the Horizon League freshman of the week for the second-consecutive week on November 25…Named the Horizon League Freshman of the Week on November 18…Became first true freshman to start a season opener since Sarah Eichler in 2009; recorded a team-high five assists and also had five rebounds in the season opener against Northern Illinois (11/8).
HIGH SCHOOL: Ranked 75th in the class of 2013 according to Blue Star Basketball…72nd ranked in her position by 2013 ESPNU HoopGurlz basketball…Verbally committed to Green Bay in Dec. 2011 and was also on the ESPNU HoopGurlz 100 Watch List for the 2013 class…Helped lead North Tartan 15U to the championship game of Nike Junior Nationals in 2011…Guided Red Wing to three consecutive state tournaments (2011, 2012, 2013), including a runner-up finish in 2013…Red Wing's all-time leading scorer, amassing over 2,000 points…Minnesota Girl's Basketball Coaches Association 2012 and 2013 All-State selection…Named to the All State All-Tournament Team as a senior…Associated Press Honorable Mention All-State in 2011 and 2012 and second team in 2013…As a senior, earned all-conference honors and was the all-area player of the year.
PERSONAL: Born to Richard and Jessica Buck on Feb. 25, 1995 … Has three siblings: Tyrell, Tayzha, Deso … Brother Tyrell currently plays baseball at Mankato State … Lists Maya Moore as her favorite athlete, pasta as her favorite food and Creed as her favorite movie … majoring in Native American Studies.