University of New Mexico Lobos athletics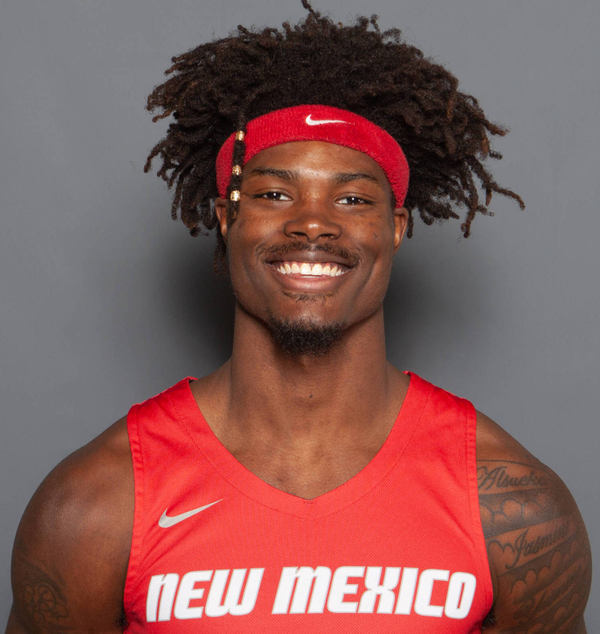 REDSHIRT-SOPHOMORE (2019-20 at Pearl River CC): Saw action in 27 games, all of which he started, averaging 19.9 minutes per contest as a redshirt-sophomore … helped lead the Wildcats to the only NJCAA DI undefeated season, the No. 1 seed in the national tournament and their second straight Region XXIII Championship … averaged 13.1 points, 6.5 rebounds and 1.3 assists per game while shooting 56.4 percent from the floor on the season … registered six double-doubles on the season to go along with five 20-point games including a season-high 28 points in Pearl River's 90-86 win over Jones College.
REDSHIRT-FRESHMAN (2018-19 at Wichita State): Appeared in 36 games at forward; served as primary back-up all-conference senior Markis McDuffie … averaged 1.1 points, 1.3 rebounds in 7.1 minutes-per-game … totaled 41 points, 48 rebounds and seven steals in 254 minutes … saw action in all four games during WSU's run to the NIT semifinals in New York … playing in his hometown of Memphis, set a career-high with nine rebounds (five of them on the offensive end) in the AAC Tournament opener against ECU (Mar. 14) and matched his personal-best with 18 minutes of court time … scored four points on three occasions, including the home finale against ECU (Mar. 5) when he played nine minutes and hit 2-of-3 shots … had his first collegiate dunk (an alley-oop) at Tulsa (Feb. 20) … had perhaps his best game at No. 17 Houston (Jan. 12) ending with a career-high six points on 4-of-5 free throw shooting, one block and one steal in 11 minutes … scored four points on a pair of putbacks vs. Southern Miss (Dec. 15) at INTRUST Bank Arena … registered four points, four rebounds in 12 minutes against Rice (Nov. 25), including his first field goal as a Shocker … scored his first collegiate points (on a pair of free throws) in a comeback win over Appalachian State at the Charleston Classic (Nov. 16).
FRESHMAN (2017-18 at Wichita State): Redshirted … appeared in both exhibition games, averaging 7.0 points and 2.5 rebounds in 14.5 minutes … hit all three of his field goal attempts and went 3-for-3 at the foul line in WSU's 113-55 win over Division II Newman.
HIGH SCHOOL: Attended Cordova High, located just outside of Memphis … in 2016, helped the Wolves (30-4) reach the Tennessee AAA State Semifinals for the first time in school history and claimed all-tournament status … averaged 21 points and 14 rebounds in 2017 and helped Cordova (24-8) win a regional title … voted MVP at the 2017 district and regional tournaments … also captured MVP honors at the Hotbed Classic and Penny Hoopfest … coached by Terrance Scales … a two-time UAA All-American on the summer hoops circuit for Team Thad under coach Norton Hurd.
PERSONAL: Full name is Rodgerick Brown … born Dec. 19 to parents Mauricio and Crystal Hearns … has one brother, Mauricio Jr., and two sisters, Rykhayla and Crystianna, … entered college having only played four years of competitive basketball (one in middle school and three at Cordova High) … favorite athlete is Paul George.