University of New Mexico Lobos athletics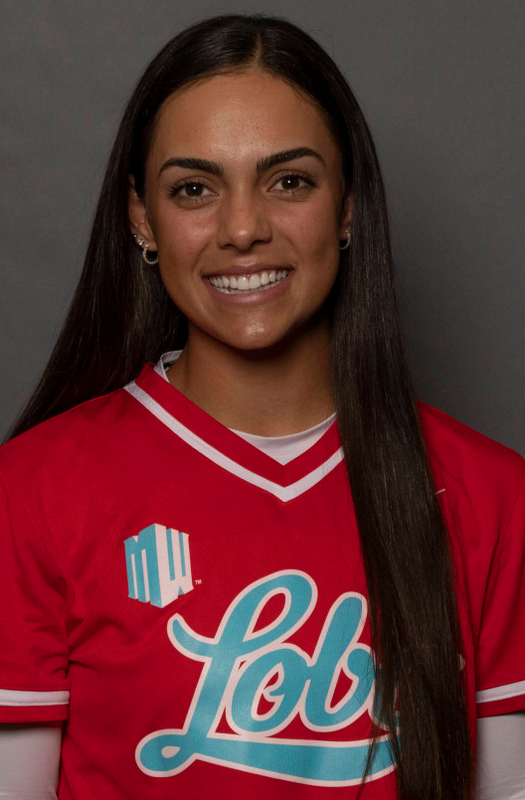 AUDIO PRONUNCIATION
REDSHIRT-JUNIOR (2023): Started in all 50 games at shortstop… finished with her best season as a Lobo with 59 hits, nine doubles, seven triples, 31 RBI, 91 total bases, 12 walks,  38 runs scored,  a .396 batting average, .452 on-base percentage and .611 slugging percentage… seven triples tied for the third most in a single season in program history, last done in 1998… led the team in batting average, slugging percentage, on-base percentage, doubles, triples, runs scored and total bases… tied for the team high in RBI… 59 hits were more than her freshman and sophomore season combined, as were her total bases… was involved with 15 of the team's 22 double plays, tied for the fifth most by an individual in a single season in program history… had a career-best 15-game hit streak and career-best 20-game streak of reaching base…led the team with 18 multiple hit games, five games with three hits… had seven multiple RBI games with a career-high five RBI against NMSU… was a single shy of the cycle against NMSU on Feb. 25… led the MW in triples and assists (114), second in fielding double plays… second in the MW in batting average, fifth in hits, eighth in slugging percentage and total bases, ninth in on-base percentage… named to the All-Mountain West First Team… named to the Academic All-District® Softball Team… named MW Scholar-Athlete and to the MW All-Academic Team.
JUNIOR (2022): Did not play, medical redshirt.
SOPHOMORE (2021): Started all 46 games, playing second base for 42 games and catcher for four … finished with 32 hits, 20 RBI, 10 doubles, four home runs, nine walks and nine stolen bases … led the team in stolen bases and attempts, while second in doubles and assists (79) and third in total bases (54), slugging percentage (.406), on-base percentage (.299), hits, RBI, home runs, fielding double plays (seven) and putouts (96) … fifth in batting average (.241) … posted eight multiple hit games and five multiple RBI games … ended the season on a six-game streak of reaching base and a six-game hitting streak … tied career high with two doubles against San Jose State on May 8 and twice set career high in total bases with five (at Utah State on May 14 and against San Jose State on May 8) … career-high three RBI against San Jose State on May 8 … tied for fifth in the MW in overall doubles and assists … tied Cameryn O'Grady for the lead in doubles in MW games with eight … ninth in the MW in slugging percentage in MW games (.609) … named Mountain West Player of the Week on May 11.
FRESHMAN (2020):  Started all 26 games at third base …  posted 21 hits, six doubles, two triples, one home run and seven walks … finished with a batting average of .250 and .330 on-base percentage … second on the team in runs scored (19), third in hits and total bases (34), fourth in runs batted in (12), fifth in slugging percentage (.405) … led the team with six turned double plays and 47 assists … tied for seventh in the MW in assists … recorded her first collegiate hit against Stanford on Feb. 7 and her first collegiate home run against Stanford on Feb. 8 … had five multiple-hit games and four multiple RBI games … had an on-base streak of 10 games to begin the season and a four-game hitting streak … was the only Lobo to hit a triple, which she did twice… named a MW Scholar-Athlete and named to the Spring 2020 Academic All-Mountain West Team.
HIGH SCHOOL: Graduated from La Cueva HS in 2019 … district champion in 2016 … three-time metro champion in 2016, 2017 and 2018 … state champion in 2017 … second team all-district and second team all-metro in 2016 and 2017 … first team all-district, second team all-metro and second team all-state in 2018 … academic letterwinner in 2017 and 2018 … member of the National English Honor Society and the National Spanish Honor Society.
PERSONAL: Birthday is Oct. 2… born in Albuquerque … parents are Trish and Steve … siblings are Steven, Joshua and Justin … played club ball for the Mizuno Storm … majoring in speech and hearing sciences.