University of New Mexico Lobos athletics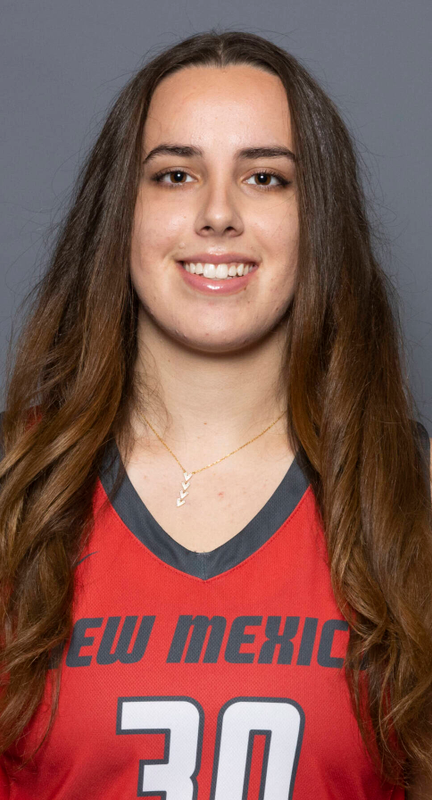 SOPHOMORE (2022-23): Played in 33 games with 22 starts… averaged 24.8 minutes per game, 8.0 points per game, 4.3 rebounds per game, 1.8 assists per game, 0.7 steals per game and 0.4 blocks per game… scored in double figures in 13 games with one double-double against New Mexico State… at least one steal in 17 games… third on the team in rebounds and second in blocks.
FRESHMAN (2021-22): Named to the MW All-Freshman team… played in 34 games with two starts (at Houston and at Arizona)… scored in double figures in eight games… had a season-high 19 points in the win against Fresno State… went 7-for-8 against Arizona, making her first seven shots and finished with a team-high 15 points… averaged 19.5 minutes per game, 6.9 points per game, 3.9 rebounds per game… season-high seven assists at Houston and twice finished with six assists… finished with 61 assists, 21 steals, 15 blocks and 234 points… shot .439 from the floor and made 18 three-pointers… made four three-pointers in the win at Colorado State, finishing with 17 points and a near double-double with nine rebounds… recorded at least one block in 11 games, at least one steal in 14 games… had four steals in the win against UTEP and two blocks in four games… averaged 8.8 points per game, 4.6 rebounds per game and 20.3 minutes per game in conference play, scoring in all but one game… scored in double figures in seven conference games… tied for third on the team in assists (61) and third in blocks (15)… named MW Freshman of the Week on Jan. 24…named to the Academic All-MW Team.
HIGH SCHOOL:  Graduated from IES Joaquim Blume.
INTERNATIONAL EXPERIENCE: Played on the U16 Spanish national team at the U16 FIBA 2019 European Championship, finishing third … averaged 11.7 minutes, 3.5 points, 2.8 rebounds, 0.8 assists and 0.7 steals per game … best performance came against Sweden, scoring nine points and grabbed seven rebounds to go along with two steals and an assist … played for Barça CBS LF2, winning the regular season championship, and qualified for the finals … Balearic selection five of six years … also played for Bahía San Agustín and Segle XXI … played in 25 games and averaging 4.7 points per game with Segle XXI.
PERSONAL: Born Nov. 30 in Palma de Mallorca … parents are Maria Teresa and Guillermo … has one sibling, Alex … undecided on major.
Coach Bradbury on Reus: "We are excited about the addition of Paula to our program. She will provide depth at the forward position and her international experience will be an added bonus to our team."
Reus on Why She Chose New Mexico: "I chose UNM because I feel I can grow as a person and a player," Reus commented. "The University is really good academically and I can get a quality education while playing basketball. The coaching staff has been really supportive during my recruitment process, and I felt wanted. Being far away from home, I feel I can have my family away from home here."