University of New Mexico Lobos athletics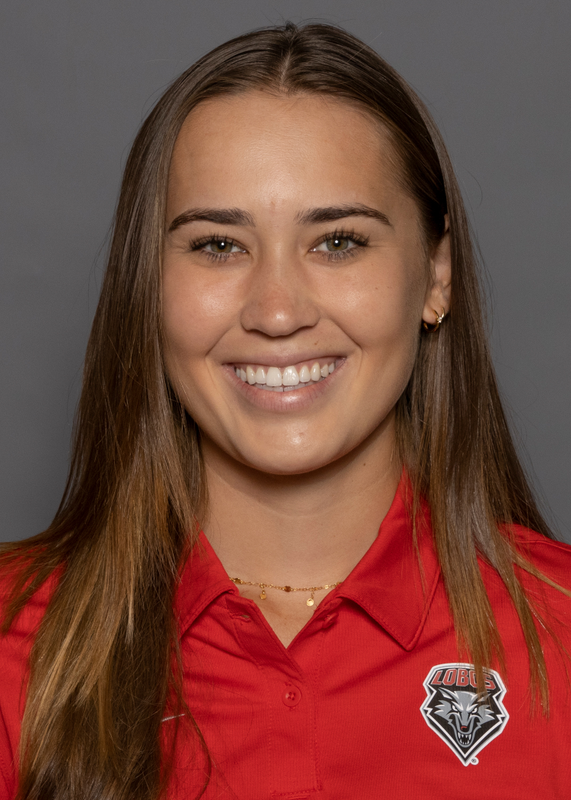 SOPHOMORE 2021-22): Women's Golf Coaches Association (WGCA) All-American Scholar … appeared in all 10 events … posted a 74.56 scoring average … season-best 211 (5-under) to finish T-6th at Clover Cup and earn Mountain West Golfer of the Week honors … seven rounds of par or better … season-best round of 69 in the first round of the Clover Cup … led the Lobos in two events (Molly Collegiate, Clover Cup).
FRESHMAN (2020-21): Named a 2020-21 Women's Golf Coaches Association (WGCA) All-American scholar … named the 2021 Mountain West Freshman of the Year … registered a pair of top-five finishes on the season at the Branch Law Firm/Dick McGuire Invitational (T5th) and at the 2021 Mountain West Championships (T4th) … posted the third-best scoring average on the team as a freshman (75.54) … also posted the third-best counted rounds average (19-21, 90.48%) … was the only Lobo on the season to finish a competition under par with a -1 at the Branch Law Firm/Dick McGuire Invitational … named to the 2020-21 Mountain West All-Academic Team … named a 2020-21 Mountain West Scholar Athlete.
HIGH SCHOOL: Competed for the Mid-Pacific Institute where she was named the 2019 Jennie K Invitational Champion and the 2018 Ka'anapali Match Play Champion … won the 2019 HSJGA Tournament of Champions … named 2018-19 ILH All-Star MVP and 2019 Team MVP … earned the 2019 ILH Champion title where she claimed the victory by nine shots, shooting a three under, 69, in the final round, which she finished bogey-free … in 2017, she was the only freshman to place in the competition (fourth) … named All-Star Second Team at Mid-Pacific in her freshman and sophomore seasons … registered a spot on the President's List throughout her high school career … a member of the Holomua Honor Society and the National Honor Society and was named the 2019 Valerie Schmidt Award Recipient
CLUB: Competed in the 2018 and 2019 Mary Cave cup where she was the runner up in 2019 … named the 2019 Mary Cave Derby Champion … also competed as a member of the 2018 Asia Pacific Junior Championship team.
PERSONAL: Born on August 21 in Honolulu, Hawaii to parents Michelle and Chad McDonald … has one sibling, Reese (14) … hobbies include paddling, shopping, hanging out and the beach and hanging out with friends … favorite athlete is Lexi Thompson … favorite food is Japanese food … fun fact: she dances hula and has had amazing opportunities through it, like traveling to New Zealand.