University of New Mexico Lobos athletics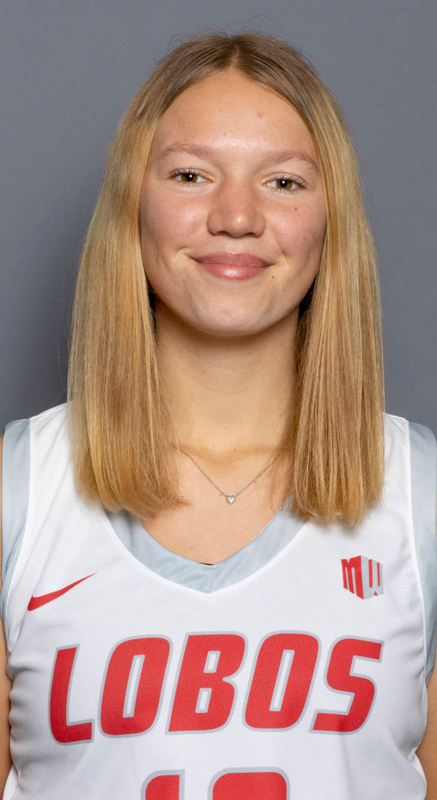 SOPHOMORE (2021-22): Played in 27 games with one start (at Houston)… averaged 7.0 minutes per game… season-high seven points in the win against Northern New Mexico… grabbed a season-high five rebounds against Utah State… scored in 12 games this season… went a perfect 3-for-3 from the floor in the game against San Diego… recorded a rebound in 12 games, an assist in six games and a steal in four games… named a Mountain West Scholar-Athlete.
FRESHMAN (2020-21): Played in 16 games, averaging 7.4 minutes per game, 1.6 points per game, 1.8 rebounds per game, 0.1 steals per game … scored in seven games with a season-high nine points in the season opener at Midwestern State … collected a season-high seven rebounds at San Diego State on Feb. 5 … credited with two steals at Utah State on Feb. 28.
HIGH SCHOOL: Competed for Lyceum Oudehoven and also for the club team Binneland where she helped her team to the U16 Championship in 2016 … also led her U20 team to the semi-finals and the Final Four in 2017, 2018, 2019 and 2020 … helped her team to the U20 Cup Finals twice (2017, 2020).
PERSONAL: Born Dec. 16 in Gorinchem, The Netherlands to parents Frank and Cora … has two siblings, Jordi and Madelon … plans to study education to be a primary school teacher … hobbies include watching Netflix, running, playing the guitar and reading … favorite athlete is Nikola Jokic … favorite food is sushi … favorite movies include Coach Carter and the entire Harry Potter collection.