University of New Mexico Lobos athletics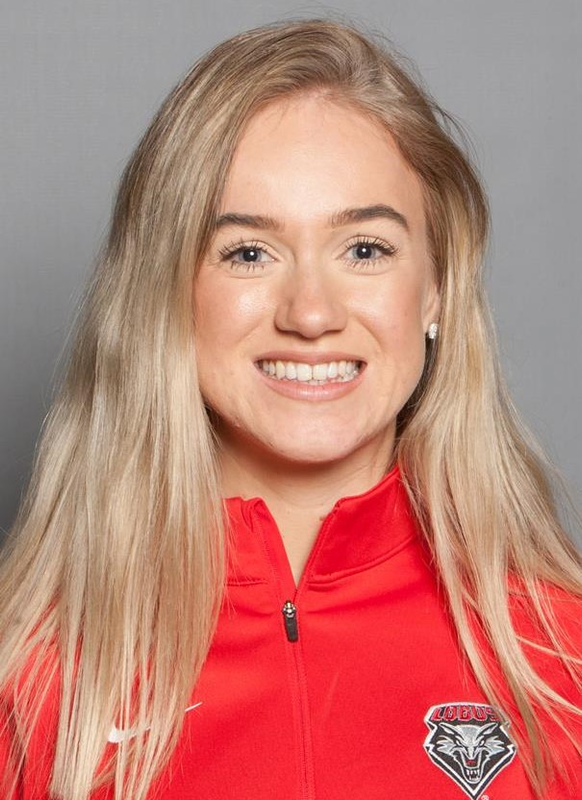 2019-20
2019 XC: Earned her first All-America honor after finishing 35th at the NCAA Championship in 20:42.9, improving 24 spots in the last 2K of the 6K race … finished 25th at the NCAA Mountain Regional with a time of 20:42.1 … produced her best finish and best result of her career at the MW Championships, finishing fifth at 20:14.37 … finished in the top-50 at the Notre Dame Invitational with an overall time of 17:04.24 … finished 77th out of 115 runners at the Nuttycombe Invitational with a time of 21:09.1 … earned All-Mountain West Cross Country First Team … named USTFCCCA Cross Country All-Region
2020 Indoors: Placed third in the 3000-meter at the Mountain West Indoor Championships in 9:15.21 … earned Mountain West All-Conference … finished 15th overall in the 3000-meter at the Husky Classic with a time of 9:15.56.
2018-19
2018 XC: Finished 83rd at the Nuttycombe Wisconsin Invitational, completing the 6K race in 21:04.7… placed 41st in the women's White race of the Wisconsin Pre-Nationals with a time of 21:05.9 … finished 22nd at the Mountain West Cross Country Championships with a time of 21:49.8 … placed 44th at the NCAA Mountain Regional with a time of 21:12.6 … posted a time of 20:53.0 at the NCAA National Championship putting her in 71st place, fortifying the team's second place finish.
2019 Indoors:  Saw action in three meets during the season… Ran a 3000-meter time of 9:07.64 at the Washington Husky Classic on Feb. 8 to rank seventh in UNM program history and a career-best mile time of 4:41.01 at the New Mexico Classic on Feb. 2 to rank tenth in program history … Also recorded a career-best 800-meter time of 2:12.08 at the New Mexico Classic.
2019 Outdoors: Competed in one meet … ran 4:31.88 in the 1500m at the Stanford Invitational.
PREVIOUS SCHOOL (Loughborough University)
Finished second in the BUCS indoors 3K
PERSONAL
Born in Preston, Lancashire, England …Parents are Alison Wyeth John Nuttall… Has one sibling, Luke… Mother and father competed professionally in 5K and 10K …Chose UNM because it's good reputation for athletics… Majoring in exercise science.
XC HONORS
USTFCCCA All-American: 2019
All-Mountain West Cross Country First Team: 2019
USTFCCCA Cross Country All-Region: 2019