University of New Mexico Lobos athletics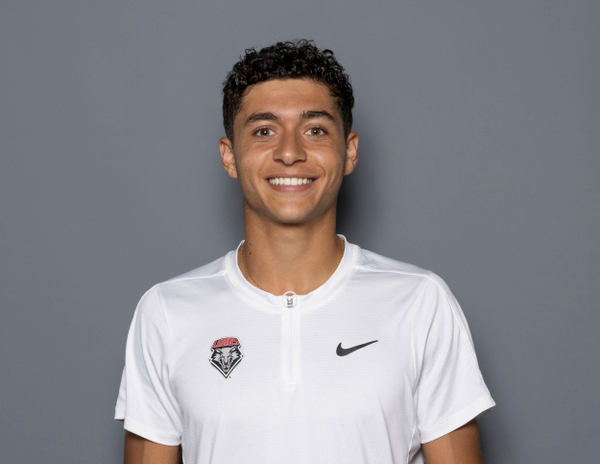 2023-24 (Sophomore Season)
*Led the Lobos with 25 singles wins and 17 in the spring season.
*Won his flight at the season-opening Arizona Invitational.
*Had a team-best 10-match winning streak in the spring season.
*Finished the year with four straight wins including a straight set win in the MW Tournament.
*won three of his last five doubles matches.

2022-23 (Freshman Season)
*Led UNM in both singles wins (18) and doubles wins (14) and total wins (32).
*Went a perfect 4-0 in the Mountain West Tournament, and was leading in both halted matches against Boise State.
* Went 11-1 over a 16 match stretch in the middle of the spring season.
*Named a Mountain West Freshman of the Week.
GEORGIO SAMAHA CAREER STATISTICS
| | | | | | | | | | | |
| --- | --- | --- | --- | --- | --- | --- | --- | --- | --- | --- |
| Singles | Total | 1 | 2 | 3 | 4 | 5 | 6 | Dual | Tour | Conf |
| 2021-22 | 18-8 | — | — | — | — | 1-0 | 12-4 | 13-4 | 5-4 | 4-1 |
| 2022-23 | 25-8 | — | — | — | 0-1 | 9-1 | 8-1 | 17-3 | 8-5 | 4-1 |
| TOTAL | 43-16 | — | — | — | 0-1 | 10-1 | 20-5 | 30-7 | 13-9 | 8-2 |
| | | | | | | | |
| --- | --- | --- | --- | --- | --- | --- | --- |
| Doubles | Total | 1 | 2 | 3 | Dual | Tour | Conf |
| 2021-22 | 14-7 | — | — | 12-4 | 12-4 | 2-3 | 4-1 |
| 2022-23 | 10-17 | — | 4-5 | 4-5 | 8-10 | 2-7 | 2-4 |
| TOTAL | 24-24 | — | 4-5 | 16-9 | 20-14 | 4-10 | 6-5 |