University of New Mexico Lobos athletics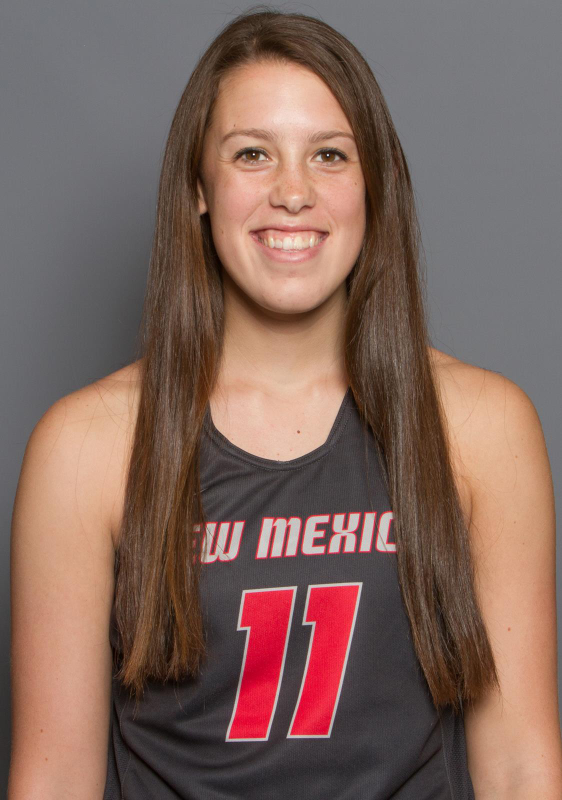 JUNIOR (2017-18): Appeared in 16 games off the bench as a junior … shot .429 (9-of-21) overall from the field and .357 (5-of-14) from long range … missed just free throw in seven attempts … scored a season-high 10 points in the season-opener against Northern New Mexico (11/15/17) … scored six points on 2-of-2 shooting from 3-point range against Texas Tech (12/6/17) … 2017-18 Academic All-Mountain West … 2017-18 Mountain West Scholar-Athlete.
SOPHOMORE (2016-17): Appeared in nine games in her second season with the Lobos, missing the second half of the season to injury … scored 10 points and grabbed four rebounds in the season opener against Fairleigh Dickinson on Nov. 12 … finished the season 7-for-16 from the three-point line … recorded 71 minutes of playing time … 2016-17 Academic All-Mountain West selection … 2016-17 Mountain West Scholar-Athlete.
FRESHMAN (2015-16): A sharp shooter that appeared in 24 games in her first season with the Lobos … led the team in three point percentage at 42.9% … went 3-for-3 from the three point line against New Mexico State (11-17-15) … scored 15 points against Boise State (1-30-16) … finished the season averaging 2.3 points and one rebound per game … 2016 Academic All-Mountain West Selection … 2016 Mountain West Scholar-Athlete.
HIGH SCHOOL: A three-time Florida Association of Basketball Coaches All-State selection and two-time Class 2A Florida Miss Basketball finalist … Has amassed more than 2,000 points and 1,000 rebounds during her high school career … BlueStar Basketball Report ranks her as the No. 203 prospect in the nation and the No. 25 guard in her class … Broke the Collier County record for points …Averaged 18.5 points, 11.2 rebounds and 4.2 blocks per game as a junior for the Lions and coach Jennifer Lines – Emily's mother … Was a second-team 3A All-State performer, scoring a season-high 32 points and grabbed 13 rebounds in First Baptist Academy's District 12-3A District semifinal game against Neumann High School … Also had a 19-point, 21-rebound effort in the Lions' win over Charlotte High School … Averaged 17.5 points and 7.9 rebounds as a sophomore for the District 10-2A champion team, and she had a career-high 33 points and 16 rebounds in the Lions' 66-51 victory over Sarasota Christian in the first round of the 2013 2A Florida State Championships … Won the 3-point shooting competition at the prestigious Naples Holiday Tournament … During freshman season in 2012, averaged 16.8 points, 8.6 rebounds and 3.1 blocks per game for the 23-6 Lions … The Lions advanced to the second round of the 2A state championships … A three-sport star for First Baptist Academy, also participating in volleyball and track and field … Was the District 18 Volleyball Player of the Year as a freshman for the Lions in 2011 … Also a member of the Tampa Thunder Elite AAU club team and went to state for track and field.
PERSONAL: Born on March 11, 1997 in Naples, Fla. … Parents are Jennifer and Rick Lines … mother is a teach at First Baptist Academy and her high school coach … Jennifer is a member of the Northwood (Mich.) University Hall of Fame … also was an All-America at NAIA Northwood (Mich.) University in 1990-91; Northwood won the NAIA District 23 championship that year … Rick stays involved through his participation as a high school referee … has one sister named Amanda…finished her high school career of being valedictorian … interested in Education or Health Sciences degree.