University of New Mexico Lobos athletics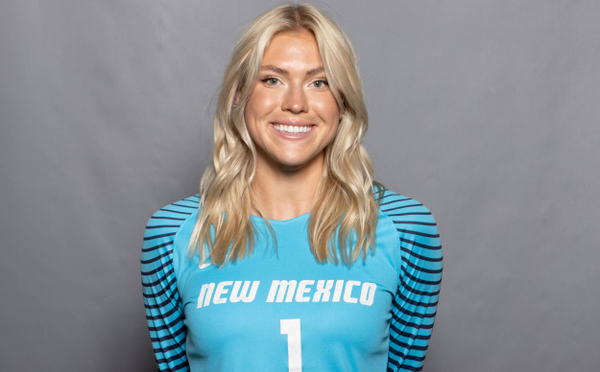 REDSHIRT-JUNIOR (2019): Started the first two matches of the season before sitting the remainder of the season due to injury … led the Lobos to a 1-0 victory over No. 22 Texas Tech with seven saves and a shutout on Aug. 26 … named Mountain West Defensive Player of the Week on Aug. 26 … earned 2019-20 Mountain West Scholar-Athlete Award.
JUNIOR (2018): Played in 20 games and started in 19 … named Mountain West Defensive Player of the Week on October 22, 2018 … posted a new career record of saves in a season at 73 … had a season-high of 10 saves in two games … logged one individual shutout on the season in the team's 2-0 win over Air Force on October 19.
SOPHOMORE (2017): Named to Academic All-Mountain West Team … started and played all 22 games for the Lobos during the season … one of four players to start and play in every game … named to Academic All-Mountain West Team … played the second highest amount of minutes on the team, playing 2,046.25 minutes on the season … logged five shutouts on the season … saved season high of 7 shots in the Lobo's 2-1 win against Colorado College on October 15.
FRESHMAN (2016): Played in four games for the Lobos in 2016 … didn't allow a goal and made five saves in 96-plus minutes of action during the season … made her college debut against Grand Canyon on Sept. 9, playing the final 15:45 … collected a season high in saves (three) and time played (29:20) against Fresno State on Oct. 2.
HIGH SCHOOL/CLUB: Played high school soccer at Lyons Township HS under head coach William Lanspeary … was named to the all-conference, all-region and all-state teams during her time there … was also an Academic Achievement Award winner.
PERSONAL: Majoring in business/marketing …enjoys photography, running and spending time with family …favorite athlete is Lionel Messi … favorite food is a smoothie and her favorite movie is Talladega Nights … daughter of Rick and Carolyn Johnson … has two siblings, Catherine and Elizabeth.