University of New Mexico Lobos athletics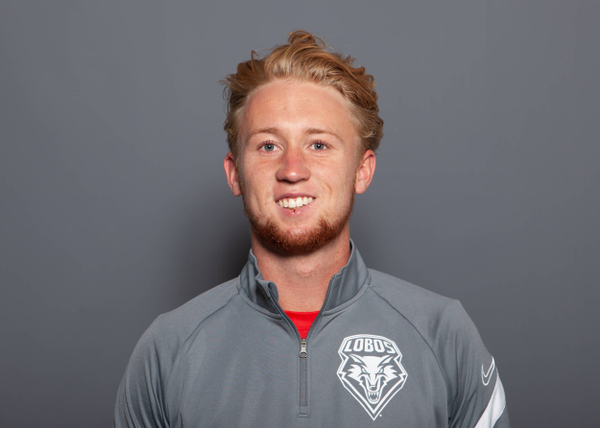 2019-20 (Senior Season)
*Went 3-9 in singles and 6-8 in doubles.
*Only fall tournament was the ITA All-American, where he went 1-2.
*Had a clinching win over Northern Colorado's Kyle Pease, winning 6-2, 6-2.
*Named Mountain West Player of the Week after getting a comeback 2-6, 6-4, 6-2 win over Utah's Franco Capalbo.
*Twice had leads over nationally-ranked foes that went unfinished, leading 6-3, 4-3 over No. 53 Parker Wynn of Texas Tech and 6-3, 5-6 over No. 33 Joshua Charlton of Oregon.
2018-19 (Junior Season)
*Earned All-Mountain West honors in singles.
*Went 23-8 in singles play and 15-10 in doubles.
*Ran off a streak of 13 wins in 14 singles matches from February 24 to April 20.
*Teamed with Facundo Bermejo for an 11-match doubles winning streak.
*Played at No. 2 singles the entire season, going 14-5.
*Went nearly perfect in conference play, going 6-1 in singles and 6-0 in doubles.
*Went 4-1 at the Midland Invitation, advancing to the finals.
*Opened the season by winning eight of his first nine sets.
*Advanced to the quarterfinals of the ITA Mountain Regionals, winning two three-setters along the way.
*Had a key win in the Round of 32 against Utah's Svyataslav Shainyan, coming back to win 3-6, 6-4, 6-1.
2017-18 (Sophomore Season)
*Went 13-11 in singles play and 11-11 in doubles.
*Teamed with three partners, going 9-6 with Ricky Hernandez Tong, 2-4 with Sean Baklini and 0-1 with Michael Tran.
*Played mostly No. 3 singles, going 7-9, along with 1-0 at No. 2 singles.
*Had seven unfinished singles matches, five of which he was leading or in a third set.
*Advanced to the quarterfinals of the ITA Mountain Regionals, going 5-1 in the tournament overall.
*Went 3-1 in three-set matches.
*Had a season-best three-match doubles win streak in non-conference play with partner Ricky Hernandez Tong.
2016-17 (Freshman Season)
*Named All-Mountain West in doubles with Bart Van Leijsen.
*Only played in the Spring semester, going 13-5, third on the team in singles wins, and tying for the lead in dual match wins.
*Also went 15-5 in doubles, again leading the team in the dual season.
*Anchored the middle of the rotation, going 6-3 at No. 3 and 7-2 at No. 4, and also going 4-3 in conference play.
*Mostly played doubles with Bart Van Leijsen, going 13-5 overall, 3-2 at No. 1 and 10-3 at No. 2.
*Also went 2-0 with Rodolfo Jauregui, both wins at No. 2.
Prior to UNM
*Played juniors in Great Britain under John Black.
*Favorite surface is clay.
*Had 41 singles wins and 45 doubles wins on the juniors circuit.
*Under 18 ITF World Ranking: 147
*Represented Great Britain at several events as a Junior
Personal
*Is majoring in Communications.
*Parents are Michael and Marion West.
*Supports Liverpool Football Club.
*Had the same childhood coach in Nottingham as current head coach Ben Dunbar.
DOMINIC WEST CAREER STATISTICS
| | | | | | | | | | | |
| --- | --- | --- | --- | --- | --- | --- | --- | --- | --- | --- |
| Singles | Total | 1 | 2 | 3 | 4 | 5 | 6 | Dual | Tour | Conf |
| 2019-20 | 3-9 | 2-6 | 0-1 | — | — | — | — | 2-7 | 1-2 | 0-0 |
| 2018-19 | 23-8 | — | 14-5 | — | — | — | — | 14-5 | 9-3 | 6-1 |
| 2017-18 | 13-11 | — | 1-0 | 7-9 | — | — | — | 8-9 | 5-2 | 3-3 |
| 2016-17 | 13-5 | — | — | 6-3 | 7-2 | — | — | 13-5 | 0-0 | 4-3 |
| TOTAL | 52-33 | 2-6 | 15-6 | 13-12 | 7-2 | — | — | 37-26 | 15-7 | 13-7 |
| | | | | | | | |
| --- | --- | --- | --- | --- | --- | --- | --- |
| Doubles | Total | 1 | 2 | 3 | Dual | Tour | Conf |
| 2019-20 | 6-8 | 1-0 | 4-7 | 0-0 | 5-7 | 1-1 | 0-0 |
| 2018-19 | 15-10 | — | 13-5 | 1-1 | 14-6 | 1-4 | 6-0 |
| 2017-18 | 11-11 | — | 8-9 | 1-0 | 9-9 | 2-2 | 1-3 |
| 2016-17 | 15-5 | 3-2 | 12-3 | — | 15-5 | 0-0 | 6-0 |
| TOTAL | 47-34 | 4-2 | 37-24 | 2-1 | 43-27 | 4-7 | 13-3 |