University of New Mexico Lobos athletics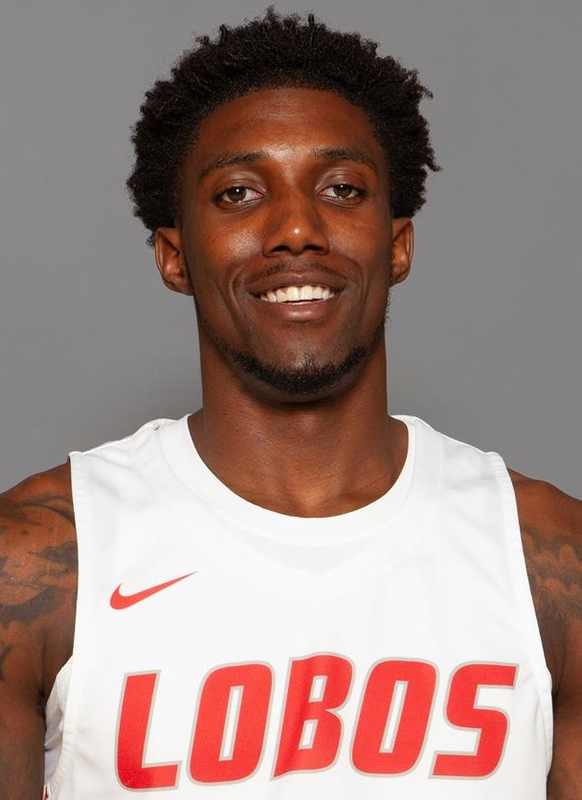 SENIOR (2019-20): Competed in all 33 games including 20 starts … Averaged 12.5 points, 4.5 rebounds and 1.2 steals per game … Registered 19 games scoring in double figures including five games of 20 or more points … Scored a career-high 28 points to lead UNM over Wyoming on Feb. 8 … Scored 24 points off the bench on Nov. 16 against McNeese, tying for 12th-most points off the bench in Lobo history … Shot 54.5 percent from the floor (150-275).
JUNIOR (2018-19): Saw action in 31 games in 2018-19 including 10 starts… Posted 11 double-digit scoring efforts including a pair of 20-point games… Registered a pair of double-doubles against Iona on Nov. 13 (20 pts., 10 rebs.) and at Bradley on Dec. 1 (18 pts., 11 rebs.)… Accumulated 278 points and 143 rebounds on the season… Fired at a clip of 49.0 percent from the field (96-196)… Finished the season averaging 9.0 points and 4.6 rebounds in 16.6 minutes per game… Accumulated a season-high 20 points twice, against Iona on Nov. 13 and against NMSU on Nov. 17… Posted a season-best 11 rebounds twice at Bradley on Dec. 1 and against Colorado State on March 2… Went 10-for-11 from the free throw line at Bradley… Finished the season 75.2 percent from the charity stripe (85-113)… Earned 2018-19 UNM Scholar-Athlete Honors.
SOPHOMORE (2017-18 at Indian Hills CC): Played in 22 games… Shot 57.7 percent from the floor including 44.4 percent from behind the arc while averaging 6.1 points per game.
FRESHMAN (2016-17 at Pitt): Made 18 appearances during his freshman season … averaged 0.8 points, 0.8 rebounds and 0.1 assists per game on 5-of-20 shooting … Went 4-for-4 from the free throw line, contributing a season-high four points against No. 8 North Carolina, 2/25 … Secured a season-high three rebounds and added two points in Pitt's win over No. 17 Florida State, 2/18 … Added two points and two rebounds in a career-high 12 minutes against Miami, 1/14 … Appeared in his first career game against Gardner-Webb, recorded two points and two rebounds in 11 minutes.
HIGH SCHOOL: Competed for Paul VI in Fairfax, Virginia… Named First Team All-State and Second Team All-WCAC as a senior after averaging 15.0 points and 11.0 rebounds per game… Helped lead his squad to a 22-11 record and a state championship appearance as a senior… Named first team DMVelite All-Nova, second team All-WCAC and honorable mention All-Met in his career… As a sophomore at Paul VI, he helped his varsity squad to a 31-6 record and a WCAC Championship as well as a VISAA State Championship… Was an Honor Roll recipient throughout his high school career… Ranked 136th in the nation by Rivals.com… Member of Team Takeover from 2007-15… Played in 2015 Peach Jam Final Four… Averaged 14.5 points and 4.3 rebounds per game on the Nike EYBL circuit.
PERSONAL: Born October 20… Son of Sothia Green… Uncle is playground legend Earl "The Goat" Manigault… On high school honor roll.