University of New Mexico Lobos athletics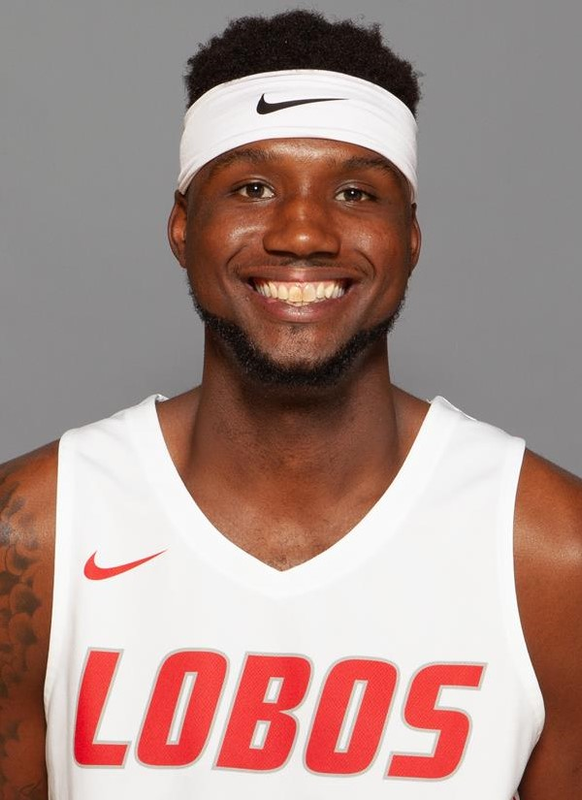 REDSHIRT-JUNIOR (2018-19): Became eligible on Dec. 16 after sitting out due to NCAA transfer rules… Started in all but three games throughout the remainder of the season (21), competing in a total of 24… Averaged 10.5 points, 8.8 rebounds, 1.3 blocks and 23.9 minutes per game… Fired at a clip of 49.7 percent from the floor… Scored a career-high 22 points on March 9 at Wyoming… Became the first Lobo since 2012 to register at least 20 points and 20 rebounds in a single game with 22 points and 20 rebounds on March 9 at Wyoming… His 20 rebounds tied for the most in the Mountain West on the season… Most minutes (32) came in UNM's Jan. 5 win over No. 5/6 Nevada… Finished third in the Mountain West in rebounds per game (9.8) and tied for second in blocked shots per game (1.5) in conference play.
JUNIOR (2017-18 at ASU/UNM): Sat out due to NCAA transfer rules.
SOPHOMORE (2016-17 at Kansas): Saw action in 31 games, averaging 13.8 minutes, 5.2 points and 4.1 rebounds per game… Notched a career-high 15 points twice and posted a double-double with 15 points and 11 rebounds in 27 minutes against Siena on Nov. 18, 2016… Started the first five games of the season… Named to the Karl Malone Forward of the Year Watch List.
FRESHMAN (2015-16 at Kansas): Played in all 38 games, averaging 8.9 minutes, 3.8 points and 2.5 rebounds per contest… Shot 56.1 percent from the field and fired 57.1 percent from 3-point range while posting three games of 10-plus points, including a season-high 12 against Kansas State in the Big 12 Championship Quarterfinals in 2016… Shot 56.1 percent from the field and showed range by making 4-of-7 (57.1 percent) from 3-point range.
HIGH SCHOOL: Named 2015 McDonald's High School All-American… Guided Villa Angela-St. Joseph High School to a pair of Ohio High School Athletic Association (OHSAA) Division III State Titles in 2014 and 2015… Five-star player who averaged 21.3 points, 8.0 rebounds and 2.0 blocks per game during his senior season at Villa Angela-St. Joseph… Scored 12 points and had a team-high five assists in the 2015 OHSAA Division III State Championship game… Averaged 18.5 points and 5.7 rebounds as a junior.
USA BASKETBALL: Competed in the 2015 World University Games… Averaged 3.8 points and 3.8 rebounds in eight games… Helped USA in win a gold medal in Gwangju, Korea… Started the third game against Chile where he pulled down seven boards.
PERSONAL: Born Carlton Edward Bragg Jr. in Cleveland, Ohio… Parents are Monica Howard and Carlton Bragg… Has an older brother, Deonte King, and a younger sister, Alaja Howard… Enjoys fishing and playing the piano.