University of New Mexico Lobos athletics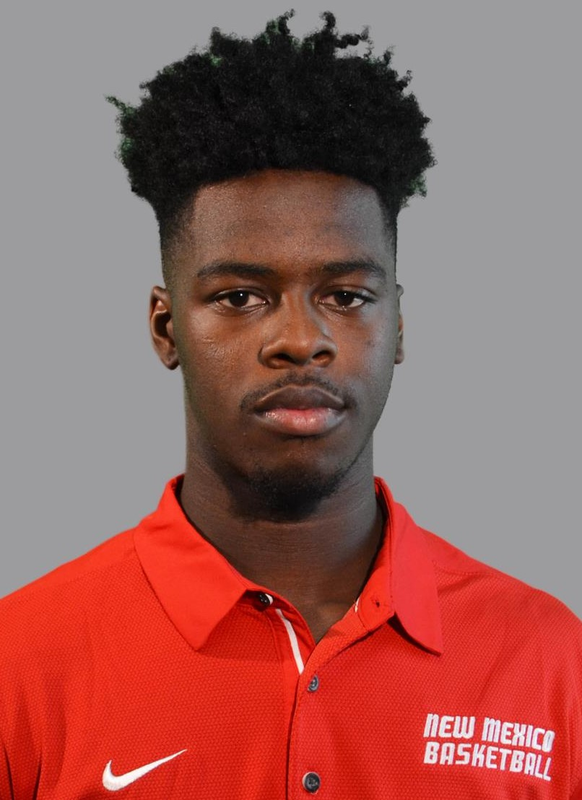 SENIOR (2017-18)
Played in 33 games with 23 starts… Averaged 10.4 points, 2.1 rebounds and 4.6 assists… Named to the Mountain West All-Defensive Team… Scored a career-high 24 points against SDSU on Jan. 20, 2018… Set a new career-high in assists with 11 against CSU on Jan. 27, 2018… Recorded two double-doubles (12 points, 11 assists against CSU on Jan. 27, 2018 and 10 points, 10 assists at Air Force on Feb. 10, 2018)… Led the team in assists with 151 on the season.
Sophomore (2015-16) (Akron): Appeared in all 35 games, starting 34 games … earned All-MAC Honorable Mention … was the Zips' second leading scorer, averaging 11.8 ppg, 3.5 apg, and 3.1 rpg … finished the season with 25 double-digit scoring performances, including 12 of the last 16 games … set career highs in points (23, vs. Arkansas, Nov. 18), assists (8 (twice, last vs. BGSU Feb. 26), and rebounds (8 vs. Western Michigan, Jan. 8) …. led the team in total assists (121) and free throw percentage (.815, 66-of-81) … ranked among  the leaders in the MAC in six categories, free throw percentage (5th, .815), assists (10th, 3.5), assist to turnover ratio (11th, 1.6), 3-point FG made (13th,1.9), steals (13th, 1.2), and scoring (26th, 11.8).
Freshman (2014-15) (Akron): Appeared in all 35 games, starting the last 10 games of the season … closed his freshman campaign averaging 6.2 ppg, 1.5 rpg and 1.6 apg, as well as posting a 1.1 assist-to-turnover ratio … averaged 11.3 points, 3.2 assists and 2.4 rebounds per game as a starter … posted 10 double-digit scoring performances, including eight in his last 10 games … scored a career-high 17 points at Miami (Ohio) on March 3 … dished out a career-high seven assists to go with 16 points and four rebounds at Kent State on March 6 … finished fifth among MAC freshmen in points per 40 minutes played (14.44) … shot 35.5 percent from the floor (76-for-214), 31.1 percent from long range (38-for-122) and 73.0 percent at the line (27-for-37) … made his first collegiate start against Toledo on Feb. 18, scoring a then-career high 14 points to go with three assists, two rebounds and two steals … finished the season with 14 multi-assist games, including nine in the last 13 contests … scored four points in his collegiate debut vs. UMBC on Nov. 14 … his first double-digit scoring performance came against Middle Tennessee on Dec. 13 (10 points).
HIGH SCHOOL (Cypress Springs HS): Averaged 19.2 points, 4.7 assists, 3.8 rebounds and 1.9 steals per game as a senior … earned First-Team All-District and Academic All-District honors in his final season … helped CSHS to a 22-12 record and a spot in the 2014 district playoffs … averaged 14.0 points, 2.6 rebounds, 3.4 assists and 2.9 steals per game as a junior while helping Cypress Springs to a 16-15 record … finished his high school career as a 44 percent shooter from the field and a 77 percent shooter from the free throw line … was a 1,000-point scorer in high school (1,075) … was a member of the CSHS team that made the regional tournament in 2011-12 (sophomore season).
PERSONAL: Born Jan. 31, 1996, in Tampa, Fla. … son of Antino, Sr., and Candice Jackson … has two sisters, Ashley and Aleshia … Ashley is currently serving in the U.S. Army … played football during his freshman year of high school.