University of New Mexico Lobos athletics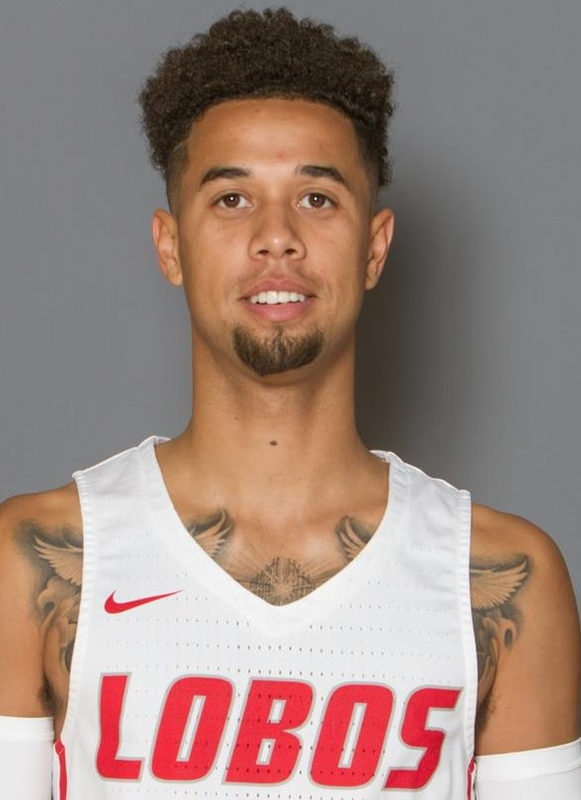 SENIOR (2018-19): Saw action in all 32 games, starting in 21… Named to the All-Mountain West Third Team… Named 2019 Lobo Club Student-Athlete of the Year… Broke the UNM program record for most 3-pointers in a season with 106 (the previous record was 102, set 20 years prior in 1998-99)… Finished fifth in Mountain West history in 3-pointers in a season… Closed the season on a 25-game streak scoring at least one 3-pointer, ranking fourth in program history… Also ranks fourth in program history in career threes with 222… Averaged a team-high 14.4 points per game shooting 41.1 percent from the floor and 41.6 percent from 3-point range… Shot 88.8 percent from the free throw line to rank 13th in the nation and claim third place in Lobo history… Led the Mountain West and finished 20th in the nation in 3-point field goals made per game (3.31)… Ranked 26th nationally in total 3-pointers made (106) and 32nd in 3FG percentage (41.6)… Registered 24 double-digit scoring games including seven of 20 points or more… Posted a career-high 27 points and five assists in UNM's win over No. 5/6 Nevada on Jan. 5… Tied his career-high seven threes in a game twice, the first on Dec. 1 in UNM's win over 2019 NCAA Participant Bradley, the second on Dec. 11 vs Colorado… Went a career-high 11-for-11 from the free throw line on Dec. 18 vs North Texas… Averaged 30.8 minutes per game including a career-most 39 minutes on March 13 in the Mountain West First Round against Wyoming… Finished the season with 980 career points, just 20 shy of becoming the 35th Lobo in program history to reach 1,000.
JUNIOR (2017-18): Broke the UNM record for most 3-point field goals in a conference season (66)… Finished his junior year third all-time in Lobo history for most 3-pointers in a season with 98… Ranks second in UNM history for best career 3-point percentage (44.6 percent)… Ranked 45th in the nation with 2.8 threes made per game… Finished fourth in the NCAA in three-point shooting percentage (47.3)… Saw action in all 34 games, starting 11… Averaged 12.7 points, 2.1 rebounds and 1.0 assists… Shot 49.4 percent from the floor and led the team with an 85.9 shooting percentage from the foul line and a 47.3 percent mark from behind the arc… Scored a career-high 25 points on two occasions in both conference matchups with Utah State… Set a record for best 3-point field goal percentage in a game with at least five three-pointers (100 percent, 5-5).
SOPHOMORE (2016-17): Played in 10 games on the season… Averaged 2.9 points per game on a 40 percent shooting from the field and 31.6 percent shooting from three… Had a season-high of 13 points on a career-high of 5-for-7 shooting from the field and 3-for-5 shooting from three against Wyoming (Feb. 25)… Had a career-high of four assists against Nevada (Jan. 7)… Had a career-high of two steals against UNLV (Jan. 10)…Had a career-high of 16 minutes against Wyoming (Feb. 25)… Tallied eight assists and two steals on the season… Had just two turnovers in his 10 games on the season.
FRESHMAN (2015-16): Appeared in 25 games, logging 164 minutes, in his first season with the Lobos… Shot 38.6 percent from the floor and a team-best 91.7 percent from the free throw line… Tallied nine assists and seven steals during the season… In a career-high 16 minutes at home against Air Force (Jan. 27), he had his best game with 16 points on 4-for-5 shooting from the floor, 3-for-4 shooting from 3-point range and 5-for-5 shooting from the free throw line… Scored seven points against both Nicholls State (Nov. 25) and Utah State (Feb. 9).
HIGH SCHOOL/AAU
Part of back-to-back-to-back 6A Oregon State Championships with the West Linn Lions… 6A Second Team All-State as a senior and First Team All-State selection as a junior… 6A All-State Honorable Mention in 2012-13… Career performances include 38 points versus national powerhouse Wheeler High School (Ga.) in the 2014 Les Schwab Invitational… Notable postseason outings include 25 points versus Centennial High School during the 2015 Oregon State Tournament… Helped the Lions to an average margin of victory in the 2015 6A State Tournament of 21.0 points per game… 2015 Oregonian Slam Dunk Competition participant… Played AAU basketball with Team Fast.
PERSONAL
Oldest of three siblings… Favorite movies include "Lone Survivor"… Favorite food is sushi… Favorite NBA player is Russell Westbrook and favorite team is the Golden State Warriors… Enjoys spending free time hanging out with friends.