University of New Mexico Lobos athletics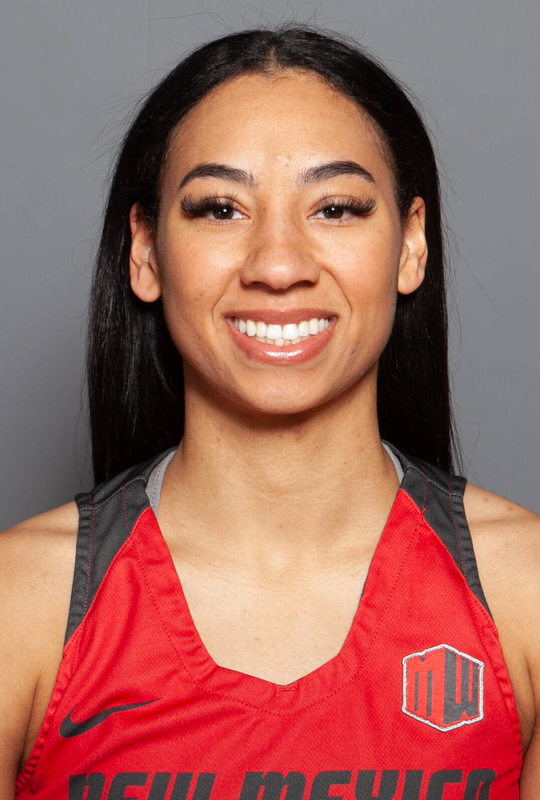 JUNIOR (2020-21): Played in 18 games with 16 starts … averaged 30.5 minutes per game, 12.4 points per game, 2.9 rebounds per game, 2.7 assists per game, 1.7 steals per game and 0.4 blocks per game … tied her career high in rebounds with seven and in steals with five against Fresno State on March 9 and set a career high in assists with six at San Diego State on Feb. 5 … made five three-pointers in two games … tied for the team high in steals (30) … second on the team in assists (49), overall minutes played (549) and made three-pointers with 44 … third on the team in points per game, free-throw percentage (.771) and attempted field goals (202) …  finished third in the MW in made three-pointers per game (2.44) and tied for seventh in the MW in steals per game … earned MW honorable mention.
SOPHOMORE (2019-20): Saw action in all 32 games for the Lobos including 31 starts … averaged 35.2 minutes per game for a total of 1,125 minutes on the season, good for 27th in the nation in total minutes … led the Lobos with 13.5 points per game … finished the season with 92 3-pointers to rank second in Lobo program history for most threes in a single season … ended the season ranked ninth in the nation in 3-point field goals made (92) and 17th in 3-point field goals made per game (2.88) … finished the season second in the Mountain West in 3-pointers (92), 3-pointers made per game (2.88) and third in 3-point field goal percentage (35.0) … collected 2.6 rebounds, 1.8 steals and 1.6 assists per game … shot 36.2 percent from the floor (142-392) and 35.0 percent from behind the arc (92-263) … led the Lobos at the free throw line shooting 83.8 percent (57-68) … scored in double figures 23 times on the season including five games scoring 20 or more points … season-high 23 points came on Feb. 22 against Boise State.
FRESHMAN (2018-19): Appeared in 31 games and made 28 starts as a true freshman for the Lobos … set a new UNM single-game record for points scored with a 39-point effort against Oklahoma on November 28 … her 39 points were the most points scored by any player in the Mountain West that season … in that game, Hurst buried nine three-pointers and was 14-of-24 overall from the field … the nine made three-pointers were also the second-most in a game by a Lobo in program history … Hurst went on to average 7.6 points per game and was second on the team and 14th in the MW in made trifectas with 49.
HIGH SCHOOL/CLUB: Attended Bendigo Senior Secondary College in Bendigo, Australia … has international playing experience playing with Vic Country and the Bendigo Braves … helped Vic Country to an Australian national championship and helped the Bendigo Braves to a South East Australian Basketball League (SEABL) championship as well in 2018 … also played for the Bendigo Spirit of the WNBL.
PERSONAL: Born on January 6, 2000 in Brisbane, Australia … daughter of Joe Hurst and Tania Dwyer … has two siblings, Jasmine Hurst and Tremayne Hurst … hobbies include sleeping and watching movies … favorite athlete is Kyrie Irving of the Boston Celtics … favorite food is tacos … favorite movie is White Chicks … father Joe Hurst played in the NBL in Australia.