Former Gymnastics Coach Rusty Mitchell Passes Away at 80
ALBUQUERQUE, N.M. — Rusty Mitchell, who coached men's gymnastics at The University of New Mexico from 1966-99, passed away over the weekend at the age of 80.  Funeral arrangements have not been announced yet.
Mitchell was named to the Albuquerque Sports Hall of Fame in 1991 and to the UNM Alumni Lettermen's Hall of Honor in 1995.  He was inducted in the Southern Illinois Saluki Hall of Fame in 1964 and the National Gymnastics Hall of Fame in 1985 as well.
Mitchell was the dean of coaches at UNM when men's gymnastics was dropped as a sponsored sport.  He left coaching with a record of 243-98 (a .713 winning percentage) before moving over to the health and P.E. department, serving as an assistant professor.  Overall, Mitchell's Lobos won 11 Western Athletic Conference championships out of a possible 18, and he produced 16 NCAA individual champions and 53 All-Americans.
The Lobos finished in the Top-12 nationally in 23 seasons, and the Lobos were represented at the NCAA Championships, either via the team or via individuals, in every season from 1967 to 1999.  Twice the Lobos achieved No. 1 rankings.  The team was ranked No. 1 for 11 of the 12 weeks in the 1995 season, and the team also rose to the top of the polls in 1996.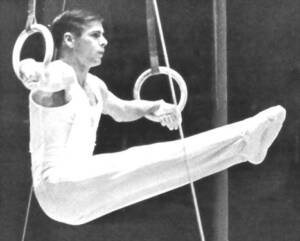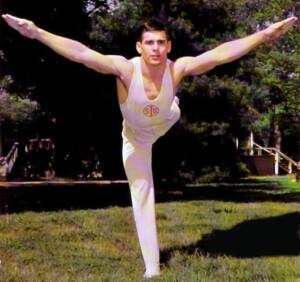 Mitchell was also well respected as a gymnastics coach away from UNM, as he served as a coach on the Olympic stage as well. He was twice selected as Assistant Coach for the U.S. Olympic Men's Gymnastic Team, Mexico City, (1968) & Munich, Germany, (1972).  He was also selected Assistant Coach for the U.S. Team at the World University Games, Moscow, USSR, (1973) and Chief of Mission for the Men's World Championships Gymnastic Team, Varna, Bulgaria, (1974).  He also served on the U.S. Olympic Committee, the National Association of College Gymnastics Coaches, the National High School Rules Committee, the National Collegiate Sport Council, and was a representative to the USGF Board of Directors and their men's Program Committee.
Mitchell earned a bachelor's at Southern Illinois in 1964 and then his master's in 1966 from there as well.  At Southern Illinois he captained the men's gymnastics team from 1962-64 and he was named "Most Outstanding Gymnast".  He was a 10-time All American at SIU and the Salukis won one NCAA team title and finished second twice while going undefeated in dual meet competitions.
He went on to compete for the United States in the 1964 Olympic Games in Tokyo, where he became the first athlete to successfully perform a double back.  In all, Mitchell competed in eight events in the 1964 Olympics.
He and his wife Shayleen had three children (Rusty, Mary Nicole and Chad) and several grandchildren.