White shines in debut, 4x4 relay record falls at MLK Invite
ALBUQUERQUE, N.M. – Elizabeth White started Saturday's Dr. Martin Luther King Jr. Invitational with a bang and the New Mexico women's 4×400-meter relay squad ended it with a school record to highlight the Lobos' first home indoor meet at the Albuquerque Convention Center.
"The meet started off fantastic with Lizzie," said UNM head coach Joe Franklin. "When you win any event in college, that is tough to do."
Coming inches shy of the school record in her first meet, White won the long jump with a leap of 6.22 meters (20' 5"). The Lobo newcomer was just off Aasha Marler's school record of 6.22 meters (20' 5.25") set on Feb. 13, 2015. White then took down her PR in the 60-meters, running a time of 7.86 seconds to top her previous mark of 7.94 which she set during her career at Southern Utah.
"I knew I had a home advantage, and it is pretty nice that I got to practice here," said White, who was an All-American in the long jump during her freshman year at Southern Utah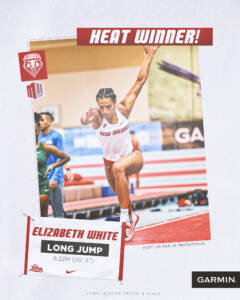 University in 2021-22. "I just trusted the training we have behind us from the fall, and it was nice having some good competition. I knew there were some bigger schools here, so coming into it I knew I had enough people to push me."
White didn't waste any time, ripping off her narrow miss of the program record on her first leap of the morning. "Usually my first one is my best one," said White, whose PR in the long jump is 6.34 meters (20' 9.75"). "My mindset is to just get a mark (on the first jump), and then see what happens. My last two were really good, I just scratched barely in the red."
A lineup that featured three newcomers cruised past the school record in the 4×400-meters, which stood at 3:43.45 entering the day. Logan Neely, Tianna Holmes, Annamaria Lesczcynska, and Rebecca Grieve combined for a time of 3:39.77 minutes, which was good enough for a third-place finish among a competitive field of 13 relay squads.
"Topping off the day was our women's 4×4, and they broke the school record by over four seconds," Franklin said. "To do that in your first race, with Logan – who had literally been on campus for about 10 days – and Annie, Rebecca, and Tianna, was outstanding. They were two seconds away from UCLA and USC, and that is awesome."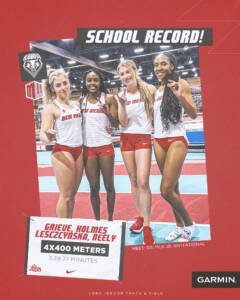 Grieve also topped the school record in the 300-meters, winning a heat of 10 runners with a mark of 38.81 seconds. Factoring in her school record mark of 1:32.86 in the 600-meters at the Air Force meet in December, Grieve has now collected three school records in the first two meets of her collegiate career.
Jake Burkey also had a standout performance in his first meet in a UNM uniform, notching a PR in the long jump with a mark of 7.52 meters (24' 8.25"). That bested his leap of 7.50 meters (24' 7.25"), which he achieved on Feb. 20, 2022 during his career in Great Britain.
"Jake jumped exceptionally well," Franklin said. "In the 300s Jevon did great, and it was his first real 300 race. Brodie Young set a Scottish 300 record as well."
Competing in the 300-meters for the first time, Jevon O'Bryant emerged victorious with a time of 33.39 seconds. Freshman Brodie Young finished in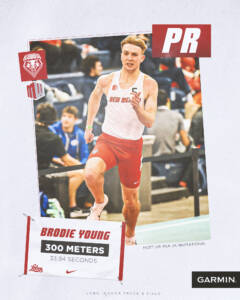 second place with a PR time of 33.94 seconds, while Rivaldo Leacock took fourth in 34.42 seconds and Ayoub El Ashmawi finished fifth in 34.46 seconds. While Grieve led the women's 300-meter performers, Neely took third in 40.24 seconds and Leszczynska finished fifth in 40.80 seconds.
After flirting with the school record in the 60-meters in her collegiate debut at the Air Force meet in December, true freshman Mckenna Watson posted a repeat performance on Saturday. Her time of 7.60 seconds was just 0.05 off the all-time Lobo mark, and was 0.02 slower than her time of 7.58 in her collegiate debut.
Alyssa Gregory posted a PR in her debut as a Lobo, clearing a height of 3.55 meters (11' 7.75") in the pole vault. That topped her previous best of 3.36 meters (11' 0.25"), which she achieved during her freshman year at Coastal Carolina University last winter. True freshman Kailey Ludwig cleared a height of 3.10 meters (10' 2") in her first meet as a Lobo in the pole vault.
Lauren Bettencourt put together a strong showing in her first meet of the indoor season, posting a personal-best mile time of 5:08.00 minutes.
Gal Arad notched a personal best in the 200-meters at 21.45 seconds, and also competed in the 60-meters where he posted a time of 6.94 seconds.
In her Lobo debut, Aleksandra Wolczak registered a 200-meter time of 25.77 seconds. She was followed by Kora Pettengill at 27.02 seconds, Alexandra Adams at 28.07 seconds, and Victoria Plummer at 28.17 seconds. Pettengill also participated in the long jump, where she notched a leap of 4.49 meters (14' 8.75"). Wolczak and Plummer also participated in the 60-meter hurdles, notching times of 9.14 seconds and 9.61 seconds, respectively.
Mikyla Harkley led a group of first-timers in the 60-meters, running a time of 8.07 seconds. Freshman Lilee Kaasch was close behind in 8.15 seconds, while Ludwig ran an 8.58 and Gregory ran an 8.61. Adams posted a PR in the 60-meters, running a time of 8.43 to better her previous mark of 8.54 set on Jan. 29, 2022. Alyssa Magallanez competed for the Lobos in the high jump, posting a mark of 1.55 meters (5' 1").
NEXT WEEK: The Lobos return to the track Friday to kick off the UNM Team Open at the Convention Center. Live coverage for next week's two-day meet will be available online here.