Preview: Lobos kick off home indoor season Saturday
ALBUQUERQUE, N.M. – Kicking off a stretch of seven consecutive weeks of home meets at the Albuquerque Convention Center on Saturday, New Mexico's track and field program welcomes a full slate of talented competition for the Dr. Martin Luther King Jr. Invitational.
The single-day meet jam-packed with action kicks off at 8 a.m., with live video available online here and live results available online here. The complete performance list for Saturday's meet can be viewed online here, and the schedule of events can be viewed online here.
Saturday's invitational is the first of seven meets that will be contested at the indoor track in the convention center, as the 2023 indoor season builds towards the NCAA Championships on March 10-11. UNM will also host the Mountain West Championships on Feb. 23-25 and the USATF Indoor Championships on Feb. 17-18. "This partnership gives not only student-athletes opportunities, but also gives everyone associated with the city of Albuquerque a chance to shine," said UNM head coach Joe Franklin on the nearly two-month long slate of indoor events. "It gives our students a chance to compete at home, and thanks to the city's support of these events we don't have to travel during the indoor season. We have incredible gratitude to Visit Albuquerque, the state, Parks and Rec, and Director Simon for the support. The new track that they have appropriated is truly a blessing, and we are honored to be hosting meets to give UNM and the state of New Mexico national and international recognition."
Prior to the three championship meets, the Lobos will host the UNM Team Open on Jan. 27-28, the New Mexico Collegiate Classic on Feb. 3-4, and the Don Kirby Invitational on Feb. 10-11. Information for the full slate of home meets can be found online here. "Having this opportunity to compete at home on a regular basis is amazing," said senior jumper Aidan Quinn, a fifth-year Lobo. "It's very helpful with academics, and it helps you have the right mindset. I have competed in many indoor facilities, but this is the best one I have ever jumped in."
Quinn will be among a sizeable group of Lobos competing this weekend, as the four-time Mountain West triple jump champion will look to better his top collegiate mark of 15.73 meters (51' 7.25") on Saturday. "I'm excited to see the team compete here this season," said Quinn. "Over the years we have been consistently building, and I think this is the most talented team we have had in my time at UNM. Everyone is really eager to prove what UNM can do."
The Quinn-led men's jump crew will also feature the UNM debut of Jake Burkey, who will compete in the long jump. Burkey's personal best in the event was a mark of 7.5 meters (24' 5"), which he achieved during his career at the University of Birmingham. Sophomore Adam Giron is also entered in the high jump, where he holds a PR of 2.01 meters (6' 7"). "With the major championships coming up that we are hosting, it is just a major advantage for us as the home team," Quinn said. "If we can gain the support of the fans and the local community, it will help us so much more as athletes and as a team."
On the women's side, senior Tianna Holmes will look to get her final collegiate campaign off on the right foot as she competes in the 300-meters for the first time in her career. "Having all these teams come here gives us a chance to compete and get into qualifying times and standards," said Holmes, who broke UNM's records in the 200-meters and 400-meters during the 2021-22 indoor season. "It is a home advantage of just being able to compete on the track that we practice on every single day. I just love this team, and the environment here is like a family. It is close knit, we are competing with each other to push each other to the best of our abilities every day, and I am excited for the season."
WHITE'S ANTICIPATED DEBUT: Elizabeth White, who was an outdoor All-American in the long jump last season while at Southern Utah University, is set to make her highly anticipated Lobo debut on Saturday. White is entered in her marquee event, the long jump, as well as the 60-meters where she holds a PR of 7.94 seconds. White's best-ever long jump was a mark of 6.34 meters (20' 9.75"), which puts her on pace to threaten the UNM indoor record of 20' 5.25" held by Aasha Marler (2015).
WOMEN'S SPRINT CREW: Newcomers Rebecca Grieve, Mckenna Watson, and Maria Cisneros Llamazares figure to post strong times in the sprints. Grieve earned the Mountain West Freshman of the Week award after breaking the school record in the 600-meters with a time of 1:32.86 minutes at the Air Force meet in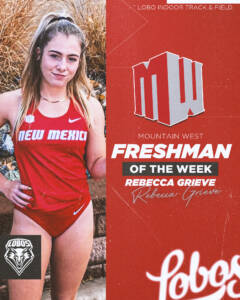 December. Watson posted a mark of 7.58 seconds – just 0.03 off the school record of 7.55 seconds held by Kayla Fisher-Taylor (2014). Watson will also represent the Lobos in the 200-meters on Saturday. Cisneros Llamazares meanwhile brings a PR of 7.41 seconds into the 60-meters as she too could threaten for the school record right away.
Grieve will run the 300-meters and a leg of the 4×400-meter relay, where she'll be joined by Analisa Ibarra, Logan Neely, and Annamaria Leszczynska. All four are in their first season with the Lobos, with Ibarra a freshman hailing from Phoenix and Neely and Leszczynska continuing their collegiate careers after transferring from Australian National University and Purdue, respectively. All three will also join Grieve in the 300-meters.
After a productive debut season at UNM in 2021-22, Alexandra Adams returns and will make her season debut Saturday. Adams is entered in the 200-meters, with a PR of 27.28 seconds, and in the 60-meters, with a PR of 8.54 seconds.
Polish international Aleksandra Wolczak will jump into action after arriving in Albuquerque at the semester break. She is entered in the 200-meters where she holds a PR of 25.13 seconds, and in the 60-meter hurdles where she holds a PR of 9.17 seconds.
MEN'S SPRINTS OUTLOOK: Newcomer Gal Arad is coming off a 60-meter time of 6.85 seconds at the Air Force meet, as he matched his personal best in his debut performance as a Lobo. He is entered in both the 60-meters and the 200-meters, where his PR stands at 21.01 seconds.
UNM will throw some of its most experienced sprinters into the 300-meter race, with veterans Jovahn Williamson, Jevon O'Bryant, Victor Akhalu, and Rivaldo Leacock set to toe the line together. Joining them will be freshman Brodie Young from Scotland, and junior transfer Ayoub El Ashmawi who comes to the Lobos after three years at Loyola Chicago.
NEW LOOK VAULT CREW SET: Alyssa Gregory, a Coastal Carolina transfer, brings a pole vault PR of 3.36 meters (11' 0.25") into her first-ever meet in a Lobo uniform. Gregory is also entered in the 60-meters – an event she did not compete in during her freshman season in 2021-22. Northern Iowa transfer Abbie Schwieder is another pole vault specialist, whose collegiate best is comparable to Gregory's at 3.35 meters (10' 11.75"). Schwieder participated in 10 meets during her freshman season in 2021-22.
UNM's pole vault crew also features true freshman Kailey Ludwig, who will make her debut after graduating from Ravenwood High School in Tennessee holding her school's record and finishing as the state championship runner-up in 2022. Lobo veteran Kiara Quezada-Arzate is entered in both the pole vault and the 60-meters, as she looks to post strong marks in the first meet of her junior season.
GRAB BAG: True freshman Kora Pettengill will look to build off her first collegiate meet, as she established her first marks in the 60-meters, 60-meter hurdles, and long jump at the Air Force Holiday Open on Dec. 2. Pettengill will make her debut in the high jump, shot put, and 200-meters Saturday, and is also entered in the long jump and 60-meter hurdles.
Third-year Lobo Victoria Plummer also figures to have a busy day, as she is entered in four events this weekend. Plummer will join Pettengill in the shot put, long jump, 200-meters, and 60-meter hurdles. Also back for her second season with the Lobos is Mikyla Harkley, who takes a PR of 12.48 meters (40' 11.5") into the triple jump and will race in the 60-meters for the first time.
Lilee Kaasch made her Lobo debut in the triple jump at the Air Force meet a month ago, and on Saturday will compete for the first time in the long jump and the 60-meters. Also competing in the high jump will be Alyssa Magallanez, who holds a PR of 1.68 meters (5' 6") in the event.
While Saturday will be a light meet for UNM's distance crew, Lauren Bettencourt is registered in the mile for the first time in a Lobo uniform. She competed in the event unattached four times last year, with her top mark being 5:11.81 minutes at the Don Kirby Open last February. Joining Bettencourt in the mile is Camille Jackson, a Colorado transfer who will make her debut in the event.