Portnoy Nominated for NM Broadcaster of the Year by NSMA
WINSTON-SALEM, N.C. — Robert Portnoy, UNM's award-winning play-by-play broadcaster and "Voice of the Lobos", was honored once again for broadcasting excellence.  Portnoy, who has been the Voice of the Lobos since 2013, was named one of three finalists for the National Sports Media Association's New Mexico Broadcaster of the Year award.   It marks the third time in the last four years that Portnoy has been a finalist for New Mexico Broadcaster of the Year for the NSMA.
Portnoy, who handles play-by-play for football, men's basketball and baseball as well as serving as host of all of UNM's radio and television shows and various banquets, was named as a finalist along with Lee Faria of KOB and Van Tate of KRQE, making the finalist pool an all-Albuquerque affair.  Portnoy learned of the honor just prior to calling UNM's exciting 69-65 road win for the men's basketball team at Saint Mary's, a win that ended the Gaels' 23-game home winning streak.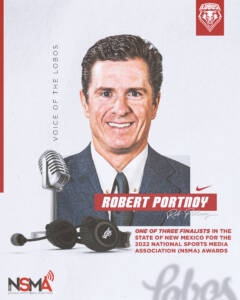 Dani Belinski, the general manager of UNM Sports Properties and who works closely with Portnoy, said "Robert is a true professional, and his versatility makes him so valuable for Lobo Athletics.  He loves the Lobos and he really tells the story of not just the game, but of the student-athletes."
Portnoy has twice been named by the New Mexico Broadcaster's Association as Sports Broadcaster of the Year, once when he was broadcasting across Avenida Cesar Chavez as the broadcaster for the Albuquerque Isotopes, and once as Voice of the Lobos.  Portnoy most recently won Sports Play-by-Play of the Year in 2020 for his work with UNM baseball in its 7-6 win over Northern Colorado.  That win showcased Portnoy's versatility as that February 23 game was sandwiched between a home basketball game with Nevada and a road basketball game at Boise State.  Despite the hectic travel and the other two events surrounding this game, Portnoy's expert calling of a game, and his in-depth research on the teams, coaches and storylines helped him to excel in the broadcast.
Portnoy's honors as a broadcaster go back to 2004 when he was named the "Radio Broadcaster of the Year" in the Southern League.