Lobo women are 2022 NCAA runners-up
STILLWATER, Okla. – A pack of five turquoise-clad All-Americans crossed the finish line within 11.1 seconds of one another on Saturday morning at the Greiner Family Cross Country Course, propelling New Mexico's women's cross country team to a second-place finish at the 2022 NCAA Championships.
The tightest team group of competitors at the meet slowly climbed the leaderboard throughout the 6k course, holding tough down the stretch to finish as the national runner-up. The two-time NCAA champions, winning in 2015 and 2017, made it 13 consecutive seasons finishing in the top-10 at the national meet. "To have the longest active top-10 streak for women is remarkable, and it is something they can pride themselves on," said UNM head coach Joe Franklin, who led UNM to the championship meet for the 15th consecutive season since beginning his tenure in the fall of 2008. "When you put on the turquoise you know it's going to be a special day. To be one of the most successful teams in the history of the sport is something we hang our hat on as a state, city, and university."
Saturday marked just the second time in program history that UNM had five All-Americans at a national meet, as the 2022 squad matched the feat of the 2015 national champions. "We have all worked very hard to be able to achieve that," said senior Gracelyn Larkin, who collected her third straight All-American award. "It proves how much depth we have."
2022 NCAA Women's Cross Country Championships – New Mexico Results
| | | |
| --- | --- | --- |
| Place | Runner | Time |
| 22 | Amelia Mazza-Downie | 20:02.8 |
| 26 | Gracelyn Larkin | 20:03.8 |
| 37 | Samree Dishon | 20:13.5 |
| 38 | Emma Heckel | 20:13.6 |
| 40 | Elise Thorner | 20:13.9 |
| 109 | Abigail Goldstein | 20:41.1 |
| 146 | Ali Upshaw | 20:53.7 |
Amelia Mazza-Downie led the way for the Lobos, finishing in 22nd place with a time of 20:02.8 minutes. The Melbourne, Australia native notched her first cross country All-American award, and closed out a 2022 campaign that saw her defend her Mountain West Conference title and place eighth at the NCAA Mountain regional. "We are all really excited, and having five in the top-40 is something that this group of girls has never done before," Mazza-Downie said. "We are all just really glad that we executed what we were predicted to do. Second place is a big deal, and we are all really happy with that. We just have to keep sticking with the same plan, because it does work every time. Because we have such an elite group of girls training with us at practice every day, when we can do it out on the race course it makes it a lot easier. When we stick together and it works, it is a really good feeling."
Larkin became the fifth women's runner in UNM history to earn All-America recognition for the third time, as she crossed the line just behind Mazza-Downie in 26th place with a time of 20:03.8 seconds. "I kind of had a bad start, and I went through the first 1k in 115th place," said Larkin, who ran in her fourth NCAA championship race on Saturday. "Having run in this race before gave me some good perspective, and I knew what to expect. I just tried to push and get closer to the front."
"She is just solid," Franklin simply summed up the fourth-year veteran's contributions to the team. "She is one of the best young distance women in the world, and her growth cycle has been incredible. Now it's time to see if we can take it to the next level where she can challenge for a national title. We have 18 more months to see how good she can get before she graduates and moves on."
The next pack of Lobos couldn't have finished any closer, with Samree Dishon, Emma Heckel, and Elise Thorner running in tandem from start-to-finish. All three earned All-American honors with Dishon running a time of 20:13.5 minutes for 37th place, Heckel crossing the line in 20:13.6 minutes for 38th place, and Thorner running 20:13.9 minutes for 40th place.
"It shows that we train the right way," Franklin said as he described the team's ability to strategically run the race side-by-side. "It just gives us affirmation that what we do works. Our women are healthy, happy, empowered, and driven. When you put all those things together, the women enjoy the training and they enjoy each other."
"To have five of us finish as All-Americans is incredible, and it makes you feel like you belong," said Dishon, who competed in her first national meet on Saturday. "It shows you that all of the hard work is paying off and it is an incentive to keep working hard."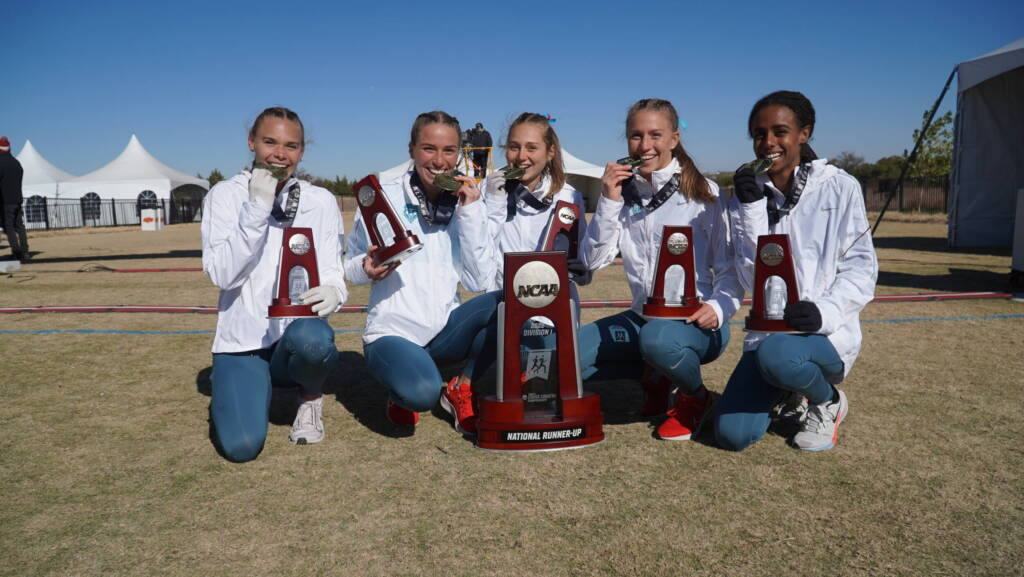 In the final cross country meet of her career, sixth-year senior Abigail Goldstein wound up in 109th place with a time of 20:41.1 minutes. Goldstein, who will compete during the UNM track and field seasons, finished her Lobo cross country career in the top half among a field of 253 runners on Saturday. "In terms of how I raced I wish it would've gone better, but emotionally it is such a massive thing," said Goldstein, whose cross country career began at Harvard in the fall of 2017. "I started when I was 18 in NCAA racing, and I didn't even make it to nationals by a pretty large margin my first two years. So to be on a podium team for two years, it's really cool to be here. There is something really special that I've learned while at UNM about being part of a team and something bigger."
Also competing for the Lobos was sophomore Ali Upshaw, who finished in 146th place with a time of 20:53.7 minutes.
A combination of focus and lighthearted attitudes was the recipe for success for UNM on Saturday, which approached the hilly, strenuous course with a sense of confidence. "The anticipation of knowing what we were up against made this race unlike any of the others we have done," Thorner said on the atmosphere surrounding the championship. "With this one we were ready to show everyone what we've got, and I feel like we really proved ourselves today."
Temperatures at the 9:20 a.m. starting gun hovered in the low 30s, as the Lobos focused on staying sharp and loose throughout a well-timed warmup period. "I was mostly just excited, and this was the least nervous for a race I have been all year," said Larkin, who was UNM's top finisher at last Friday's regional championship taking fifth place. "I knew we were prepared, and we had already done all the work up to this point. We didn't need to qualify for anything – we just needed to go out there and do what we have been trying to do every day."
In typical fashion, the Lobos came out of their No. 28 box patiently, allowing the pace of the meet to unfold around them and sticking to their strategy. "I just tried to stay close to my teammates and not lose them in a big pack of runners," said Heckel, who earned her second All-America nod after leading UNM with an 18th-place finish at last year's national championships. "It gave me security to know we were doing it together. Especially in the second half and at the end of the race, we worked together a lot and moved up together. That really helped pull us through."
Constant communication between the trio of Heckel, Dishon, and Thorner proved to be a crucial factor in securing major points in the final three qualifying spots for the Lobos. "Going in we knew that if we had under a 17-second spread that we'd have a chance," said Franklin. "This may have been one of the smallest gaps in history. You always go into a race like this hoping you have a chance to win, and everything went to plan. They ran great."
A victory by Katelyn Tuohy and a third-place finish by Kelsey Chmiel was the key in lifting North Carolina State – which has held the No. 1 ranking in the USTFCCCA national poll all season long ahead of UNM – to the team victory as they successfully defended their national title. The Lobos caught every team in front of them aside from the Wolfpack, which claimed the victory with 114 points. New Mexico finished with 140 points on Saturday. "In 2018 we ran a fantastic race and just got beat, and today I'd say was the same thing," Franklin said referencing the team's runner-up finish to Colorado five years ago. "We had good energy before, we didn't take ourselves too seriously, and it went as well as it could have possibly gone. There is nothing more we could have done."
On the men's side, UNM was represented by Abdirizak Ibrahim for the third consecutive season at the national meet. The junior ran a time of 30:05.8 minutes and finished in the top third of competitors in 84th place. "I knew I was going to have a similar tactic to the last two years, and I just tried to progress through," said Ibrahim, a two-time cross country All-American. "I was feeling good through the first 5k. I tried to pass as many people as I could, but the spots just weren't going by as fast over the last few kilometers."
Running in the far-right No. 41 starting box, Ibrahim held his own among the field of 252 competitors. A 10:10 a.m. starting gun provided for a slightly warmer running temperature than the women's race, and Ibrahim patiently worked his way up through a crowd of runners into the upper tier. "It was kind of an odd season, and it was almost looking like I was going to redshirt," said Ibrahim, who earned his spot on Saturday by taking 13th at last Friday's regional meet which was his first 10k race of the 2022 season. "I came into this season with nearly no expectations. Coming all the way to nationals makes me look forward to the future."
"Abdi ran great," said Franklin. "For him to be at nationals considering how his season started shows what an incredible talent he is. If he can train consistently over the next 12 months, the sky is the limit."
Stanford's Charles Hicks used a late kick to win the men's race, running a time of 28:43.6 minutes. Northern Arizona and meet host Oklahoma State ended up in a dead-even tie with 83 points apiece, but NAU claimed the national title by virtue of tiebreaker procedures.
LOBO NOTES: New Mexico's five All-Americans were the most among the field…Alabama had four All-Americans and NC State had three…Larkin joined Weini Kelati (2017-19), Ednah Kurgat (2017-19), and Carole Roybal (1984-86) as a three-time All-American, as well as Alice Wright who was a four-time All-American from 2014-17…Heckel became the ninth women's runner in program history to be a multi-time All-American in cross country…one of the most experienced teams at the meet, Dishon was the lone Lobo competitor on Saturday making her championship debut…in addition to Larkin running for the fourth time, Mazza-Downie competed in her third championship while Heckel, Goldstein, Upshaw, and Thorner each ran at the national meet for the second time in their careers.