Dyche introduces 5 signings for 2023-24
ALBUQUERQUE, N.M. – Five players committed to the University of New Mexico women's soccer team for the 2023-24 academic year, announced Lobo head coach Heather Dyche on national signing day Wednesday.
Three of the signings are from California, one is from Colorado and one is from Utah, and all five players are set to graduate from high school in the spring of 2023. "The most important quality we try to recruit is character," Dyche said. "We want team-first players that will fit into Lobo culture. I am certain this class will not only fit in, but will enhance our family."
---
Allie Anderson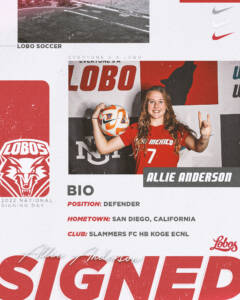 Defender
San Diego, California – Del Norte High School
Club Team: Slammers FC HB Koge ECNL
Anderson primarily played outside back during her time with Slammers FC HB Koge ECNL, and she attended Del Norte High School in her home town of San Diego. Her successful club career included a national title, and she was also part of a California Interscholastic Federation championship during the 2021 season. Anderson maintained a perfect 4.0 grade point average during her prep career as well.
Coach Dyche on Anderson: "Allie will soon be a favorite of Lobo fans. She is a tenacious defender, but also outstanding technically and loves to get forward and join the attack. She's another player who is playing at a really high level every weekend and will fit seamlessly into what we are doing at UNM."
Anderson on choosing UNM: "I chose UNM due to the incredible coaches and players throughout the program. The culture is unmatched and I am beyond excited to become a Lobo."
---
Sariah Brady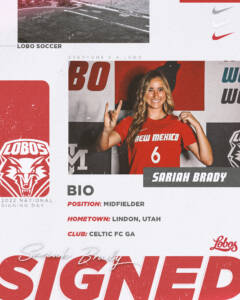 Midfielder
Lindon, Utah – Timpanogos High School
Club Team: Celtic FC GA
Brady was a three-year team captain and three-time first-team all-region selection during her prep years, and competed primarily for Celtic FC GA. Her team achievements include four state championships, two far-west regional titles, a National League championship, and a national finalist appearance. A soon-to-be graduate of Timpanogos High School, Brady holds a 4.0 GPA and has aspirations of pursuing dental hygiene.
Coach Dyche on Brady: "Sariah is a versatile player who we know can make an impact in special ways. She is composed on the ball, has great vision, is outstanding out of the air, and is one of the most competitive players you'll see. We are thrilled for her to be joining our Lobo family."
Brady on choosing UNM: "UNM has felt like instant family from the minute I stepped on campus. Everyone works hard to win and continually improve, and the environment is unbeatable. The coaching staff is beyond incredible and has created such an amazing program that I am extremely grateful I get to be part of."
---
Fiona Jenkins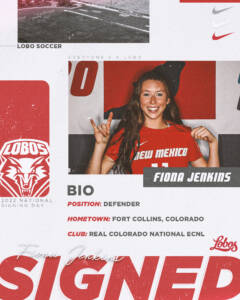 Defender
Fort Collins, Colorado – Rocky Mountain High School
Club Team: Real Colorado National ECNL
Jenkins competed for Real Colorado National ECNL as well as Rocky Mountain High School in her home town of Fort Collins, Colo. Among her prep career accolades include State Cup MVP honors, a Character Athlete award, and academic all-state first-team recognition. One of the highlights of Jenkins' career was a 2022 ECNL national championship with Real Colorado, and she also helped her Storm FC club to a state cup title. Jenkins plans to pursue psychology or early childhood education with her studies at UNM.
Coach Dyche on Jenkins: "Fiona is an ECNL national champion from Colorado. She is a lock-down defender that I rarely seen get beat every time we watch her. She loves to get forward in the attack and can do so with crazy pace. Fiona is intensely competitive and I'm excited to watch her Lobo career begin."
Jenkins on choosing UNM: "I chose UNM for the atmosphere of the team. From the moment I showed up to the moment I left, I felt welcomed and appreciated. Everything they did on and off the field was meaningful and purposeful."
---
Mia Leon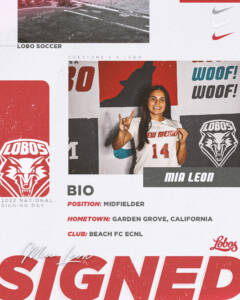 Midfielder
Garden Grove, California – Pacifica High School
Club Team: Beach FC ECNL
A well-accomplished midfielder during her tenure at Beach FC ECNL and Pacifica High School, Leon brings an attacking-minded presence to the Lobo lineup. She helped her high school team to a second-place finish in the California regionals, and to a semifinal appearance in the CIF Southern Section playoffs. In 2021 she was a first-team all-Empire League selection.
Leon's resume also includes captaining the U17 Peruvian national team and featuring as the youngest player on the U20 Peruvian national team. During her career at Beach FC, she helped the team to a second-place finish in the national playoffs during the 2022 season. Leon plans to major in psychology at UNM.
Coach Dyche on Leon: "Not only is Mia playing club soccer against some of the best in the nation, she's also a member of the Peruvian national team. She is a composed player who is savvy with the ball and space. She never gets rattled and will bring that poise to UNM."
Leon on choosing UNM: "I chose UNM because of its unique community. UNM is extremely tight-knit, and that's something that I truly love about the Lobos."
---
Alysa Whelchel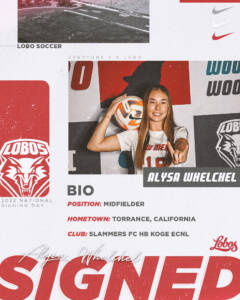 Midfielder
Torrance, California – Redondo Union High School
Club Team: Slammers FC HB Koge ECNL
A teammate of Anderson with Slammers FC HB Koge ECNL, Whelchel experienced similar success on the pitch throughout her prep career. She helped the team to the 2021 ECNL national title after winning the Southwest Conference championship. She also spent time with the LA Galaxy Academy, where her team reached a No. 3 national ranking.
She was part of the 2022 CIF Southern Section Division 2 championship, as well as the 2022 CIF SoCal Division 2 girls soccer championship. In 2021, Whelchel helped her team to a Bay League title, and she was a first-team all-division CIF selection in 2022 after scoring eight goals and adding nine assists. Whelchel was also named the Redondo Union High School most outstanding player during the 2021 season. Whelchel made her school's honor roll for four semesters.
Coach Dyche on Whelchel: "Alysa comes to New Mexico from a really successful club team. She's been impactful at the highest levels and will bring that experience to UNM. Her technical ability and comfort on the ball are just fun to watch. She sees passes that no one else does. We can't wait to get her on campus and playing with our team."
Whelchel on choosing UNM: "I chose UNM because of the wonderful soccer program. It has a great, competitive environment on the field and culture off the field all created by the girls and coaches."
---
The Lobo women's soccer team went 7-3-9 during the 2022 season, and tied for first place in the Mountain West Conference to earn their third consecutive regular-season championship.