Lobos face Aztecs for MW title on Senior Night Thursday
ALBUQUERQUE, N.M. – A celebratory atmosphere will unfurl beneath the lights at the UNM Soccer Complex on Thursday night, as the University of New Mexico women's soccer team honors its seven seniors in advance of a Mountain West title tilt against visiting San Diego State University.
The Lobos will recognize their graduating players in a pregame ceremony in advance of the 7:30 p.m. kickoff. A live stream with J.J. Buck and Tyler Ortega on the call will be available on the Mountain West Network online here, and live statistics will be available online here.
"It all comes down to Thursday night here at the Soccer Complex, and we are really hopeful we have a huge crowd – we need it," said UNM head coach Heather Dyche during a press conference on Tuesday. "It's a big game against a very good San Diego State team, and it'll be in a long line of electric games that have been played on this field over the course of UNM soccer. It's a chance for a conference title, which is right where we want to be every year."
A victory on Thursday would clinch the Lobos' third straight Mountain West regular-season title and their sixth overall since 2010. UNM is also guaranteed at least a share of the title with a draw, and would also clinch a first-round bye into the upcoming Mountain West Championships with a win or a draw on Thursday. "Every year it comes down to the final game," Dyche said. "To me, that is the fun part of it, and this is why these players came here. They want to be part of a program that has a chance to win championships, and we have been able to do that. These players have fought for that all season long, and now this is their chance to play under the lights and hopefully win another one."
UNM (7-3-7, 5-1-4 MW) enters the match two points clear of a three-way tie for second place in the Mountain West standings, with the Lobos having earned 19 points this year. The Aztecs meanwhile could earn at least a share of the title with an upset win, as they enter the match with a record of 7-5-6 overall and 5-3-2 in league play for a total of 17 points. San Jose State, which hosts Fresno State, and Wyoming, which plays at Colorado State, are each also tied with San Diego State for second place with 17 points.
Mountain West Women's Soccer Standings (as of Oct. 26, 2022)
| | | | |
| --- | --- | --- | --- |
| Team | Conf | Points | Place |
| New Mexico | 5-1-4 | 19 | 7-3-7 |
| San Diego State | 5-3-2 | 17 | 7-5-6 |
| San Jose State | 5-3-2 | 17 | 6-6-5 |
| Wyoming | 5-3-2 |  17 | 6-6-5 |
| Boise State | 4-2-4 | 16 | 8-4-7 |
| Colorado College | 4-2-4 | 16 | 7-5-5 |
| Utah State | 4-3-3 | 15 | 7-5-7 |
| Air Force | 3-4-3 | 12 | 6-7-4 |
| UNLV | 2-3-5 | 11 | 4-9-5 |
| Colorado State | 1-3-6 | 9 | 4-6-8 |
| Nevada | 2-7-1 | 7 | 3-11-3 |
| Fresno State | 1-7-2 | 5 | 1-13-4 |
*Top-6 teams advance to MW Championships.
A RIVALRY, OF SORTS: Thursday won't be the first time the Lobos and Aztecs have squared off with a championship on the line, as UNM claimed a thrilling 3-2 overtime triumph on April 17, 2021 in a match that served as the Mountain West title affair for the rearranged 2020-21 season. The victory made it three straight wins in the series between the teams, and overall UNM is undefeated in the last four matches as the teams drew 2-2 in double-overtime in their lone meeting last fall.
A 3-1 victory by the Lobos over the Aztecs on Oct. 26, 2018 helped them claim a share of the regular-season title. San Diego State has done its share of winning in the series as well, claiming 4 of 5 results from 2012-15 on its way to four straight MW regular-season titles. UNM is looking to achieve the MW regular-season three-peat for the first time since the Aztecs claimed four straight crowns.
Overall San Diego State leads the series 14-10-7, with the Lobos holding a 6-4-5 advantage in matches played in Albuquerque. The teams first met on Oct. 3, 1993.
TOURNEY TALK: The Lobos clinched a spot in the MW Championships – which they'll host beginning Sunday – by virtue of Saturday's draw against Utah State University. Seeding and match times will be determined upon the conclusion of the regular season Thursday night.
2022 Mountain West Women's Soccer Championships Schedule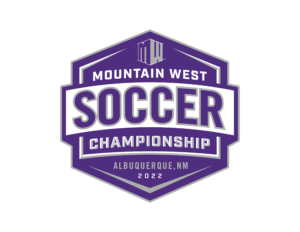 UNM Soccer Complex – Albuquerque, New Mexico
Sunday, October 30
4 PM – No. 4 Seed vs. No 5 Seed
7:30 PM – No. 3 Seed vs. No. 6 Seed
Wednesday, November 2
TBA – No. 1 Seed vs. Winner of First Round #1
TBA – No. 2 Seed vs. Winner of First Round #2
Saturday, November 5
TBA – Championship Match
 *The winner of the MW Championships earns the conference's automatic berth into the NCAA Regional Championships.
LAST WEEK: The Lobos took care of business on the road last week, claiming a 2-0 triumph over Boise State last Thursday before holding off a determined Utah State side in a 0-0 draw last Sunday. "I'm really happy with our team being able to go on a tough away weekend, against who I think are two of the best teams in the conference, and come away with four points," Dyche said on her team's final road trip of the 2022 season.
SALUTING SEVEN SENIORS: The first-place Lobos have risen to the top of the MW and stayed there, thanks in large part to one of the most experienced rosters in the conference. Sixth-year senior Leilani Baker, fifth-year seniors Jadyn Edwards, Jaelyn Hendren, Makenna Havenor, Karlee Maes, and Catherine Johnson, and fourth-year senior Alix Hailey make up the crew who will be honored on Thursday night. "We have a pretty incredible group of seniors, and we want people to come support them and send them out the right way," Dyche said.
EDWARDS AMONG POTY FRONTRUNNERS: In her fifth and final season with the Lobos, reigning MW Offensive Player of the Year Jadyn Edwards has left a one-of-a-kind mark on the program record books. She enters Thursday's match as the all-time leader in matches played with 92 and in assists with 24, and ranked third in career goals with 31. She established those records on her way to eight goals and four assists so far this season, the former figure leading all players in the Mountain West. One of Edwards' signature performances came in the Lobos' 6-0 drubbing of San Diego State in 2019, as a then-sophomore Edwards logged the first of her three career hat tricks. She was also the hero in the championship-clinching overtime win in the spring of 2021, scoring a 96th-minute golden goal to lift UNM past San Diego State.
BAKER A KEY COG UP TOP: Fellow senior Leilani Baker is just behind Edwards with seven goals this season – five of which have come during Mountain West play as she leads all players in the league in goals scored in conference matches. The longest-tenured Lobo, Baker has been a fixture in UNM's lineup since the 2017 season playing in 80 matches and starting 49 since her freshman year. Baker has accumulated 18 career goals and eight career assists for 44 total points.
MACKENNA HAVIN 'ERSELF A CAREER: With 88 matches under her belt since the fall of 2018, Mackenna Havenor is as experienced as it gets in her role on the back line. The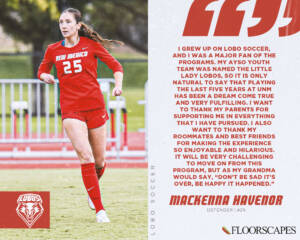 Albuquerque High School graduate has seen action in all 17 matches this year while earning six starts to give her 29 total starts in her five seasons as a Lobo.
SIMPLY A-MAES-ING: Senior defender Karlee Maes couldn't have drawn up a better career with her hometown university, as the La Cueva High School alumna has been a fixture on the back line since first setting foot on the field in 2018. Maes has played in 80 matches while starting 72, and has pushed forward to score four goals and add 10 assists throughout her career. This fall, Maes has started all 17 matches, and she provided the game-winning goal in last Thursday's 2-0 triumph at Boise State. Maes is also tied for the team lead with four assists.
HENDREN AN ANCHOR ON BACK LINE: Playing right next to Maes on the back line, Jaelyn Hendren has been a staple since her first season in 2018 as well. Hendren has started all 91 matches that she has played in since her freshman year, and while helping hold together the defense she has also managed to score three goals and add three assists. Hendren has started 16 of 17 matches this fall, and produced a crucial goal in the Lobos' 1-1 tie at Wyoming on Sept. 22.
HAILEY BRINGS CAREER TO CLOSE: A fourth-year member of the Lobos' roster, Los Alamos native Alix Hailey is another key piece of the experienced senior class. Hailey has seen action in 23 matches in her career – including six this fall – and her lone goal came on Aug. 22, 2021 in a match against Dixie State.
JOHNSON TO BE HONORED ON SENIOR NIGHT: While she hasn't competed on the field since the 2021 spring season, Catherine Johnson has been an instrumental fixture for the Lobos since arriving in Albuquerque in the fall of 2018. On the field, she saw minutes in 11 matches over the course of two seasons, and off the field she has been a key member of the roster and support staff the last two seasons.
DAVIS CLAIMS 2 MW WEEKLY HONORS: UNM's clean road trip last week, in which it earned four points, did not concede a goal, and set the table for Thursday's championship-deciding matchup, came in large part thanks to the efforts of freshman goalkeeper Alli Davis. The shot-stopper was outstanding in collecting her fourth and fifth shutouts of the season, making a dozen total saves and earning the Mountain West Defensive Player and Freshman of the Week awards. One of Davis's biggest performances of the 2022 season came on Sunday, when she made a season-high eight saves including multiple diving stops to curtail the Utah State offense in the scoreless draw. On the season Davis ranks third in the conference in goals-against average at .796 and in save percentage at .831, and her 64 total saves are fifth-most in the league.