Emily Johnson Trains at Two NWSL Combines
ALBUQUERQUE, N.M. – Although the collegiate season is over, Emily Johnson has been putting in the work to set up her next move. In the month of December, Johnson attended two goalkeeper combines held by NWSL teams. She participated in Racing Louisville FC's combine on Dec. 3-5, then went to North Carolina Courage's combine on Dec. 11-12.
Johnson ends her extensive collegiate career as one of the best goalkeepers in UNM women's soccer program history. In the career record book, she earned second-most career wins (42), fourth-most saves (274), fifth-best goals against average percentage (1.24), and sixth-most shutouts (14). She earned All-Mountain West First Team two seasons in a row. At the conclusion of this season, she was named to the United Soccer Coaches All-Pacific Region Third Team, becoming only the second New Mexico goalkeeper to make the list.
As soon as Johnson decided she wanted to start looking into playing opportunities post-college, she enlisted the help of both Lobo head coach Heather Dyche, as well as a past goalkeeper coach of hers and well-known keeper coach in the midwest, Stan Anderson.
"They both kind of helped me communicate with multiple teams, whether that was going to the camps or even if they weren't holding camps," Johnson stated. "I spoke with the goalkeeper coaches at both Racing Louisville and North Carolina Courage and set up a travel schedule so that I could be at their camps."
The Western Springs, Illinois, native had a stacked schedule of practices, trainings, meetings with coaches and facility tours at both teams' combines. She was excited to learn at a higher level of play, noticing the quicker timing of the game play from the collegiate level to the pro level. She knows it will take some adjusting to but is confident the tips she learned from the coaches at the combines will become new tools to put in her own goalkeeper tool kit.
"Take all the best players from the collegiate level and put them onto teams in the NWSL level," the senior goalkeeper explained. "No one is making bad touches, no one is taking bad shots, so that's definitely going to be a challenge moving forward but I think that's something all goalkeepers look forward to."
Despite the big jump, she wasn't nervous heading to the combines. She trusted her skills and what she learned from her career at UNM and her coaches.
"I went into it with the mindset that I'm a coachable player so having an open mind and listening and trying new things was a really nice adjustment that I was able to make," Johnson said. "Training with the other goalkeepers around me, we all supported one another and hyped each other up, which created a really great training atmosphere."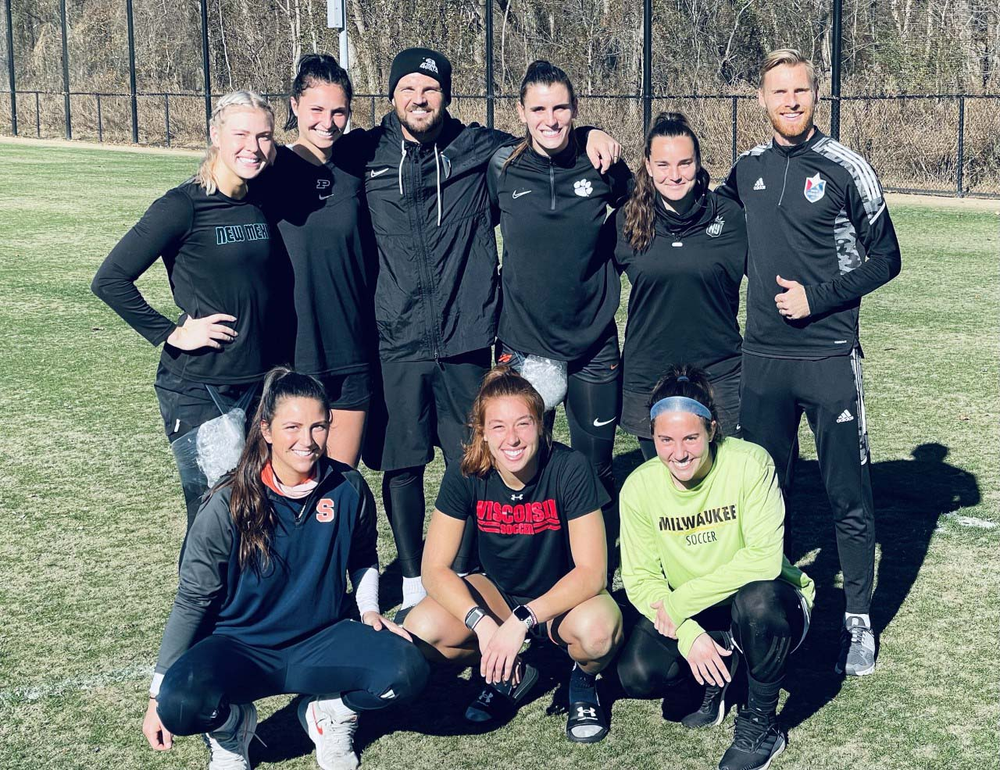 Johnson's journey began in youth soccer, when the player she was splitting time with at the job of keeper, decided to stop playing and the position chose her. Since then, she has put her time and effort into becoming the best goalkeeper she can be.
She went on to explain that the success she and the team have had at UNM, as well as the family she has made with her teammates, made her not want to hang up the cleats just yet. Being able to access these opportunities that she dreamed of as a child motivates her to keep going.
"The players that are just now starting to retire in the NWSL are people that I looked up to while I was growing up and playing," Johnson stated. "Having that opportunity to even try out for a team and try to grasp one of those spots is something that my young self would be so proud of. Even playing in college was a part of that dream but continuing on would make it even so much better."
Johnson is registered for the NWSL Draft, which is set for 12 p.m. (MT) on Saturday. There will be five rounds and a total of 50 picks in the draft. There are also opportunities for players to be signed by teams as free agents.
All photos used in this article were taken by Sam Petersen, Video Content Manager for NC Courage (@scpmedia on Instagram and @samcpetersen on Twitter).