Ben Dunbar Resigns as Men's Tennis Coach
ALBUQUERQUE, N.M. – Ben Dunbar, who led UNM men's tennis to back-to-back Mountain West championships and was the 2021 MW Coach of the Year, has announced that he has resigned his position as men's tennis coach for opportunities outside of collegiate tennis.
Dunbar served as Lobo tennis coach from 2016-2021, but his tenure with UNM runs deeper than that.  He was an assistant coach from 2014-16 under former coach Bart Scott, and he played at UNM from 2008-2012.  Dunbar was the 18th men's tennis coach in school history, and he was the fifth to also play for the Lobos.  He finished his Lobo career seventh on the all-time wins list.
"New Mexico is a special place," said Dunbar. "When I came here 14 years ago on a recruiting trip I never could have dreamed that my experience would amount to everything it has. I want to thank Alan Dils, Loren Dils and Bart Scott for being the people that made that experience happen. Next and most importantly I want to thank my players. I have coached here for nine years, two as volunteer assistant, two as assistant and five amazing years as the head coach. The players make the experience for the coach, and I have been fortunate to have some amazing teams and some amazing student-athletes come through to play for me, I will miss them all the most and they were the reason this decision was so difficult."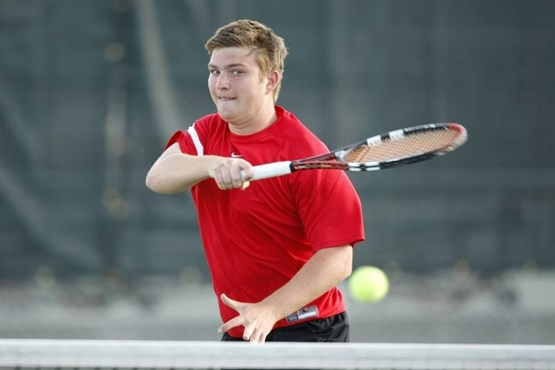 Dunbar added, "Lastly I want to thank everyone who helped make our programs a success, in true New Mexico style it was always a team effort. From our support staff, to academics, to the administrators and Eddie Nuñez and Ed Manzanares, to all of our amazing donors who help us every year, and to the assistant coaches and volunteer assistant coaches who I have been fortunate enough to work alongside … THANK YOU! You made work fun and you inspired me with your hard work. The list is so long because there are so many great people here at New Mexico, it is a hidden gem down here in the desert."
Dunbar leaves UNM with a 54-49 record overall and 21-7 in Mountain West play.  In his five seasons with the Lobos, he won the 2019 and 2021 Mountain West titles, leading UNM to the NCAAs in 2021, its first appearance in the postseason since 2015.  Under Dunbar, UNM picked up four ITA team academic awards, and it will earn a fifth later this summer.  Not including 2021, which hasn't been released yet, 19 student-athletes earned 33 MW All-Academic honors and 15 student-athletes earned 24 MW scholar-athlete honors.
The team had plenty of honors on the courts as well, with 17 All-MW selections, one MW Player of the Year, one MW Newcomer of the Year, an ITA Mountain Region singles champion and an NCAA doubles appearance as well.
"We appreciate everything Ben has done for our program, from his time as a student-athlete through his assistant and head coaching career," said Sr. Associate A.D. Ed Manzanares, who is the sport coordinator for men's tennis and will handle the upcoming search.  "This decision was really difficult for Ben because he truly is a Lobo For Life. He has spent about half of his life representing the Cherry and Silver either as a student-athlete or a coach for 14 years.  His teams have been very successful on the court and in the classroom. We wish Ben, his wife Beth, and family all the best."
The national search for the 19th head coach in Lobo Men's Tennis history has already started.  Whoever it is, that person will have an ally in the former head coach. "I will be UNM Men's Tennis' biggest fan moving forwards and I can't wait to see the success in the coming years, I will be an active alum and I pledge to help the next coach in any way possible."