Lobos Face No. 8 Texas A&M in Tourney Opener
ALBUQUERQUE, N.M. — The University of New Mexico makes its return into the NCAA Tournament with a 1 p.m. Mountain Time match with No. 8 overall and eighth-seeded Texas A&M.  The Lobos, winners of the Mountain West for a second straight season, will take on a team with national championship aspirations.
If there is an unseeded team that could dash those Aggie hopes, it would be UNM.
The Lobos enter the NCAA Tournament having won six of the last seven, including a season-ending 4-1 win over Air Force that clinched a spot in the big dance.  UNM's overall record is a very deceiving 8-9.  Five of those losses came to nationally-ranked teams, and all of those were close, with UNM losing 4-3 to Oregon and Arizona State and 4-2 to Arizona, Texas Tech and Denver in which UNM was leading in the lone non-decided match.
The Lobos highest-ranked opponent was Arizona State at No. 20, and even they however didn't possess the lineup that the Lobos should be facing.  In Texas A&M's last outing, a 4-3 loss to Florida in the SEC semifinals, the Aggies sent five nationally-ranked players into the first five singles slots, and two nationally-ranked doubles teams.  Now it has six in the national rankings in singles and three in doubles after Wednesday's rankings.
The Lobos have a nationally-ranked doubles pairing of their own in Dominic West and Sergio Molina, who were 79 in the latest ITA rankings.  They most likely will be paired against Carlos Aguilar and Bjorn Thomson, who are ranked No. 6 nationally. Here is the breakdown of UNM's potential lineup for Friday, and whom they will most likely face.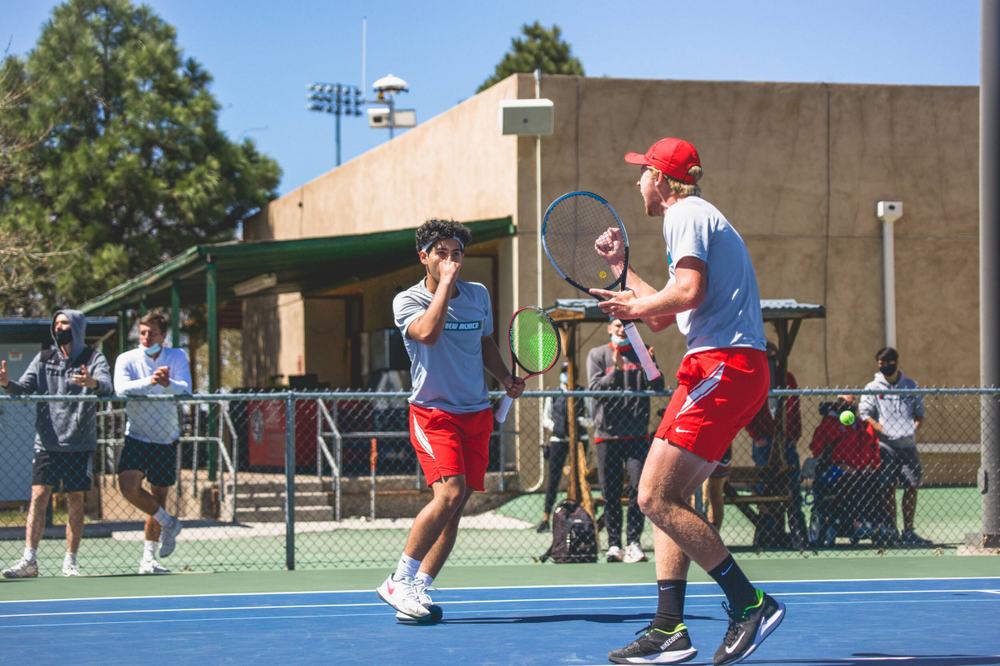 DOUBLES
No. 1 – No. 79 Dominic West and Sergio Molina (most likely vs. No. 8 Carlos Aguilar and Bjorn Thomson)
The Lobo duo has been solid all season, going 11-3 and 8-3 at No. 1 doubles, but they are coming off their only MW loss, a 7-6 tiebreaker against Air Force.  The pairing had won six straight including a win over Texas Tech prior to that loss.  Texas A&M's duo of Aguilar and Thomson are 11-9 on the season and they went 7-6 in dual match play, all at No. 1, facing 12 ranked opponents and going 7-5 in those matches.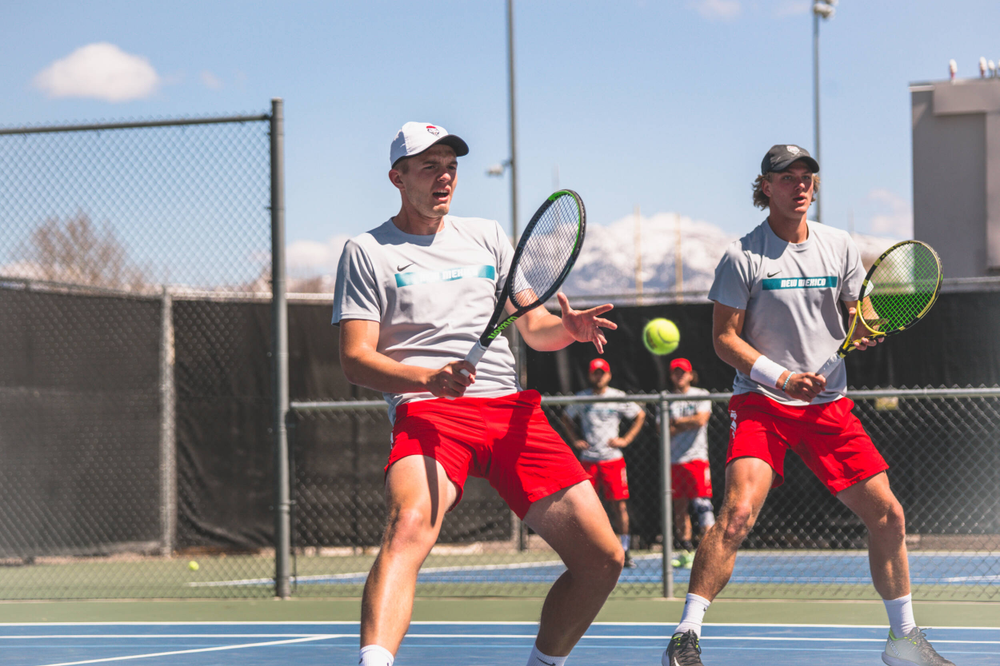 No. 2 – Raul Dobai and Jake Trondson (most likely vs. No. 65 Valentin Vacherot and Pierce Rollins)
Dobai and Trondson have won four of the last six and went 8-7 overall, but they were at home at No. 2 going 7-4.  UNM went 6-2 in matches in which they won their doubles match.  They should face the 70th ranked tandem of Valentin Vacherot and Pierce Rollins.  They went 12-5 over the season, and they played in all three doubles slots, going 1-0 at No. 1, 5-3 at No. 2 and 6-2 at No. 3.
No. 3 – Stepan Holis and Alex Maggs (most likely vs. Pranav Kumar and Noah Schachter)
Holis has played every doubles match this season at No. 3, and although he has paired up with three different Lobos, Maggs had been his most consistent partner.  The duo went 5-4 on the season with three unfinished matches in which they were leading.  Holis overall at No. 3 doubles is 7-5.  They mostly face Pranav Kumar and Noah Schachter, who went 7-4 for the Aggies in the spring, all at No. 3.  It should be noted that Schacter and Hady Habib are ranked No. 86 as a tandem and could be in this pairing as well.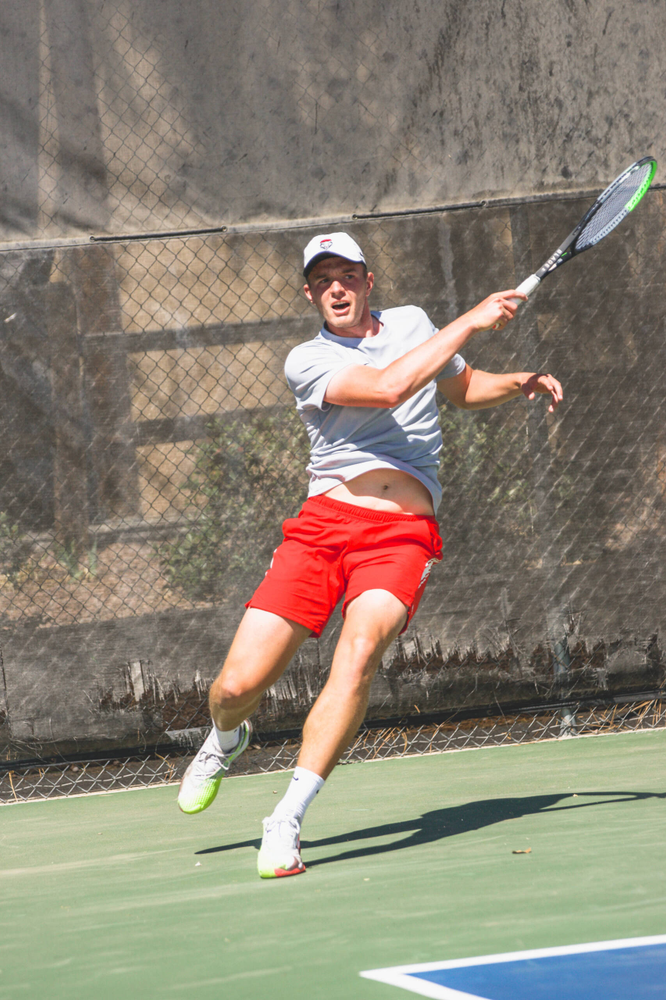 No. 1 – Raul Dobai (most likely vs. No. 5 Valentin Vacherot)
Dobai became the first player in 18 years to earn both Mountain West Player of the Year and Newcomer of the Year honors, and he was a perfect 6-0 in conference play including a win over the previous Player of the Year.  He also had a 6-4, 5-3 lead over former Ohio State All-American Alex Kobelt at a halt.  Including his win against Texas Tech, he has won seven straight in flipping his record to 9-7 overall.  Vacherot is ranked No. 5 nationally and went 21-5 overall and 16-3 in the spring.  He was also 14-3 against nationally-ranked opponents.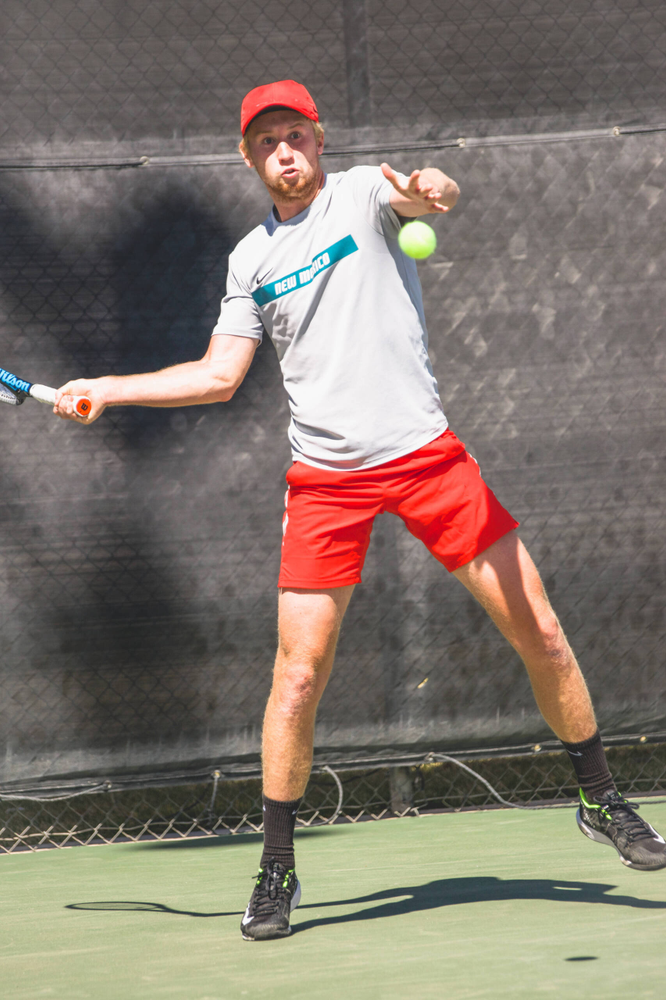 No. 2 – Dominic West (most likely vs. No. 3 Hady Habib)
Dobai might have been the Player of the Year, but West is the heart and soul of Lobo Tennis.  The program's first five-time letterwinner, West went 7-5 overall but 6-3 at No. 2 singles, and he also was unbeaten in conference play.  Habib isn't ranked No. 5 like his teammate Vacherot, he's higher at No. 3 giving the Aggies two nationally-ranked players in the top 5.  Habib went 15-5 overall and 10-4 in the spring.  He played four matches at No. 1, going 3-1, but he has settled in at No. 2, going 7-3.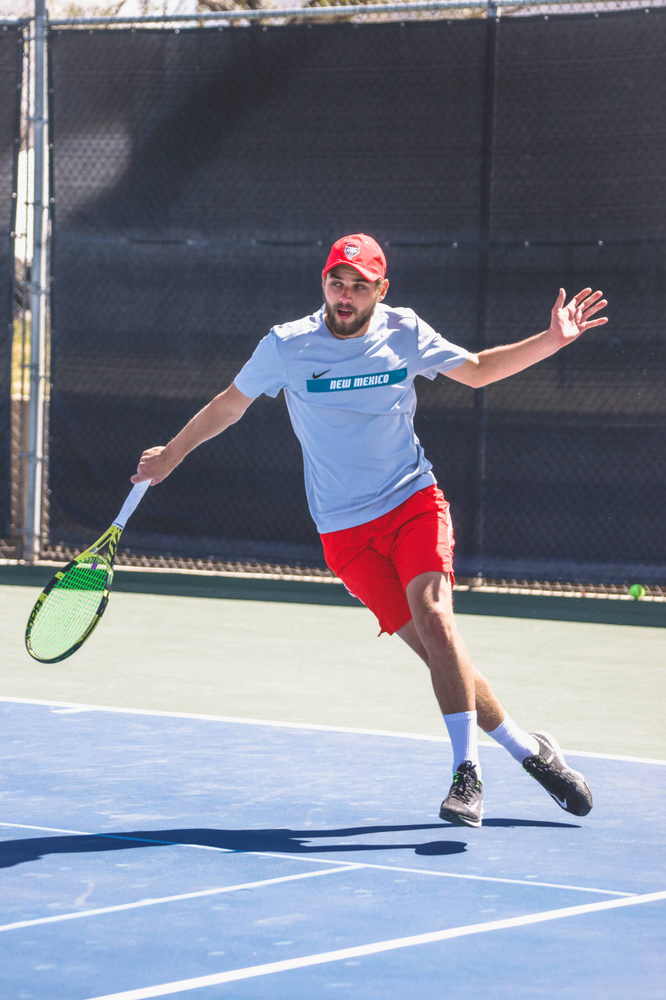 No. 3 – Stepan Holis (most likely vs. No. 30 Carlos Aguilar)
Holis has played the majority of his matches here at No. 3, but he flip-flopped with Rafael Abdulsalam two matches ago.  Holis was 7-5 on the year and 5-5 at No. 3 singles.  Holis has won his last three matches and was a victim of several quick clinches by UNM, as he had three MW matches go unclaimed.  Aguliar went 15-10 overall and 10-8 in the spring, going 6-6 at No. 3 singles.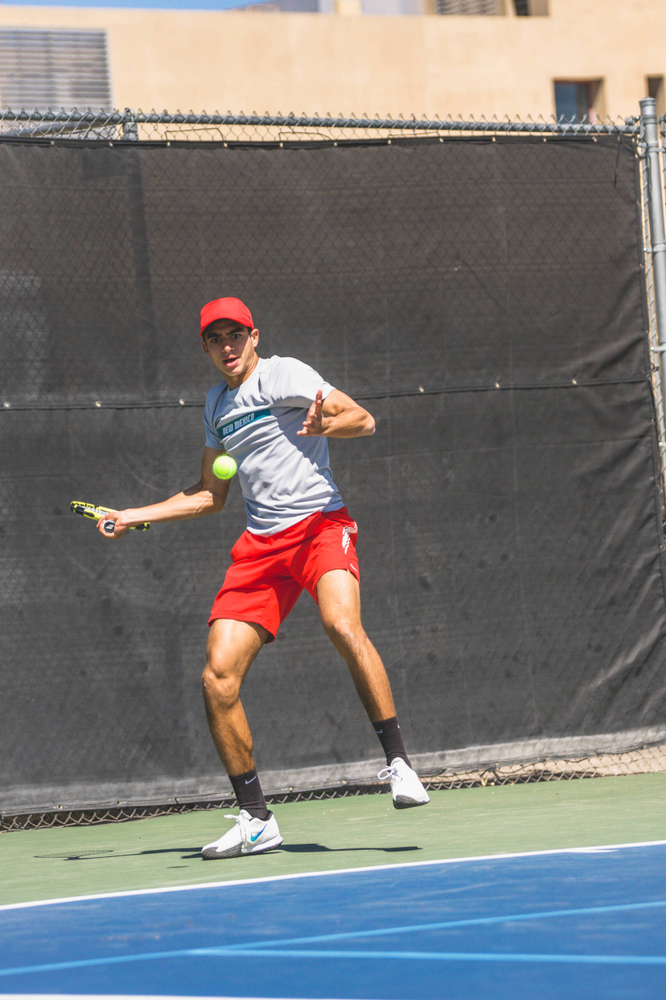 No. 4 – Rafael Abdulsalam (most likely vs. No. 100 Noah Schachter)
Abdulsalam is the Lobo that has shuffled around the lineup most, playing No. 5, 4 and 3 at times, but he's mostly played at No. 4.  Overall, he went 6-6 after missing a week with an injury that he is fully recovered from.  He has not played a doubles match this season.  His most likely opponent is Noah Schachter, ranked No. 100.  Schachter was second on the Aggie squad with 19 wins, going 19-3.  He went 12-10 in the spring, going 2-0 at No. 2, 3-5 at No. 3 and 7-5 at No. 4 singles.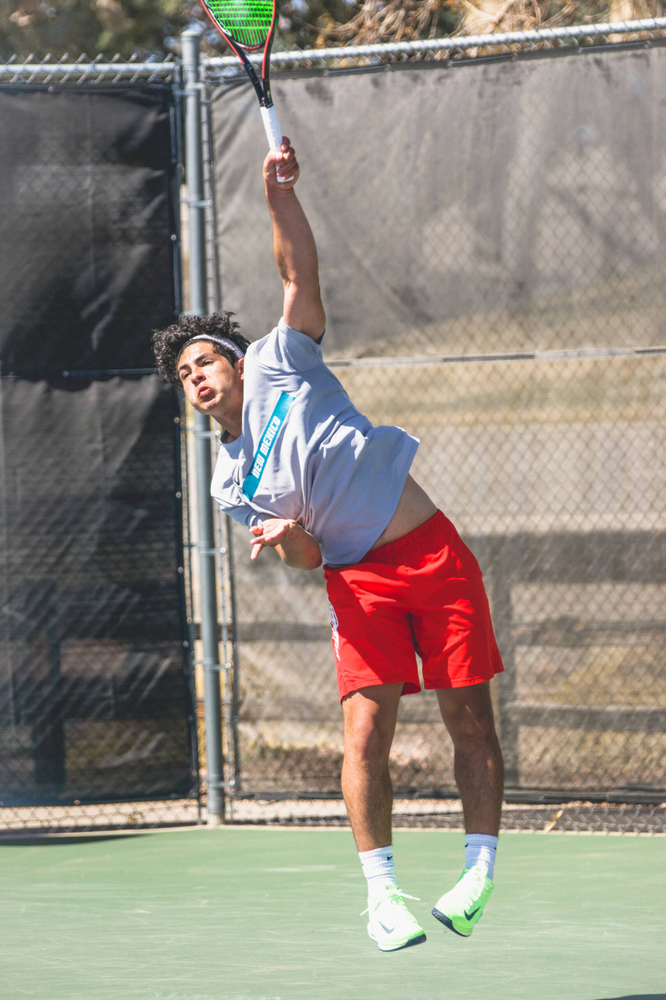 No. 5 – Sergio Molina (most likely vs. No. 122 Pierce Rollins)
Molina scuffled during the season, enduring a string of heart-breaking defeats, going just 1-7.  However, after losing his first six matches, he went 1-1 with five no-decisions in his last seven.  The lone win keyed UNM's first MW victory, and he led or was tied in all five unfinished matches.  Most likely he faces Pierce Rollins, who went 15-9 and was the veritable transient property of Aggie tennis, playing in every slot in the spring except No. 2 singles.  He won his only match at No. 1, No. 3 and No. 6 singles, and then went 2-2 at No. 3 and 3-3 at No. 5 for an overall spring of 8-5.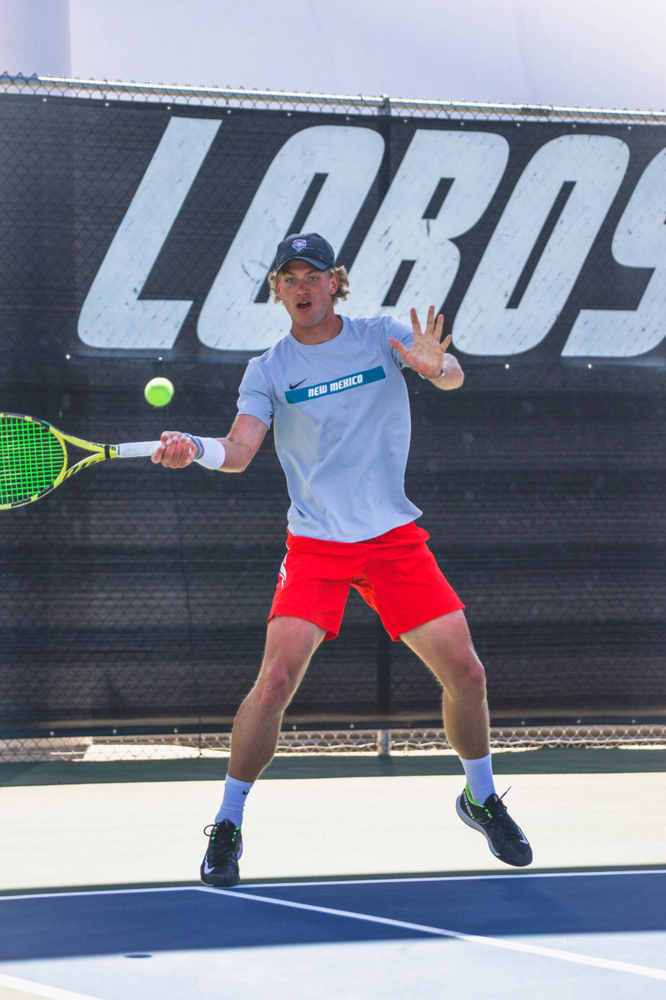 No. 6 – Jake Trondson (most likely vs. Raphael Perot)
The former Division III All-American made the switch to Division I to make a national tournament, and now he gets his wish.  The lanky, hard-serving Minnesotan went 8-4 on the season, three of those wins up a notch at No. 5 singles.  His opponent is the lone Aggie without a ranking in Perot, but don't let that fool anyone.  Perot went 16-11 overall, including 4-2 at No. 5 and 6-5 and No. 6 singles.