Lobos Take Down Falcons for Second Straight Mountain West Title
COLORADO SPRINGS, Colo. — New Mexico might have lost the doubles point, but there was no way that Air Force was standing in the way of another Lobo conference championship.  The Lobos took four straight set victories, punctuated by a championship-winning ace from Player of the Year candidate Raul Dobai and New Mexico won the Mountain West title with a 4-1 victory.  The Lobos earned the league's automatic berth into the NCAA Tournament, UNM's first postseason trip since 2015.
Overall, the title was UNM's MW leading eighth title, and overall it was UNM's 14th conference championship counting six WAC titles.  It also kept up a department run of titles, a third in the past eight days joining women's soccer and women's golf this week, and women's cross country and women's basketball, who each won titles just weeks ago.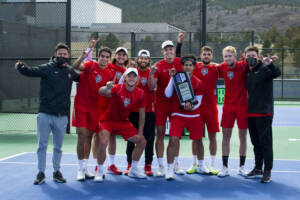 UNM had plenty of chances for the doubles point, but fell in a pair of tiebreakers.  Stepan Holis and Alex Maggs paired for an easy 6-1 win at No. 3 doubles, but both other matchups went to tiebreakers.  Dobai and Jake Trondson fell 7-5 in their tiebreaker, and Dominic West and Sergio Molina lost 8-6 in theirs, putting UNM in a hole, down 1-0.
In singles, the Lobos took three opening sets to Air Force's two, and momentum clearly hinged at No. 1 singles, where Dobai went to a tiebreaker.  He won that, giving UNM four opening sets and putting them in line to have enough to win the match.  After that win, the Lobos started to move, en masse towards a win.  Rafael Adbulsalam tied the match at 1-1 with a 6-4, 6-0 win at No. 4 singles, winning his final eight games.
From there, UNM won the last three matches within minutes of each other.  West was first with a 6-1, 6-4 win at No. 2 and Holis followed right afterwards with a 6-4, 6-2 win at No. 3.  That left it to Dobai, who was up 7-6, 5-2 and serving.  With his teammates watching, Dobai rared back and fired a serve that his opponent Paul Hendrix could only pop up in the air, getting caught in a breeze  and falling harmlessly wide.  Dobai dropped his racket and was mobbed by his teammates, celebrating another Lobo championship.
The Lobos now get a little time for practice and rejoicing prior to finding out their opening round opponent.  That will happen during the NCAA selection show on May 3.  The NCAA Tournament runs May 20-29 at the USTA National Campus in Orlando, Florida.
Dobai's Mountain West Championship winning ace! #GoLobos pic.twitter.com/mgLwocgnJH

— UNM Men's Tennis (@UNMLoboMTennis) April 24, 2021