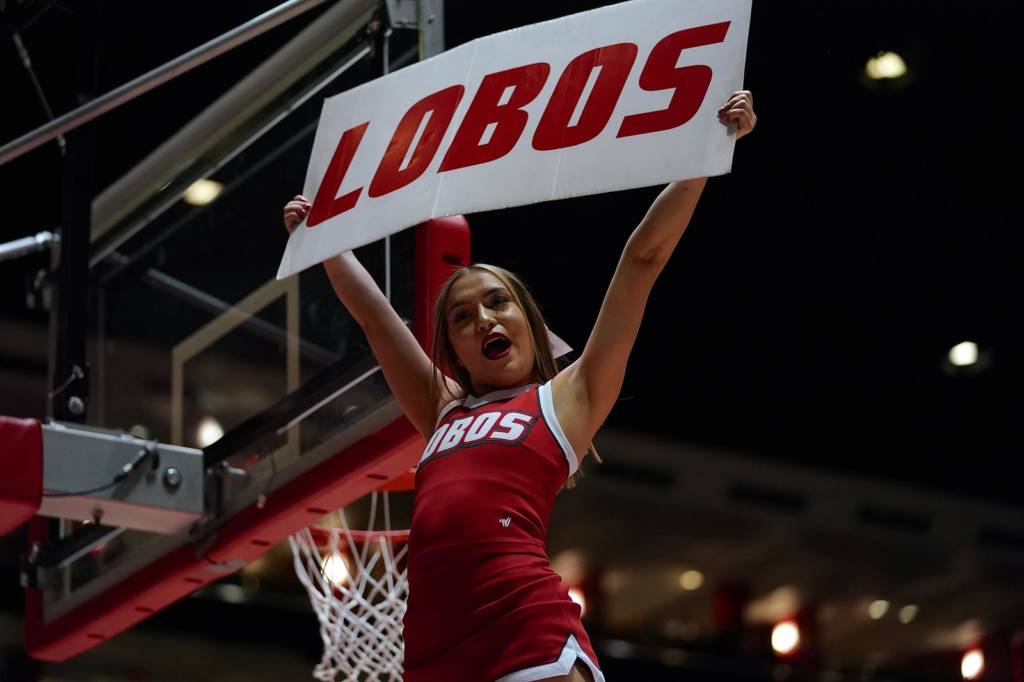 UNM Spirit Program Tryouts 2022-23
The 2022-23 UNM Spirit Program Tryouts will consist of a first round video submission and a second-round/final cut in-person.
Important Dates:
Application Due April 3rd
Virtual Tryout Video and Fee Due April 4th
First Round Cuts Made April 11th
Final In-Person Tryout April 23rd
General Information:
Only YouTube or Vimeo links will be accepted for video submissions for both cheer and dance.
All submissions must email your video links to unmspirit@unm.edu with the subject: "Your Full Name" UNM Tryout "Cheer (coed/all girl/both)/Dance" (please only include which team you are trying out for).
Late videos will not be accepted.
You must be able to show proof of enrollment/acceptance to the University of New Mexico. Please include this attachment in video link email.
Please remember we will be looking for candidates that possess:
Strong leadership qualities
Charismatic presence/personality
Enthusiasm and confidence
Ability to engage an audience
Physical Fitness and athletic appearance
Important notes for Tryouts:
Incoming freshmen and transfer students must have completed the regular admissions application process before the posted deadlines and be accepted to UNM by April 23rd.
Candidates must be in good academic and disciplinary standing with the university.
Candidates must possess sufficient physical fitness and proper training to execute all required skills during the selection process.
Candidates must have proof of Health Insurance. (Student insurance not accepted)
The tryout application must be completed in its entirety and submitted by the stated due date, including the required tryout fee.
Cheer Candidates:
APPEARANCE
Please be aware that this is an important part of your tryout process.  You should appear "game ready" throughout the entire tryout video. No jewelry of any kind.
What to wear for tryouts:   Please make sure your selections are appropriate. We suggest that you wear either red, grey or white.  Wearing University of New Mexico apparel is recommended.
Ladies: Athletic shorts (preferably spandex or NikePro shorts or running type shorts), tank or sport bra and cheer shoes. Applicants must have hair pulled up, away from face. Visible tattoos should be covered.
Men: Athletic shorts, t-shirt (or tank), and athletic shoes.  Visible tattoos should be covered.
All video submissions must include these elements in the following order and must include ALL requirements to be considered.
Interview:
Please open your video by stating your full name, your current school and grade, position tryout out for (cheer).  Then answer the following questions in succession. Please do not make edits between questions.  You can have someone off camera ask you the question or read them yourself before answering:
Pick one word you would use to describe yourself. Why?
What makes a good leader?
How would your old teammates describe you?
Why do you want to be a member of the UNM Spirit Program?
SKILLS TO INCLUDE IN THE VIDEO
Sideline and fight song (provided via link after tryout application and fee has been submitted).
Please find a flat, safe and approved surface to perform. Ex: grass, turf, court or flat cheer mat. No spring floor or trampoline. Demonstration of standing backhandspring, standing back tuck and running tumbling skills. Videos included from the 2021-2022 season are permitted.  Please include your best additional standing and running tumbling passes and 2-3 stunts. For the stunting portion please include a variety of skills that demonstrate your technique, current ability and potential. Videos will be judged based on difficulty, technique and execution. (It is strongly recommended that those trying out for coed include partner stunting rather than group stunting skills.)
If you are trying out for all girl and coed, you are strongly encouraged to include 2-3 stunts each of group stunting and partner stunting.
Coaches and Spirit Coordinator may contact you for an additional interview using Zoom meetings. These individual interviews would be the week of April 18-22.
Individuals will be evaluated and finalists will be announced on April 11. The final round will be conducted in-person on Saturday, April 23.
Lobo Dancer Candidates:
Auditions for the 2022-2023 Lobo Dance Team will consist of 3 different aspects: technique, choreography, and interview skills. The first round will include Game Day Experience and Technique. It is the expectation that your hair, make-up and outfit selection be just as presentable as if you were in person. An instructional video of our spirit raising techniques (fight song and band tag) will be sent out for you to learn, record, and include in your audition packet. We ask that your video be submitted no later than 5pm on Monday, April 4th for evaluation.
1st Round Video Requirements:
Dancer Introduction

Name, Age, City/Location, Dance History (Where and Which Styles)

Fight Song
Band Tag

With Music Selection of Choice

Technique

Triple/Quad Pirouette – Right & Left
Front Leg Hold – Right & Left (for 2 eight counts)
Side Leg Hold – Right & Left (for 2 eight counts)
Tilt Extension – Right & Left without hands
Toe Touch
Firebird
Front Leap
Center Leap
Calypso/Chaine Jete Leap
Additional leap combo of your choice showcasing your strengths
Turns in Second – Provide an a la seconde combo that is at least four counts of eight long. Feel free to include other variations such as changing spots, floats, front/back attitude turns, coupe turns etc.
Acro Elements – Kip Up, Head Spring, Aerial, Front Handspring
You may also provide any additional acrobatic elements you would like for us to see.
After evaluating Game Day Experience and Technique, staff will notify those dancers selected to advance in the audition process. The list of candidates advancing will be posted on April 11th.  Final round will be held in person on April 23rd where those selected will be scheduled to attend a group interview followed by learning and evaluation of choreography in styles selected by coaching staff. Finalists will also be asked to prepare a 45 second solo showcasing dancers' best style. You should you have any additional questions, please feel free to contact lobodancers@gmail.com.