O'Connor Added to 2021-22 Women's Tennis Roster
ALBUQUERQUE, N.M. — Sarah O'Connor of Dublin, Ireland has been signed for the incoming class of 2021-2022, announced women's tennis coach Vicky Maes.
"I am very pleased to reveal the signing of Sarah to our team for the 2021-2022 season," said Maes. "She is extremely driven individuals and will greatly help solidify our future lineup. Sarah has a strong athletic background and brings a tremendous amount of experience to the Lobos."
Maes added, "She characterizes the spirit of our program and will be an excellent representative of our great university."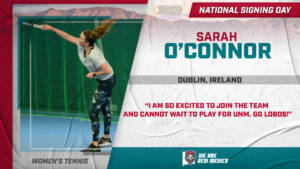 O'Connor will join the Lobos from Dublin, Ireland. She is currently ranked No. 2 in the Irish junior rankings after reaching the finals of the Irish Junior Championships in both 2019 and 2020. She has represented her country on several occasions in competitions worldwide as well as reached numerous semi-finals on the International Tennis Federation (ITF) junior tour. Internationally, she was recognized as the leading Irish ITF female player of the year in 2019.
Sarah says she is "excited to join the team and cannot wait to play for UNM. Go Lobos!"