Men's Hoops Signs Four to NLI
ALBUQUERQUE, N.M. — The University of New Mexico men's basketball team has announced the addition of four players who have all signed National Letters of Intent (NLI) to compete for the Lobos in 2020-21. The signing class ranges in height from 6-5 to 7-1 and includes two guards, two forwards, a trio of incoming freshman and two international students.
"We feel confident that this is the strongest recruiting class we have had since arriving here two years ago," head coach Paul Weir said. "First and foremost, we are adding four terrific newcomers of tremendous character to The University of New Mexico. We are immediately filling our largest need of graduating post play with young men who can contribute right away.
"In addition, we are adding great size to our guard play and hopefully will continue to do so as our program develops. Lastly, this will be our largest freshman class since my arrival and we are hopeful it has a chance to be special."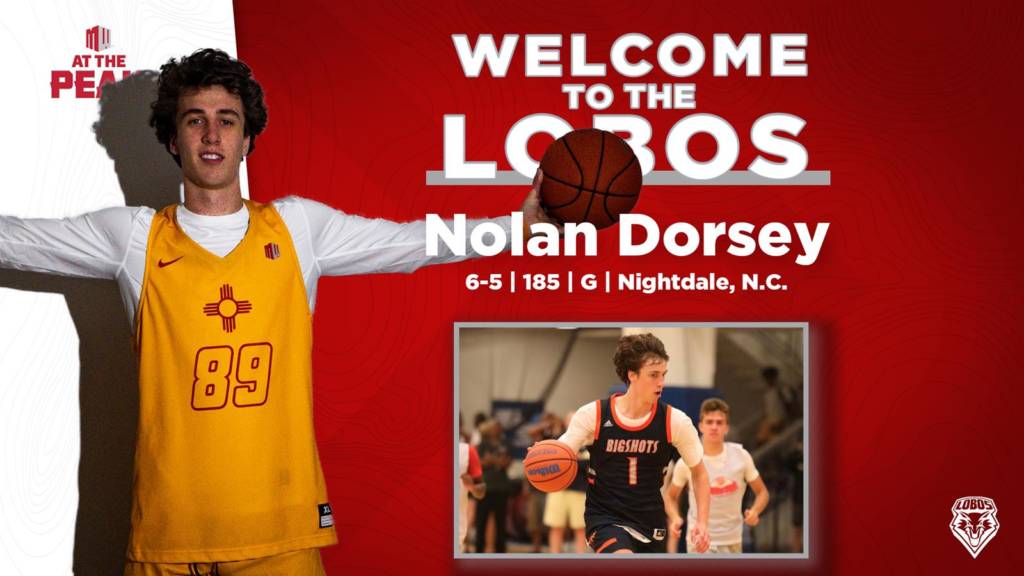 Nolan Dorsey | 6-5 | 185 | PG | Nightdale, N.C.
Dorsey joins the Lobos from Millbrook High School in North Carolina where he spent three years on the varsity squad and helped lead his team to a conference championship in 2018. The 2020 graduate was also named to the all-conference team as a junior.
Dorsey also competed for Big Shots Elite NC where he averaged over 10 assists per game this past summer.
Coach Weir on Dorsey: "Nolan is a big point guard with outstanding ball handling and passing abilities. To get someone of his profile at the point guard position is something we have been working on since my arrival. With us losing significant big guard play and passing to graduation, this again provides us a great replacement to come here and develop into a great Lobo."
Dorsey on Why He Chose UNM: "I felt that UNM was the best place for me to achieve my dreams. I want to play in a competitive conference against players that are going to challenge me and get me better. I have a lot of respect for Coach Weir and I think it was the best fit for me from a basketball standpoint. I believe my game translates to the system and I am eager to learn and get better every day."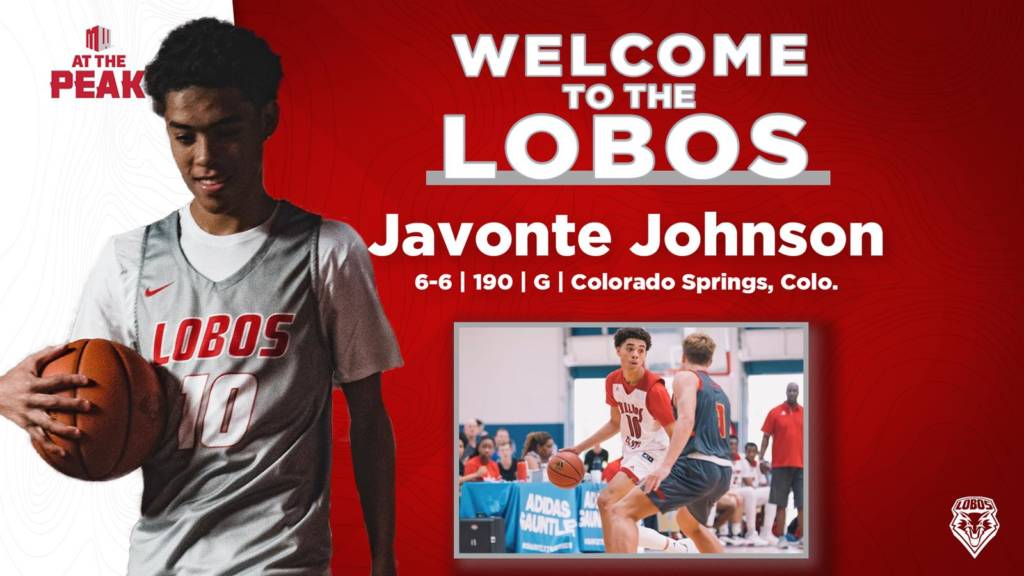 Javonte Johnson | 6-6 | 190 | G | Colorado Springs, Colo.
Johnson hails from Cheyenne Mountain High School in Colorado where he was named First Team All-State last season after leading his 4A district in points per game. Last season, the Adidas Nationals qualifier averaged 22.4 points, 9.6 rebounds and 1.8 steals per game.
Johnson has also competed for KC Run GMC and Chauncey Billups Elite. 
Coach Weir on Johnson: "Javonte is a talented combo guard with a versatile profile on the court. His shooting ability is something we are always looking to add, but he couples it with tremendous size, ball handling ability and defense. Being so close to home and a young man of such quality character, we are ecstatic about what Javonte is capable of doing in the Cherry & Silver."
Johnson on Why He Chose UNM: "I chose UNM because I love the people, the environment around campus and the vibe the community has around basketball. I felt like I could fit in with the play style and UNM has a really good business program so I feel like I can have a successful career at UNM."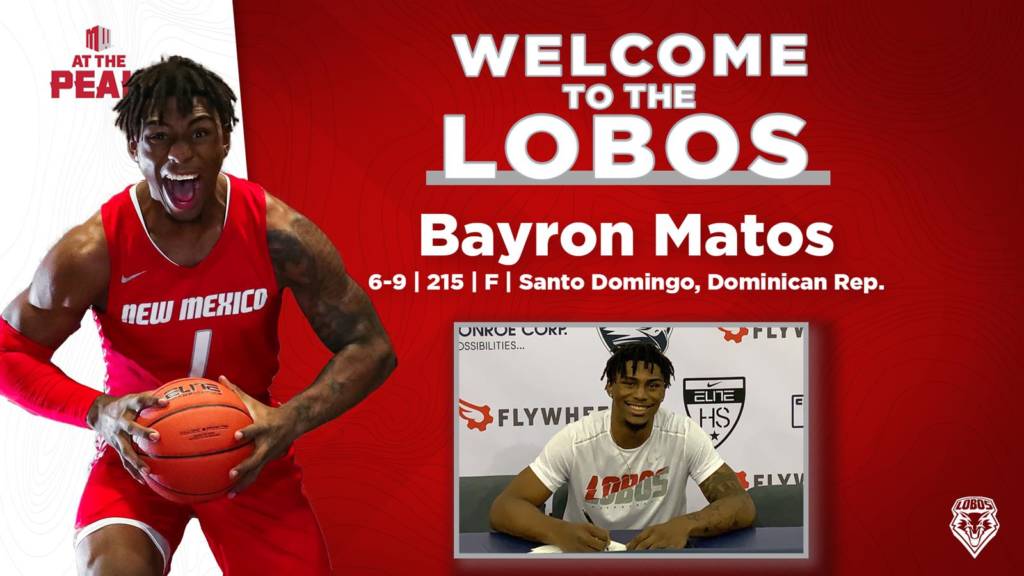 Bayron Matos | 6-9 | 215 | F | Santo Domingo, Dominican Republic
Matos, a native of the Dominican Republic, will join the Lobos from Hamilton Heights Christian Academy in Chattanooga, Tenn. He is ranked No. 3 in the state and No. 16 in the country after posting the most rebounds in the state of Tennessee. He has also registered the most double-doubles in Tennessee while leading his Hamilton Height squad to the state championship in 2018.
Coach Weir on Matos: "Bayron brings an infectious energy and enthusiasm to our team immediately. He has a developed body that will allow him to be physically ready to play right away in college basketball, which is rare for a freshman. He is a nationally recognized talent and we can't wait to get him here and help train him into a potentially dominant post presence in the Mountain West."
Matos on Why He Chose UNM: "I chose UNM because it is family oriented and I believe the team and coaching staff can help me achieve my athletic and academic goals."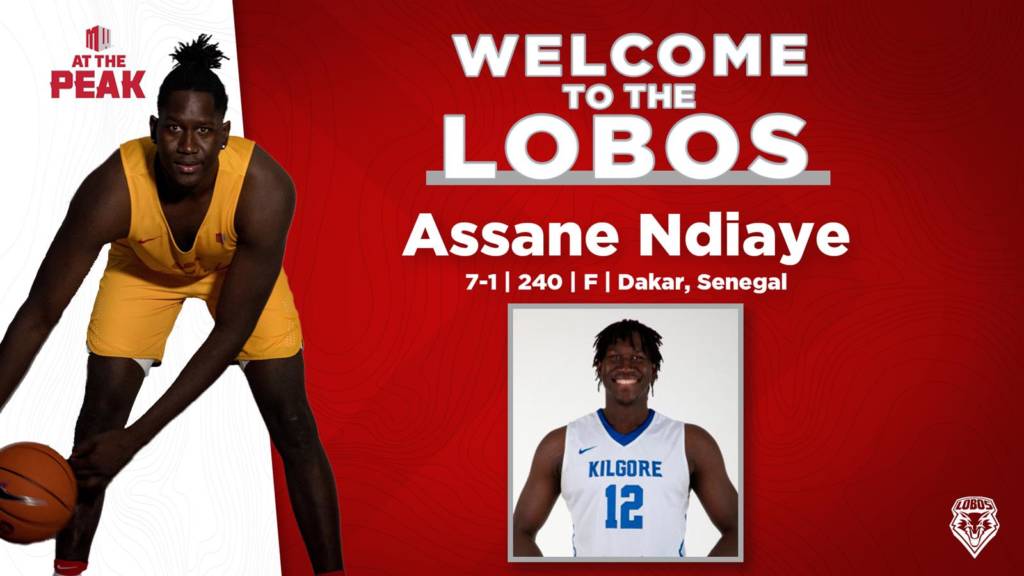 Assane Ndiaye | 7-1 | 240 | F | Dakar, Senegal
Ndiaye comes to the Lobos from Kilgore College, a community college located in Kilgore, Texas. He competed in 23 games during the 2018-19 season in which he compiled 302 minutes (13.1 per game). After missing much of the first part of the season due to injury, he finished his 2018-19 campaign racking up 92 points while shooting 55.6 percent from the field. Defensively, Ndiaye amassed 29 blocks including 23 in conference play. He also averaged 12.2 points per 40 minutes of competition.
Coach Weir on Ndiaye: "Assane has incredible physical gifts to be able to fit perfectly with our team and style of play. His running ability for a player of his size is exceptional and his athleticism will immediately help fill the void of our graduates. He is a five-star young man and we look forward to having him here as a Lobo."