Men's Soccer Adds Pair of International Talent
ALBUQUERQUE, N.M. — The University of New Mexico men's soccer team has added yet another talented set of incoming student-athletes for the 2018 season. UNM has officially signed Maliek Howell from Jamaica and Carlton McKenzie of England, adding to the Lobos' outstanding local and international talent.
"Maliek and Carlton bring another dimension to our team," head coach Jeremy Fishbein said. "Not only are they tactically excellent, they will win 1-vs-1 matchups on both sides of the ball and will be a constant threat to opposing defenses. We are looking for them to unbalance our opponents and make us a much more dangerous attacking team."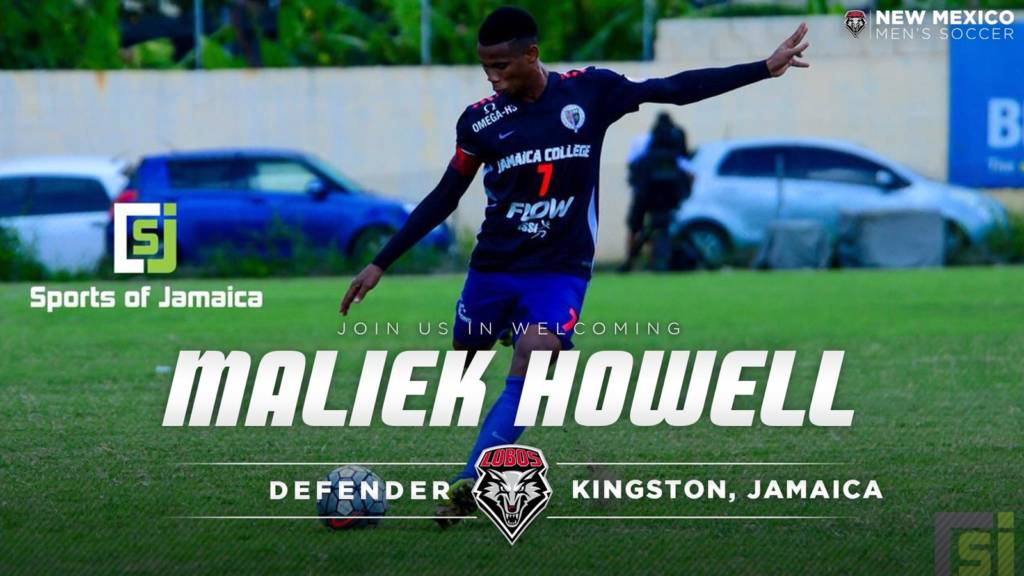 Maliek Howell – 6-1 – Defender – Kingston, Jamaica
Howell comes to New Mexico from Kingston, Jamaica where he has represented Jamaica at the youth international levels for the U17 and U20 national teams. He captained his high school squad in 2017-18, leading his team to three titles including the Oliver Shield and Jamaica's prestigious Manning Cup. The Manning Cup victory marked the fifth straight time that Howell's Jamaica College (high school) squad took the crown.
In his career at Jamaica College, he also earned All-School and All-Manning Team accolades.
In addition, Howell was named Sports Man of the Year in 2015-16, Most Improved in 2014-15 and was invited as one of the top six of 40 players to the Digicel Kickstart Clinic at the Manchester City Football Academy of England's prestigious Barclays Premiere League.
Howell on why he chose New Mexico: "I have chosen UNM because it is the best option for me and my family … I see this as a great opportunity to learn and grow as a person and a leader. I bring all I am to contribute to the success of my team and teammates because life is not only about being successful but to be significant and to make an impact." 
Coach Fishbein on Howell: "Maliek is a wonderful young man who values hard work, is a natural leader and is very ambitions both as a student and as a player. He will bring a much valued drive and competitiveness to our team as he will settle for nothing but excellence from himself and his teammates.
"Maliek has played competitively for high-profile teams in Jamaica and that success will help him on his future path. I wish the same success for Maliek as is currently being achieved by former Lobo Oniel Fisher who is starting for the full Jamaican National Team!"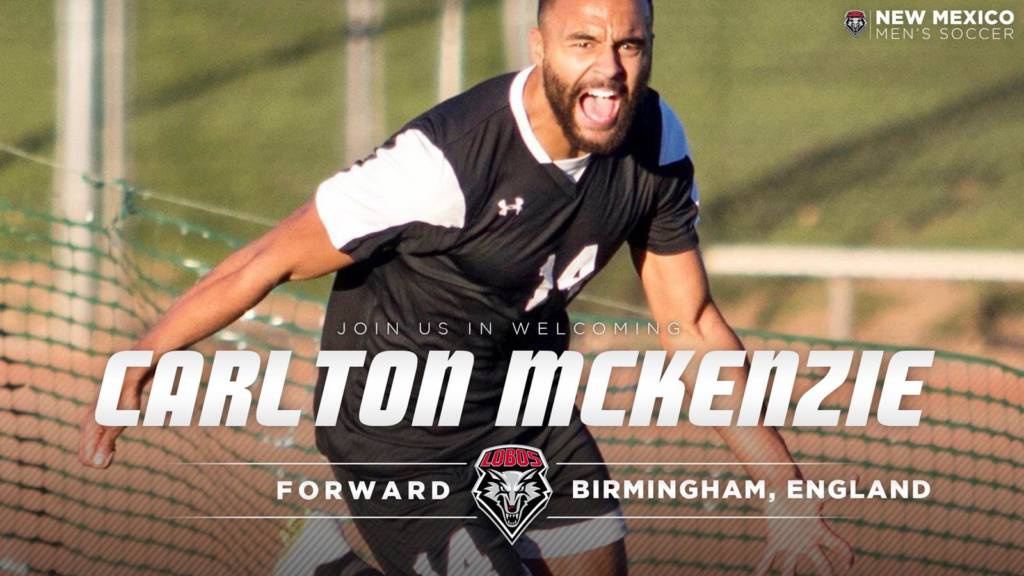 Carlton McKenzie – 6-0 – Forward – Birmingham, England
McKenzie, a dynamic attacker, comes to UNM from Birmingham, England by way of Tyler, Texas and 2017 National Champion Tyler Junior College. He helped lead his CTC Kingshurst Academy team to the West Midland District Championship in 2012 and also competed for professional clubs Coventry City and Walsall Football Club as a youth.
McKenzie played two years at Tyler Junior College in Tyler, Texas where in 2017, he scored the game-winning goal in the National Championship match leading his squad to the title. For his outstanding efforts, McKenzie was named to the National Junior College Athletic Association (NJCAA) Division I All-Tournament Team. He competed in 23 matches collecting 25 points on 10 goals, including four gamewinners, and five assists. 
McKenzie on why he chose UNM: "I chose UNM because I wanted to play soccer at an institution where nothing but the best is required, on and off the field."
Coach Fishbein on McKenzie: "Carlton has really impressed us with his maturity and drive. He knows what it takes to win games, loves challenges and has proven himself in big moments. He has a wonderful soccer pedigree, has excelled in both England and in the USA and has an outstanding understanding of the game and what it takes to achieve. He will be an exciting player to watch."
The Lobos resume Spring 2018 competition on Saturday, March 31 at home at Robertson Field. UNM will host Denver at 11 a.m.