Hall of Honor Class of 2017 Named
ALBUQUERQUE, N.M. — The University of New Mexico Alumni Lettermen's Association has announced that six individuals — Wayne Gares (Baseball, Basketball, Football), Tim Herron (Golf), Richard Howard (Track & Field), Jodi Ewart Shadoff (Golf), Charles Smith (Basketball), and Mandi Moore Stovall (Basketball) — will be inducted into the UNM Athletic Hall of Honor on Friday, November 3. In addition, Sue Jollensten (Tennis) will be inducted as the 2017 Distinguished Service Award winner.
 
Along with the Hall of Honor inductees, the 2016-17 Coach of the Year Bob Davie (Football); Male Athletes of the Year Dakota Cox (Football) and Josh Kerr (Track & Field); and Female Athlete of the Year Alice Wright (Cross Country/Track & Field) will be celebrated. 
 
Fans can attend the awards dinner, which is on Friday, November 3 at 6 p.m. at the Crowne Plaza Albuquerque. Tickets are $60 each or $600 for a table of 10. Call the UNM Alumni Lettermen's Association at 925-5905 to purchase tickets.
 
Below are biographical sketches on UNM's six inductees in the Hall of Honor for 2017.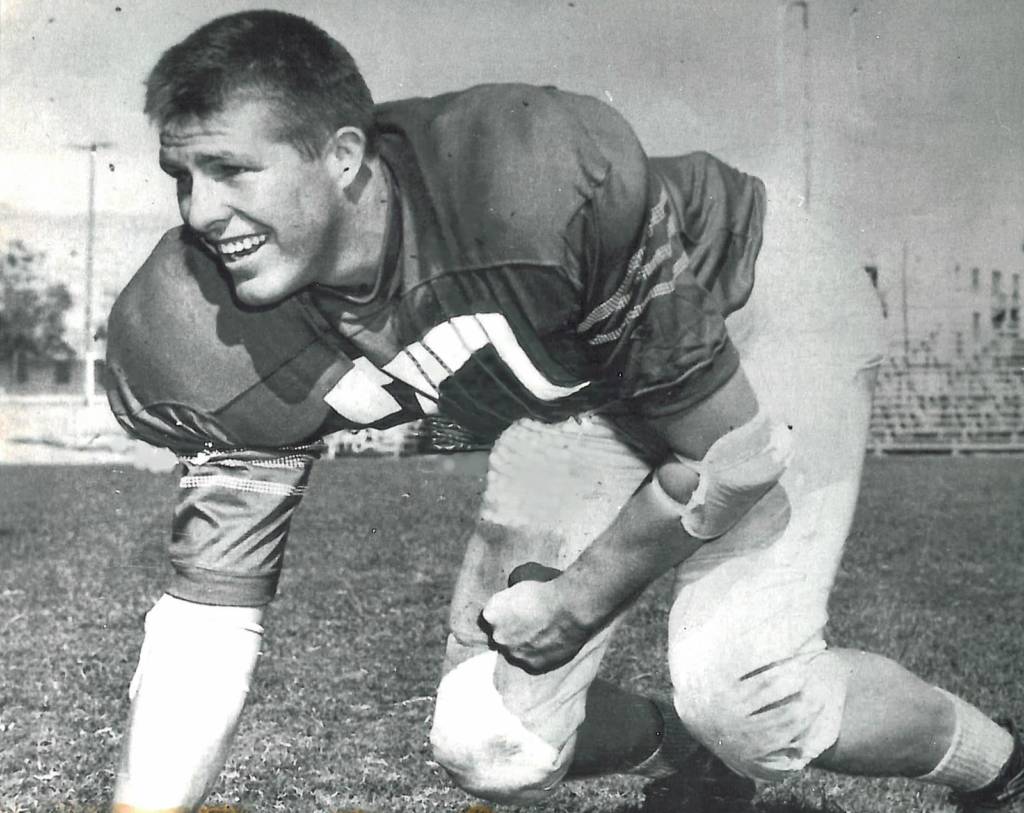 Dr. Wayne Gares (Football, Baseball, Basketball 1954-1958)
Bachelors of Science in Health and Physical Education, The University of New Mexico, 1958
Masters of Science in Health and Education, The University of New Mexico
Doctorate of Philosophy in College Student Personnel, University of Northern Colorado
Postdoctoral work in Counseling
Lettered in Football and Baseball 1954-1958
Lettered in Basketball 1954-1955
All Skyline Conference Tackle 1957
Tenth in the Nation in Individual Batting Leaders in Major Collegiate Statistics
Recruited by Green Bay Packers 1958
Recruited by Chicago Cardinals Football Team 1958
Played Semi-Pro Basketball for M&W 1959-1966
Head Football Coach, Assistant Basketball Coach at Valley High School 1961-1963
NMMI Head Baseball Coach, Assistant Football Coach 1963-1966
ENMU Head Baseball Coach, Assistant Football Coach 1966-1970
Vice President of Student Affairs, Eastern New Mexico University, Portales, NM 1971-1991
Western Junior College Athletic Conference Champions (Baseball) NMMI 1963
NAIA, District VII Baseball Coach of the Year ENMU 1968
Outstanding Educator of America
President of National Newgate Council
Award for Mental Health Support from New Mexico Council of Community Mental Health Services
Associated Students of ENMU award for outstanding service to students of ENMU
Voted Member of Tucumcari High School Greatest Athletes of the Century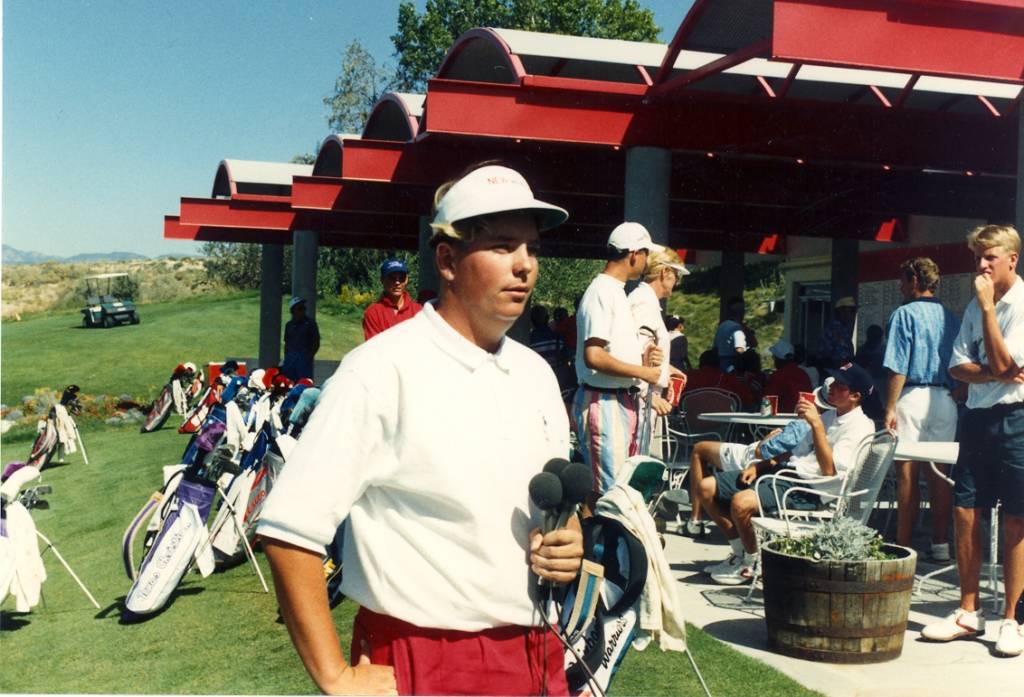 Tim Herron (Golf 1989-1993)
WAC Player of the Year 1992, 1993
WAC Individual Champion 1993
First Team All-America Team 1992, 1993
Second Team All-America Team 1991
WAC All-Conference Team 1990, 1991, 1992, 1993
First All-Time Most Individual Tournament Wins/Season (4)
All-Time Individual Tournament Wins: 1992 Central Florida Intercollegiate, 1992 William H. Tucker Intercollegiate, 1993 Augusta College Invitational, 1993 WAC Championship
Fifth All-Time Single Season Low Stroke Averages 1992-1993
Eighth All-Time Career Low Stroke Averages
Third All-Time Low 54 Hole Total 1992 William H. Tucker Invitational (201)
First All-Time Low Round of 18 1992 William H. tucker (62)
1993 UNM Hall of Honor Male Athlete of the Year
Played in the 1993 Walker Cup representing the United States
Professional Golfer, PGA Tour 1995-present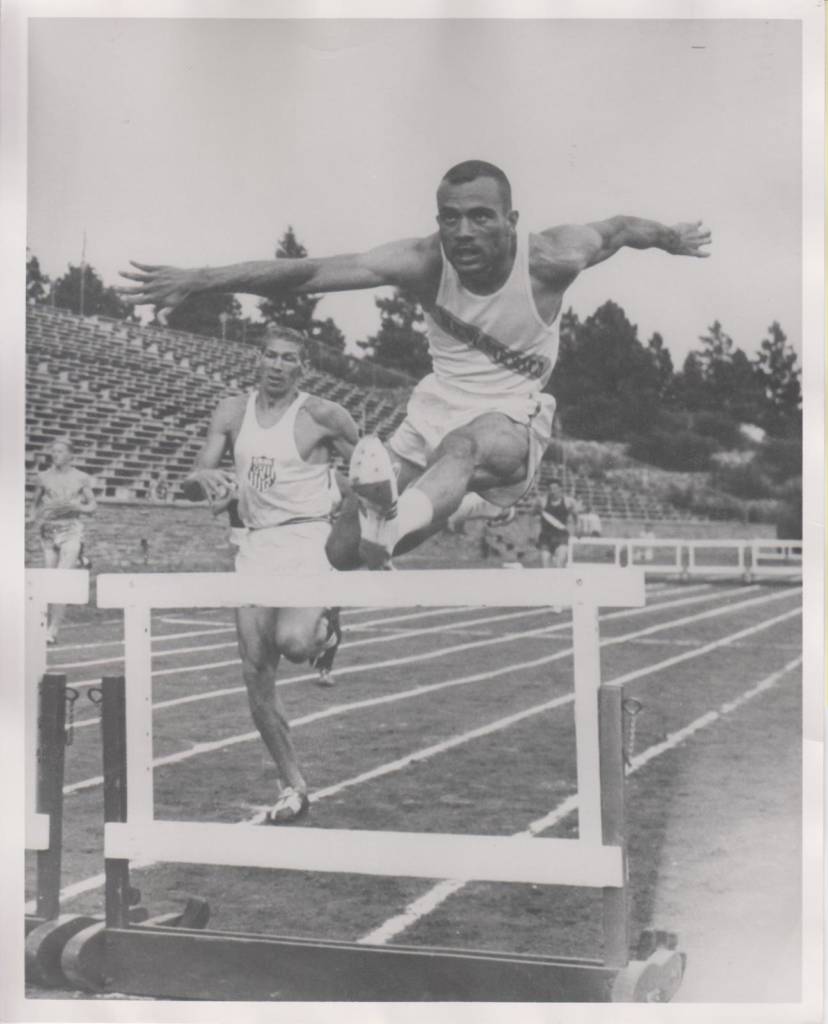 Richard Wayne Howard (Track and Field 1958-1960)
Equaled the UNM record in the 100-meter dash February 1959
Broke the UNM Record in the 220-yard dash and 220-yards low hurtles
Had the fastest 220-yard low hurdle clocking in the nation, 22.4 seconds, Spring 1959
Won the 400-meter intermediate hurdles at Kansas Relays, April 1959
Won the NCAA 400-meter hurdles, 1959
Won AAUs 1959
Won National Championship 1959
Fought as a light heavy-weight in New Mexico Golden Gloves Tournament 1960
1960 tied for second at U.S. Olympic trials in the 400-meter hurdles
Won the bronze Medal in 1960 Olympic Games in Rome in the 400-meter hurdles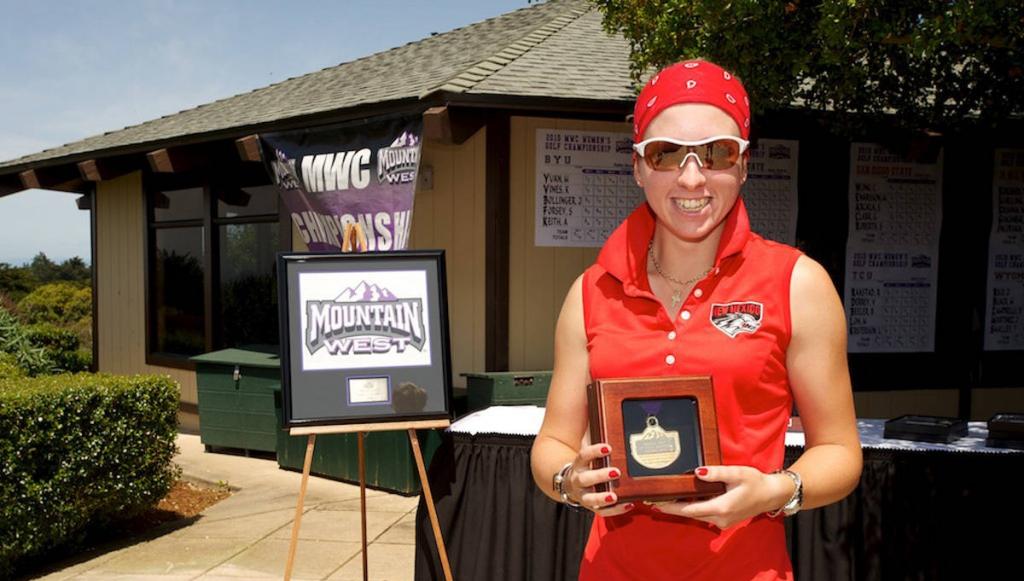 Jodi Ewart Shadoff (Women's Golf 2006-2010)
2006-2007
MWC Freshman Player of the Year
MWC Co-Player of the Year
MWC Individual Champion
Second Team All-American
Set the UNM Freshman Scoring Average Record
English Ladies' Close Amateur Stroke Play Champion
2007-2008
MWC Individual Champion
MWC Player of the Year
Honorable Mention All-American
Curtis Cup Team Member (Europe)
MWC All-Scholar Team
2008-2009
MWC Player of the Year
First Team All-American
Branch Law Firm/Dick McGuire Invitational- Individual Champion
University of Arizona Wildcat Invitational- Individual Champion
Placed sixth in the World AM
NGCA All-American scholar athlete
MWC All-scholar team
Set the UNM Junior Scoring Average Record
2009-2010
MWC Player of the Year
MWC Individual Champion
First Team All-American
UNM Female Athlete of the Year
NGCA All-American Scholar Athlete
Set the UNM Senior Scoring Average Record
All-time UNM Women's Golf Scoring Average Record
Only MW athlete in ANY sport (men's and women's) to receive Player of the Year all four years
2016: Competed for Team England in the UL International Crown, posting a 3-0-1 record
2015: Recorded a season-best finish of T23 at the Yokohama Tire LPGA Classic
2014: Recorded two top-10 finished including a season-best tie for fifth at the Yokohama Tire LPGA Classic
2013: Recorded four top-10 finishes; recorded career-best tie for third at the Marathon Classic Presented by Owens Corning & O-I
2013: Competed in her first European Solheim Cup Team, posting a 2-1-0 record
Finished fourth on Tour in greens in regulation (74.78)
2012: Recorded two top-10 finishes; recorded a career best T7 finish at the Kia Classic
2010: Turned professional
2010: Played on the Symetra Tour where she recorded nine top-10 finishes including third at the 2010 Falls Auto Group Classic
2008, 2009: Named to the Great Britain & Ireland Curtis Cup team and was a two-time English Amateur Champion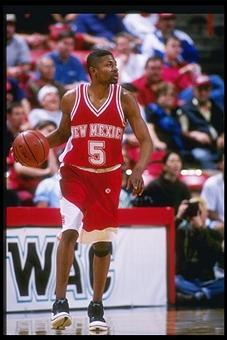 Charles Smith (Basketball 1993-1997)
Graduated from The University of New Mexico, 1997
Scoring Leader 1995, 1996, 1997
First All-Time Scoring/Career
Sixth All-Time Freshmen Scoring Leader
Ninth Lobo to reach 1,000 points and 500 rebounds
Ninth All-Time Freshmen Rebound Leader
15th All-Time Rebound/Career
Ninth All-Time Field Goals Made/Season
First All-Time Field Goals Made/Career
Third All-Time Consecutive Games, 3-Point Shot Made 27
Free throw Percentage Leader 1996
Steals Leader 1996, 1997
Sixth All-Time Steals/Season
Sixth All-Time Steals/Career
10th All-Time minutes Played/Career
12th All-Time Points Scored/game
WAC All-Conference Team 1996, 1997
WAC All-Defensive Team 1996
NABC All-Star Game 1997
Three NCAA Tournament Appearances
Drafted by Miami Heat in 1st Round of 1997 NBA Draft
Played in NBA for the Miami Heat, Los Angeles Clippers, San Antonio Spurs, and Portland Trail Blazers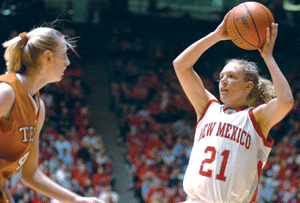 Mandi Moore Stovall (Women's Basketball 2001-2005)
Graduated from The University of New Mexico with a Bachelor's in Business at UNM, 2005
2003-2004 MW Scholar Athlete
Four-Time MW All-Academic Team
Led team as starting point guard to the 2003 NCAA Sweet 16
Only player in UNM Basketball history (Men or Women) with 1000 points, 500 rebounds, 500 assists
Led team to three MW Tournament Titles, two Regular season Titles and four NCAA Tournaments
All-time winningest Lobo in UNM Women's Basketball history with 95 career wins
Only player in UNM Women's Basketball history with over 500 assists
UNM's leader in MW Tournament rebounds, steals, assists
Fourth all-time in career 3-pt field goal percentage (.368) at UNM
UNM's all-time leader in career assists with 651
Holds UNM records for most assists in conference game (12), most assists in a season (212), most assists in a career (651)
Second all-time in UNM career steals
Holds UNM record for most minutes played in a career (4324)
Led MW conference in 2002-03 in 3-pt field goal percentage (.457)
Led MW conference in 2001-02 and 2002-03 in assists
Worked as the UNM Women's Basketball Director of Operations from 2006-08
Four-time All-conference selection
2001-02 MW Newcomer of the Year
Member of the 2003 and 2005 MW All-Tournament Team
 
Sue Jollensten- Distinguished Service Award (Tennis 1970-1971)
Bachelor of Science, University of New Mexico, 1971
Juris Doctorate, University of New Mexico, 1975
Pre-Title IX Women's College Tennis Player, University of Arizona, played No. 1 singles
University of New Mexico played No. 1 singles, 1970-1971
Practiced Law in Silver City, N.M. from 1987-1991
Responsible for renovation of Historic Bell Building in downtown Silver City, N.M.
Named Co-Chair of committee for Downtown Development by Mayor Lucy Sterner, Silver City, N.M.
President and Incorporator, Cooperation for Downtown Development, Silver City, N.M.
Founder and Current President of New Mexico Youth Tennis Foundation, 501 (c) (3) organization Incorporated in 2007 to benefit youth tennis in New Mexico
Served on Board of Directors NM Women's Foundation
Served on first Women and the Legal Profession Task Force and received Outstanding Contribution Award from the State Bar of New Mexico 9/1991 for work on the Task Force and its Report
Started Tennis in Parks and Recreation program in Albuquerque, N.M. at age 9
Public Parks Tennis Instructor for City of Albuquerque for four years
Nationally ranked junior player Southwest Section
Taught tennis pro at Four Hills Country Club 1971-1972
Secretary of USTA NNMTA (1994) and President of USTA District-NNMTA (1995-1997)
Began Fall Middle School League, Northern New Mexico Tennis Association, with 6 schools and 1 division, Coordinator from 1996 to present, became the NM Governor's Cup Mid-School Tennis Championships has grown to 43 teams and five divisions in 2007 to 50 teams in 2009
Helped start and coordinate HS Jr. Varsity Team Tennis League in 2003-300 participants in 2009
USTA Southwest Section (SWS) President 2000-2001
USTA SWS Delegate and SWS Representative on the USTA Executive Committee
Delegates' Liaison to USTA Budget Committee
SWS Jr Recreation Chair for nine years
Chair of USTA National Youth Community Programs Committee with responsibility for USTA Jr. Team Tennis and USTA Schools program, four years 2003-2006
Inducted into SWS Tennis Hall of Fame 2004
2007 Recipient of USTA Eva Kraft Community Service Award
2008 Tournament Director, Coleman Vision Tennis Championships
Named 2008 Grassroots Champion of the Year-Racquet Sports Industry Magazine