University of New Mexico Lobos athletics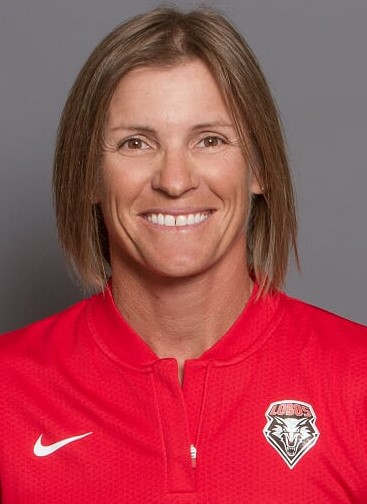 Vicky Maes joined the Lobo Family in the fall of 2018 as an assistant coach, and she became the interim head coach in 2018-19 before being named to the head coach in 2019.  She came to UNM after serving as the head coach of the University of Arizona women's tennis team for the previous 17 years.
She was hired in August of 2018 to serve as the assistant coach for the Lobo women's tennis team after originally intending to serve as a volunteer assistant.  Instead, she took over as the interim head coach, leading the team to a 12-9 overall record and a 3-1 record in the Mountain Division, tying for the division title.
In 2021, Maes led UNM to an 8-9 record that belies how good a coaching job it was. UNM did not have a fall season, and only returned to practice in February, about a week before UNM's first match of the season.  Despite that, and despite having several newcomers in the lineup and losing a good chunk of her rotation due as pandemic transfers, UNM opened at 7-2 on the season before injury and illness took its toll on the lineup.  UNM had three players earn All-Mountain West honors after the season.
What has really been Maes' calling card with the Lobos is the academic prowess of the team, turning in four consecutive semesters of at least a 3.9 grade point average.  The fall of 2020, a season that saw UNM not compete due to COVID restrictions, saw the program turn in a 4.03 GPA, the highest single-semester GPA by any Lobo program in school history.
Prior to coming to UNM, Maes spent 17 years as the head coach of the University of Arizona, from 2001-2018.  With the Wildcats, she led the squad to eight NCAA tournament appearances over her 17 years. She also developed four NCAA All-Americans and seven all-conference performers and her players qualified for postseason competition every year. All in all, she was with the Wildcat family for 24 years, starting in 1994 as a student-athlete, then moving on as a community service coordinator for the C.A.T.S. Life Skills program and finally accepting her coaching role.
As a tennis player for the University of Arizona, Maes was the squad's No. 1 singles and doubles player throughout her entire career. She was named the Pac-10 Conference Player of the Year in 1996, as well as being tabbed a four-time first team All-Pac-10 selection. Maes was named to the Pac-10 All-Decade team in 1998, was the 1996 Arizona Women's Sports Foundation College Athlete of the Year, a four-time All-American (1995-98) and the nation's top-ranked player in 1996 and 1997. Additionally, Maes was a three-time Pac-10 All-Academic selection and a GTE Academic All-America choice in 1996. In 1998, she was a finalist for the NCAA's Great Eight award and won the Ruby Award, which recognizes UA's top female student-athlete in the field of athletics, academics and personal development. For her efforts, Maes was inducted into the University of Arizona's Hall of Fame in 2003.
Maes, who is fluent in Dutch, English and French, holds a Bachelor of Science degree in Business Administration with a major in marketing and a minor in international business studies.