University of New Mexico Lobos athletics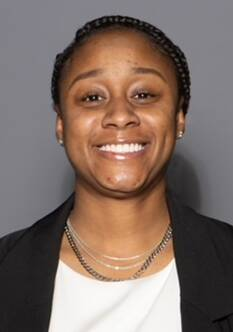 Symone Denham enters her fourth year as an assistant coach with the women's basketball program at The University of New Mexico. Prior to being promoted to assistant coach in May of 2018, Denham served as the program's video coordinator for the 2017-18 season.
As an assistant coach, Denham assists head coach Mike Bradbury in all facets of coaching, from practice planning, recruiting, in-game coaching as well as various social media aspects.
Denham has twice been recognized as a WBCA Thirty Under 30 honoree, a program that was created to recognize 30 up-and-coming women's basketball coaches age 30 and under at all levels of the game. Each honoree has exemplified their involvement in community service, mentorship and impact on others, professional manner, and attitude and professional association involvement.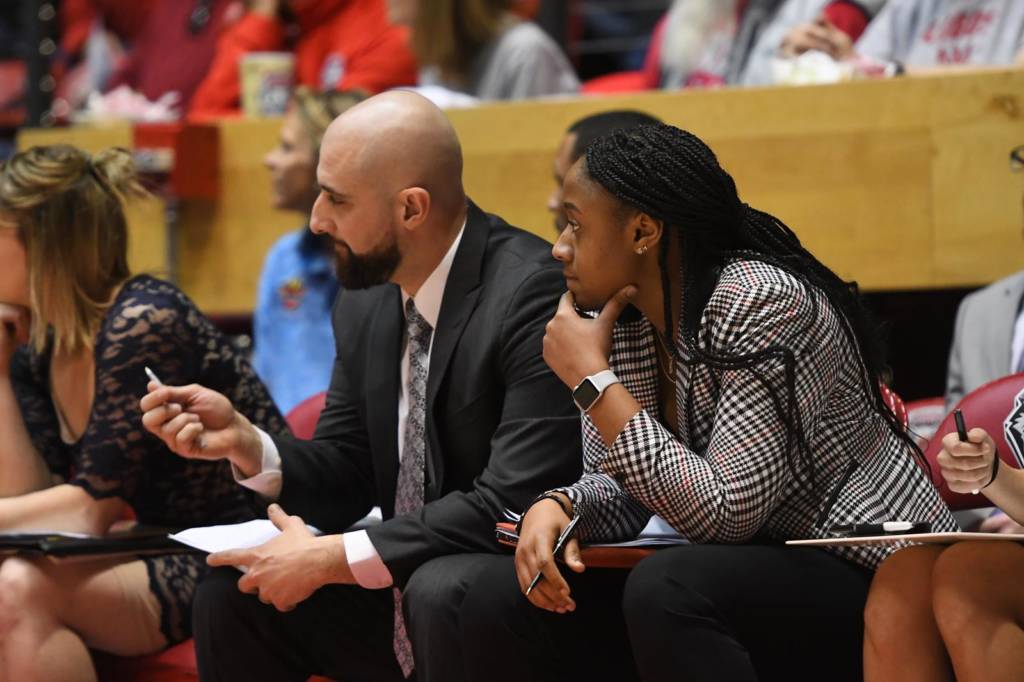 In her first season on the coaching staff, Denham helped guide the Lobos to their second-straight 20-plus win season with a 24-7 overall record. The Lobos, who finished second in the regular season Mountain West standings after a 14-4 league record also advanced to the WNIT for a second-consecutive season.
Most recently, Denham played an integral part in UNM's Mountain West regular season championship, the first outright in program history and the first regular season title since the 2004-05 season.
Working with the guards, the Lobos produced one of the most prolific offenses not only in the conference, but in the country, finishing among the top 25 in several categories. Among them, UNM finished fourth in the NCAA in made three-pointers per game (10.2), sixth in assist-turnover ratio (1.40), ninth in scoring offense (81.2 points per game), 14th in fewest turnovers per game (12.0) and assists per game (16.8) and 22nd in scoring margin (12.7). The Lobos led the Mountain West in scoring offense, scoring margin, assists per game, turnover margin, assist-turnover ratio and made three-pointers as well as second in field-goal percentage and steals per game.
UNM set a program record in scoring with 120 points against Arkansas-Pine Bluff on Dec. 17, 2020 and in the process, made 17 three-pointers, falling just one short of tying the program record. Further, the Lobos registered 90-plus points in five games and 80-plus points in 11 of the 20 games on the season.
Four Lobos finished the 2020-21 season averaging double figures in points per game with six players finishing in double figures in scoring in two games (the only times it has been accomplished in program history), five players in five games and four in seven games.
As a result of UNM's successful season, five players were named to the All-Mountain West Team with guard LaTascya Duff also earning the superlative of Sixth Person of the Year. Duff was just the second Lobo to win the sixth person award. Making the all-conference team for the first time were Duff, Jaedyn De La Cerda and Antonia Anderson, as well as Shaiquel McGruder earning all-defensive and Ahlise Hurst earning the honorable mention distinction.
Prior to coming to UNM as the video coordinator, Denham spent 2016-17 as a graduate assistant at Lourdes University in Sylvania, Ohio. The year before, Denham was putting the finishing touches on her collegiate career at Wright State where she played for current UNM head coach Mike Bradbury 2013-16 (she started her college career at Michigan before transferring to Wright State).
While at Wright State, Denham was part of the winningest team in school history and helped the team win the 2014 Horizon League championship. In 2015 she was named to the Horizon League All-Tournament Team. As a senior in 2015-16, Denham was the team captain and the SAAC representative. She later graduated with a Bachelor of Science in business finance and economics from Wright State and earned her MBA in December of 2017 from Lourdes University.