University of New Mexico Lobos athletics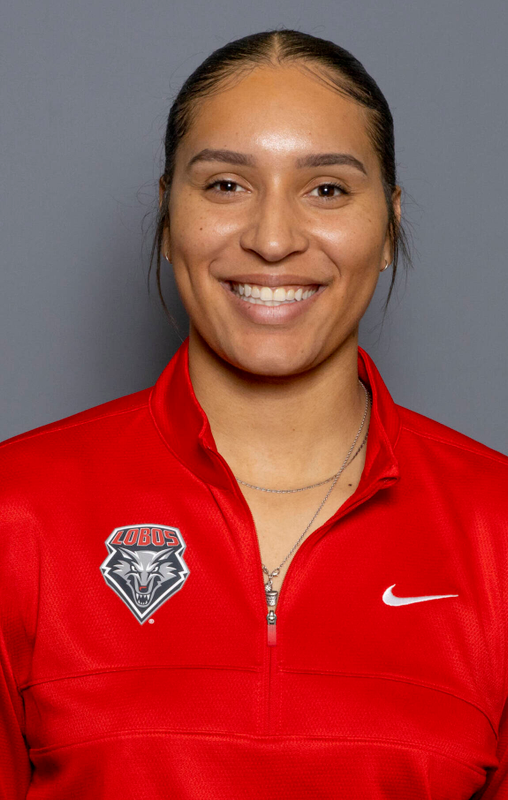 Nike McClure enters her third season with the Lobos and second as an assistant coach after serving as the director of player development during the 2021-22 season.
McClure has plenty of knowledge and experience to pass on to current and future Lobos as a former player under head coach Mike Bradbury, and then overseeing player development.
"Coming back to Albuquerque was a no-brainer," McClure stated. "I am feeling humbled to join a staff with individuals who have the basketball minds of juggernauts. Having played for Mike Bradbury two years ago, I have a strong sense of loyalty to him and this program. Now I will take much pride in becoming a custodian of this institution. I hope to serve this team well while sharing and growing my knowledge of the game. I cannot wait to see familiar faces in The Pit… there is no place like home."
In her first year on the bench with the Lobos during the 2021-22 season, the program established several program records. UNM set the program record in made three-pointers (346), a program-best 171 made three-pointers in conference season, as well as a program-record 596 assists on the season and 292 in conference games. In addition, the Lobos made a program-high 523 field goals in conference and scored the most points in conference in program history with 1,413 points. On Jan. 6 at Utah State, the Lobos set the program record and the MW record in made three-pointers in a game with 21, and three games later made 19 three-pointers for the second most in a game in program history. The Lobos also went on a nine-game win streak, the second longest in program history.
Nationally, New Mexico ranked in the top 10 in the NCAA in made three-pointers (third), made three-pointers per game (fifth, 9.6 per game) and in assists (10th). In total, UNM ranked in the top 30 in nine categories, including scoring offense (14th, 76.7 points per game), assists per game (16th, 16.6 per game), assist/turnover ratio (18th, 1.21), field-goal percentage (19th, 45.1 percent), blocked shots (25th, 146) and three-point field-goal percentage (30th, 35.1 percent).
UNM won seven MW weekly conference honors (four player of the week and three freshman) as well as added six postseason Mountain West honors with a conference-high three all-conference players in Antonia Anderson, Shaiquel McGruder and Jaedyn De La Cerda, an honorable mention in LaTora Duff, an all-defensive player in McGruder and an all-freshman in Paula Reus.
Well known to Lobo fans, McClure was named to the Mountain West All-Defensive Team during the 2018-19 season after leading the conference with 67 blocked shots and an average of 2.2 a game, while adding 6.8 rebounds per game. McClure's 67 blocks ranks fifth all-time in single-season blocks at UNM.
Furthermore, McClure accounted for nine of UNM's 14 team blocks against Oklahoma on Nov. 28, 2018, with the 14 tying the second-highest total in program history. McClure's nine blocks ranked third all-time in single-game blocks for an individual.
After graduating from UNM, McClure went on to play overseas in Portugal for CAB Madeira as well as the Anorthosis Basketball Club in Cyprus, where she averaged 16.3 ppg, 17.4 rpg, 3.8 apg, 2.2 spg, 2.3 bpg.
"Nike was a natural fit for anything that has to do with the players and player development," Bradbury stated upon her hiring. "Her personality and enthusiasm are infectious for everybody that she's around and it's great that we were able to get her to come back."